'The Bachelorette': It Looks Like Tyler C. Spent The Night With Hannah B.
By now, everyone and their grandmother know former Bachelorette Hannah Brown and former contestant Tyler Cameron are supposed to meet up for drinks. While it's undetermined whether the pair has actually gotten that drink yet, TMZ did catch Cameron leaving Brown's place in Los Angeles Friday morning with what looks to be an overnight bag.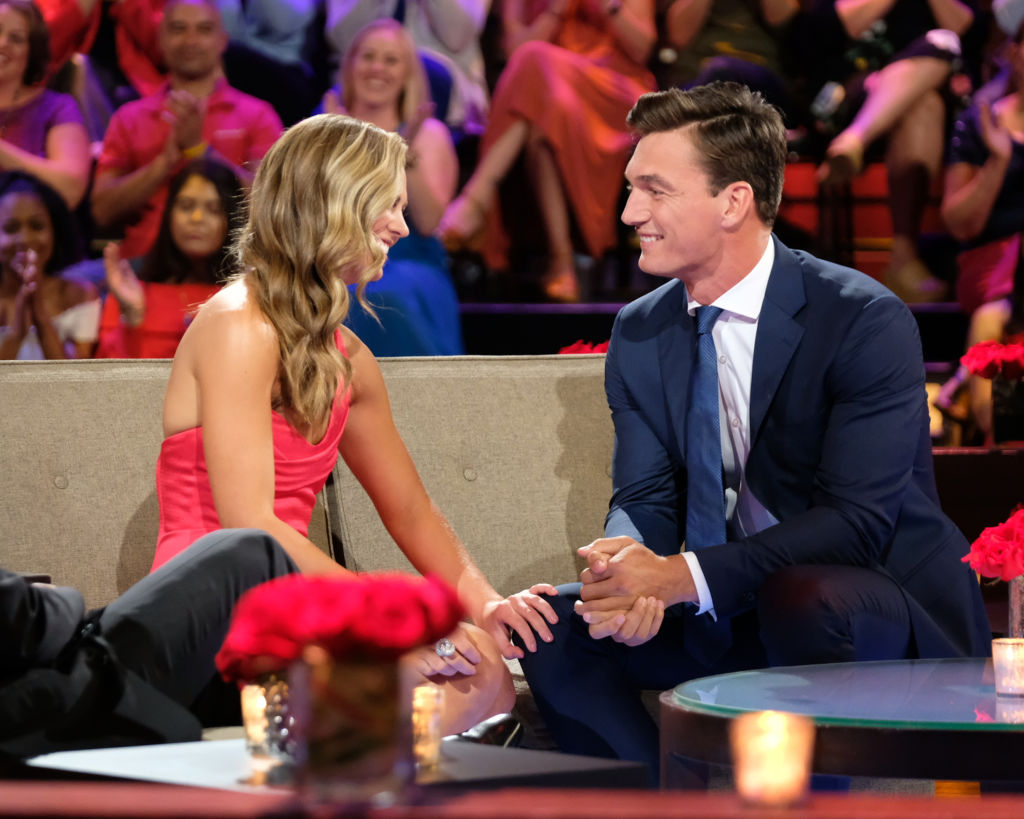 Tyler C. reportedly spent the night at Hannah B.'s place

Both were casual–Brown in a white T-shirt and black running shorts and Cameron in a tight black long sleeve and black athletic shorts.

A source told E! News that Brown invited Cameron over on Thursday evening and he ended up spending the night.

"Tyler got to Hannah's place around 9 p.m. and they stayed in," said the source. "He spent the night with her and left this morning after 10 a.m. She walked him out to his car and they hugged and kissed. He had an overnight bag and they looked very happy together."

Hannah B. and Tyler C. are taking their time

Both Cameron and Brown have made statements recently about not jumping into anything serious with each other.

"I cherish Hannah and value her and our friendship so much, but I don't think it's healthy for us to jump into anything right away. I think we need to be friends and see where life takes us. Whatever happens, happen," Cameron recently said on former Bachelor Nick Viall's podcast, The Viall Files.

But Cameron's obviously still smitten with Brown. When the two saw each other on "After The Final Rose" he was grinning from ear to ear. And the next morning he posted a sweet letter to Brown on Instagram.

"Dear HB,

What a ride… I'll make this short and sweet. This journey with you is something that I will always cherish. I am so grateful for all the experiences that we shared together. You taught me so much about myself and pushed me to be a better man. I learned so much from you and so did the rest of Bachelor Nation. You were what we all needed as a lead. You showed strength and grace in the most beautiful way. You kept it real and gave us all of you. As one chapter closes, another one begins. The world is yours girl! Excited to see what you do with it. Looking forward to that drink.

Forever your biggest fan,
TC"

Brown has also commented on wanting to take whatever's next for her and Cameron slowly.
"It's only been two months ago, so my feelings just don't go away, but also we've both been hurt. I hurt him, I was hurt through that, and I was hurt through the relationship that I had," she recently told ET. "I think it's really important that if any type of relationship is going to happen for Tyler and I, that we hang out, and just see where we're at, and if that's friends, if it's more, I'm good with that."
"I want to continue to be a part of his life, and I think he wants to be a part of mine," she added. "But at what capacity, I don't think we know just yet."
It certainly seems like Brown and Cameron probably discussed "at what capacity" on Thursday night. We'll just have to wait and see if the pair sees themselves better as friends or romantic partners. But from what we saw on "After The Final Rose," there's definitely still enough chemistry there to power a rocket to the moon.  
Read more: 'The Bachelorette': Does Tyler C. Want To Get Back Together With Hannah B.?