'The Bachelorette': Jed Wyatt and His Ex-Girlfriend, Haley Stevens, Are In This Dating App Commercial Together
When it first came out that Jed Wyatt might have come on The Bachelorette with a girlfriend, many fans waited to hear Wyatt's side of the story before they placed judgment.

But when Wyatt finally shared his version of his relationship with Haley Stevens on the two-part season finale, it came off super sketchy. He hugely downplayed his relationship with Stevens, saying he never thought of her as an official girlfriend.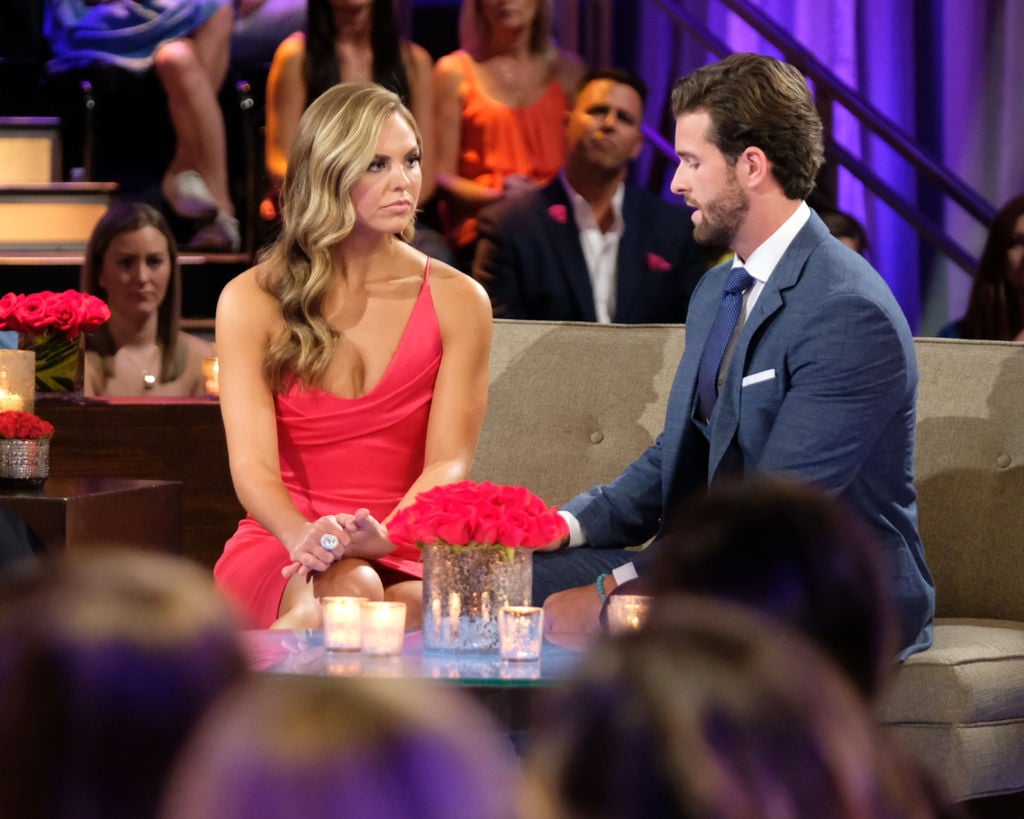 Jed Wyatt and Haley Stevens have different versions of their relationship

"We go to Gatlinburg, it's close to my parents' and they're like 'stop by,' whatever, so we stopped by, she met my parents. We go back to Nashville, life goes on, January rolls around it's my birthday. I've never had anyone throw me a surprise birthday part, she has like rallied all my friends, there's a cake and I just get excited over all that stuff. I was like 'oh my gosh I didn't expect anyone to do anything.' And she was like 'and I got you this,' from her parents. Her parents got me a vacation to the Bahamas. It's for my birthday but the day of the vacation's on her birthday," he told Brown, addressing Stevens' statements that they knew each other's families and took a trip to the Bahamas together. 

Stevens has also said in several interviews that she and Wyatt regularly swapped "I love you"s. Wyatt explained that away by telling Brown that he was drunk when he told Stevens that.

In a recent interview with ET, Stevens responded to Wyatt's explanation: "Every time?"

It's since become obvious that Stevens and Wyatt were in a serious relationship despite Wyatt's denial. He apologized for his actions to Brown on "After The Final Rose," but he's never apologized to Stevens.

ET asked Stevens if she thinks she'll ever get an apology from Wyatt.

"I would like to know that there's some kind of remorse. I don't know if I will ever get it. At this point, I think so much damage has been done, [an apology] is not even necessary. I've moved on from him an [the finale] was kind of the last moment of all the craziness so I can just kind of go on with my life now," she said.

Jed Wyatt and Haley Stevens were in this commercial together

If Bachelor Nation needs any more proof that Stevens and Wyatt's relationship wasn't casual or fake, it looks like they starred in this dating/friendship app advertisement together.

The app is called WillCalled, and it pairs ticket holders with ticket seekers. In the video, we see Wyatt and Stevens connecting and flirting over the app and meeting up to go to a music show together.

The commercial was posted to Instagram on March 6. Hannah Brown was announced as The Bachelorette on March 12 and was first spotted filming on March 21, according to Cosmopolitan. Just more evidence that Wyatt and Stevens were dating before The Bachelorette took place. 

Read more: 'The Bachelorette': Haley Stevens Hates This Lie Jed Wyatt Told The Most