'The Bachelorette': Jed Wyatt Claps Back At An Instagram User Who Says He 'Sang Way Off Key' At A Recent Performance
Bachelorette winner and Hannah Brown's ex-fiancé Jed Wyatt performed at iHeartRadio's SoCal Country event at the Miller Lite Irwindale Brewery in Irwindale, California this past weekend.
He posted two photos to Instagram to commemorate his performance.
"Yesterday was a dream. Thank you @iheartradio @millerlite @kramergirl for such a great day," he captioned the photos.
On Hannah Brown's season of The Bachelorette, Wyatt was known as the musician who came on the show to promote his career. He was up-front with Brown about his initial intentions, but wasn't honest about the girlfriend he'd come on the show with.
When Brown found out about Haley Stevens, the woman in question, she ended her engagement to Wyatt.
Though Wyatt's Instagram is filled with a lot less hate from Bachelorette fans these days, it's obvious some of Bachelor Nation is still hoping Wyatt's music career doesn't succeed after what he attempted to pull on Brown.
Even before it was revealed that Wyatt had come on The Bachelorette with a girlfriend, many fans voiced the opinion that Wyatt was a less-than-talented musician.
The Instagram commenter who called Jed Wyatt out for being off-key during his iHeartRadio performance
After his iHeartRadio performance, one fan, in particular, called Wyatt out for his "off-key" singing.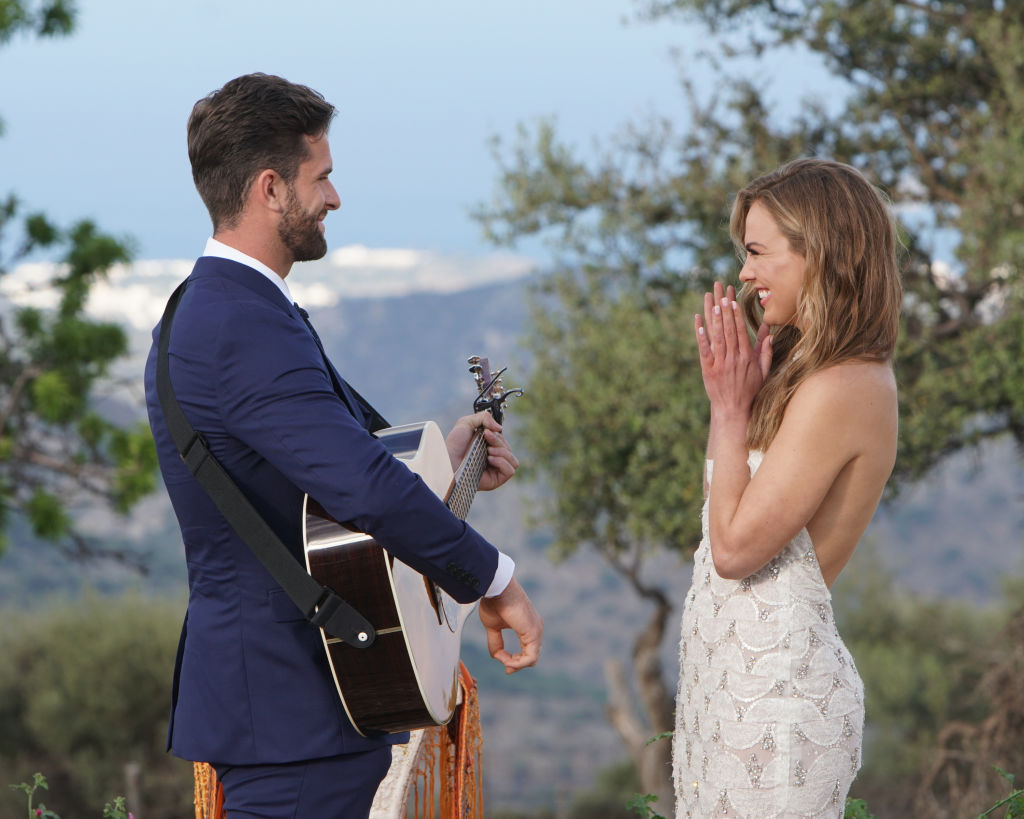 "People are saying that you bombed hard at this event and sang way off key. Care to explain?" commented the Instagram user.
Wyatt couldn't help but respond.
"woah, I'm surprised you had enough reception from your mothers basement to hear about this.." the reality star shot back.
Some fans appreciated Wyatt's response.
"you tell him!!!" wrote one Instagram user.
While others sided with the original commenter.
"that's just the only way he knows how to sing," wrote another.
Jed Wyatt thinks it's time everyone moved on from 'The Bachelorette'
In an interview with Haley Ringo of LAnded Late Night, Wyatt said that there's not much more he can say in terms of apologizing. He feels it's time for everyone to move past the drama that occurred between him, Brown, and Stevens.
"I do feel like I've said my sorrys because I truly am. I'm very remorseful about it all. But enough is enough and I know that there's been times in my life where I've been upset with somebody that apologized to me a lot and I was just like 'don't let it go, don't let it go, don't let it go,' and that ends up hurting me," he said.
Wyatt continued: "Don't let me ruin your day, move on. If you don't have anything nice to say then go do whatever you do. I'm obviously hurt and moving through this and working through it and there's not really much more that I can say. I am sorry, I've said that. I can't really go into it any more than I have. "
Read more: 'Bachelor In Paradise': Fans Aren't Sure How To Feel About Tayshia Adams And John Paul Jones