'The Bachelorette': Jed Wyatt Keeps Leaving Thirsty Comments on His New Girlfriend's Instagram
From Peter Weber's Bachelor season to all the drama that occurred on Bachelor in Paradise, Bachelor nation fans can't get enough of young, beautiful hopefuls looking for love. And we definitely can't forget Hannah Brown's season of The Bachelorette.
Brown first arrived on the scene during Colton Underwood's season, and she made it clear she was falling head over heels. Unfortunately, Underwood couldn't reciprocate the feelings — but fans adored Brown's down-to-earth attitude so much that producers knew she'd make the perfect Bachelorette. During her season, she fell in love with Jed Wyatt and even got engaged. But she called off their engagement after finding out that Wyatt wasn't telling the whole truth about his intentions.
Now, Wyatt has a new girlfriend — and he's leaving tons of comments on her Instagram. Here's who he's dating and what he's writing.
Jed Wyatt's past still doesn't sit well with fans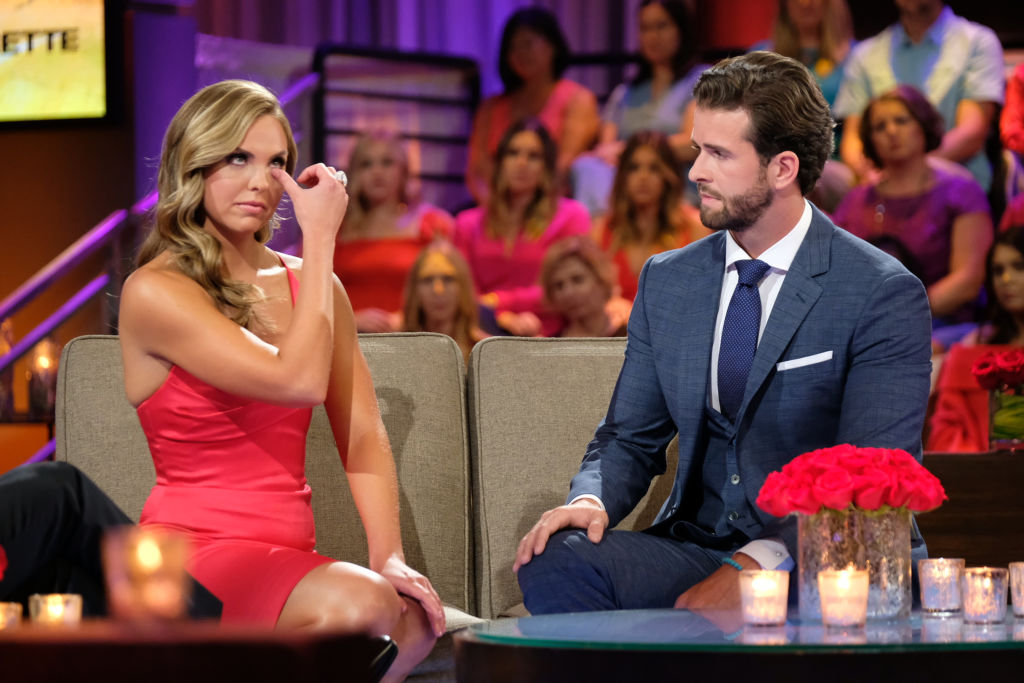 Many Bachelorette fans thought Brown should have chosen Tyler Cameron in the end — but she went with her heart, and her heart chose Wyatt. Unfortunately, no one — especially Wyatt himself — expected his ex-girlfriend, Haley Stevens, to air his dirty laundry.
Stevens told Us Weekly that the whole reason Wyatt went on to The Bachelorette was to advance his music career. Not only that, but Stevens alleged that she and Wyatt were still together when he went on the show, and he promised her he'd return back to her side when all was said and done. Unfortunately, when Wyatt finally returned from filming, he allegedly ghosted Stevens completely.
"I know the premise of the show. Even though that's not an ideal situation for our current relationship, when you're not in it, it seems like a movie. It seems like it's just a TV show," Stevens said. "You don't necessarily think about the fact that hearts are going to get involved, there are going to be feelings involved."
He officially has a new girlfriend he's showing off on Instagram
Brown publically spoke out against Wyatt and broke off their engagement, and the two haven't reconciled. Since then, Wyatt has received a ton of flack on Instagram for how he led two women astray. But that's not stopping him from showing off his current relationship now.
It seems Wyatt is now dating a woman by the name of Ellen Decker. According to her Instagram, she lives in Miami and works as a personal trainer and model.
"Thanks @mastro_m for introducing me to the only person to make me smile more than riding a jetski," Wyatt captioned his photo of him and Decker. He then added the hashtag "#hotbabesonjetskis" and "#jellen" as if to create his own couple's name.
Wyatt isn't shy about his love for Decker on her Instagram, either
From the looks of Decker's Instagram, it's clear she's falling hard and fast for Wyatt, too. She added photos of him to her Instagram Story and also noted she's "extra thankful" for his presence in her life on another Instagram post of the two of them as well. And Wyatt is also showing support by leaving a number of thirsty comments on her Instagram photos.
On Thanksgiving, Decker added a photo of herself with a caption about needing to run a marathon after eating all the food she consumed. To that, Wyatt commented, "If you're gonna do a long run, you should run up to Tennessee so I can smooch that face."
Wyatt commented on a photo of Decker in a bikini, "Are inhalers over the counter."
And he wrote on yet another photo of his girlfriend in a bikini on the beach, "*buys plane ticket*."
To our knowledge, Wyatt has never thirsted after Brown in such a way. We'll have to wait and see if he's really interested in dating Decker seriously or if this relationship will end as catastrophically as his last few.
Check out Showbiz Cheat Sheet on Facebook!