'The Bachelorette' Teaser Reveals Which Contestant Was Described as Violent by the Other Men
Next week isn't going to get any better between the men competing for Hannah Brown's love on The Bachelorette. A new teaser of the upcoming episode was released revealing which contestant was described as "violent" and possibly the reason why. Find out what happens in the clip and more.
The season trailer teased that things will get heated between the men
The season sneak peek teased that a lot of drama will go down between the men. One of them is called violent and we see someone get into an ambulance.
At first, we had no clue who was violent or who was in the ambulance. It seemed like it's possible that a fight could break out given a previous Chris Harrison interview.
"There is more drama this season than we've ever had on any show, The Bachelor or The Bachelorette — the man drama is intense," Chris Harrison revealed to The Hollywood Reporter. "It gets physical. They were just on fire. And I think a lot of that had to do with the guys being really on point, with even one of them kind of professing his love on one of the first dates."
Last week that drama included Luke P. or Luke Parker. Brown had to have a serious conversation with him.
Hannah Brown said she noticed some red flags when it comes to Luke P.
Things already started to come to a head in "Week 3" because Parker was getting jealous of her spending time with the other men.
"Luke P. stole the show again but in a negative way," Brown said on the date. "I know he's one of my strongest connections, but it's annoying when he tries to flaunt our connection in front of the guys. There have been just some little red flags about how he carries himself that bothers me a little bit. It's like this fine line of: I really think it's attractive to it's the most unattractive thing that I've ever seen in my life."
She then sat him down for a talk about his behavior. "I've been struggling a little bit with it because I feel like you already think that it's promised to you and that bothers me a lot," she told him. "And like, I feel like your confidence in this kind of makes me irritated in a way. … I want you to like focus on me and you do that, but you also don't respect that I do have other relationships here for me and that bothers me. I like confidence but it's like cocky in a way. I don't like that at all. I want it to change."
Parker is described as violent in the show's latest teaser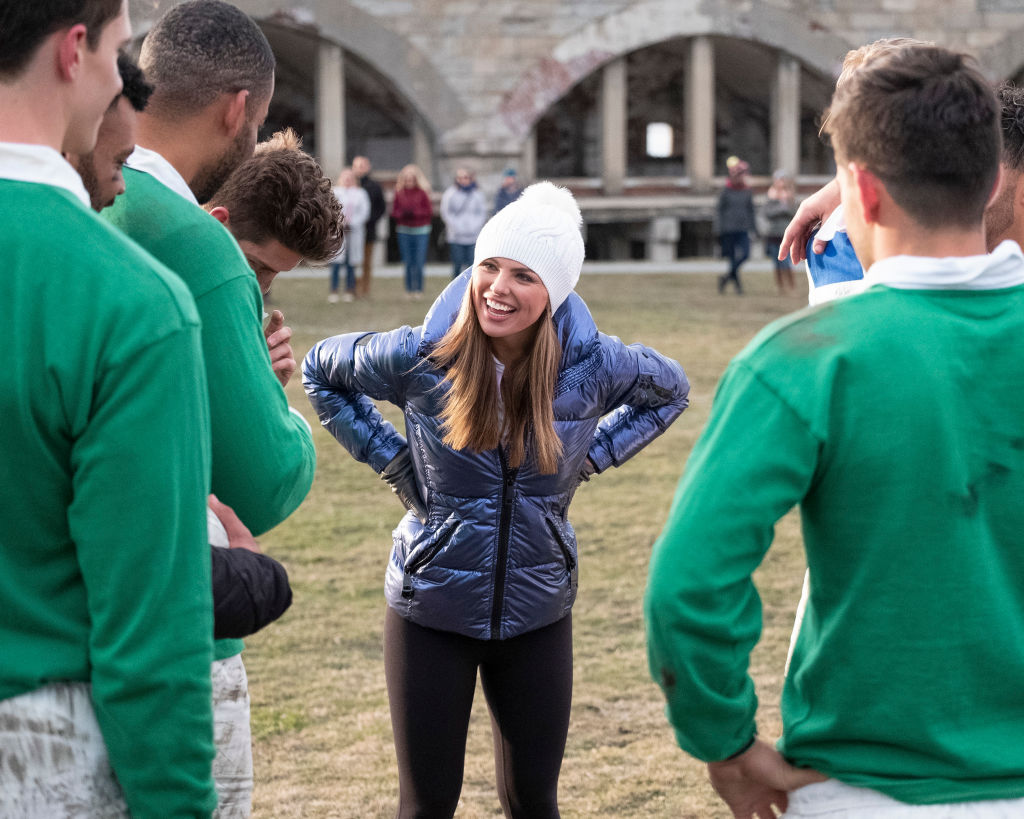 It looks like the men will compete in a rugby game in "Week 4." A game of some kind of sport is typical for the show, but things might be different this time around.
"Luke P.'s super aggressive. The guy's a beast," a man says while Parker is seen running full force on the field. Luke S. is then seen saying he's "the kinda guy that might hurt someone."
Parker is heard saying "Everyone will see what kind of fight I bring to the table." Someone gets taken down in a tackle then Luke S. is on the ground while Parker is walking away. Hannah asks, "What did he just do?"
An ambulance is shown so someone might have been injured from the game. The other guys are using words like lunatic, violent, aggressive, and psychopath to describe him.
The heated rugby game might further pull Brown and the rest of the guys away from Parker. Fans will have to wait to find out what happened.