'The Bachelorette': What Luke P. Claims Really Happened With Hannah Brown
Luke Parker, or Luke P. as he was known on the show, was one of the most talked-about contestants on the last season of The Bachelorette on ABC. After snagging Hannah Brown's first impression rose on opening night, the devout Christian from Georgia often baffled viewers. 
Bachelorette fans saw Parker as arrogant, and he feuded with numerous other contestants, especially Luke Stone (Luke S.), who left the show after a rugby field battle. Still, Brown kept Parker on the show week after week, citing her intense initial connection with him and their shared religious faith as her motives. 
Since the season ended, Parker has taken to social media and other platforms to defend himself against his reputation as the villain. He blamed "bullying" from other cast members, editing, and his own poor choices during emotionally charged moments for viewers' perceptions.
Read on to learn more about what Parker told two Christian YouTubers about his faith, his takeaways from The Bachelorette, and what he claims really went down during that "windmill" conversation.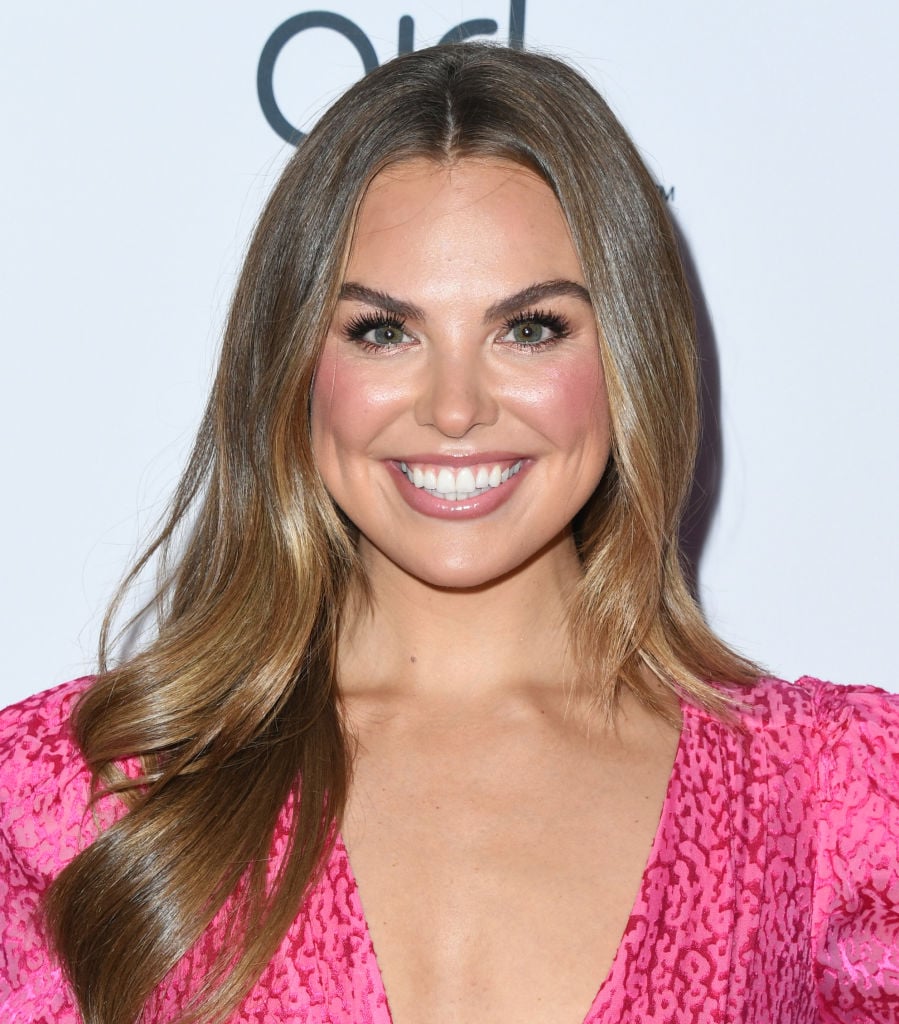 Parker and Brown famously clashed over premarital sex
Brown famously sent Parker home during Fantasy Suite week after they clashed over premarital sex.
Parker questioned Brown during a dinner date in Greece, wondering if she was planning on being sexually intimate with any other remaining contestants. 
"I don't believe that's something you should be doing," he told her, "and I want to make sure that you're not going to be sexually intimate with the other relationships here." He questioned her commitment to her faith if she was willing to have premarital sex, especially with multiple people.
Brown pushed back against Parker's comments, saying he had no right to judge: "The way that you just said that is like, why do you have the right to do that? Because you're not my husband…You're questioning me and judging me, when you don't have the right to at this point." 
The Bachelorette also told Luke P. that he should refrain from being too judgmental when he had problems with his own behavior. "You're holding other people to a standard that you don't even live by," she accused him. "Maybe you abstain from sex, but there's a lot of things that you struggle with." 
Brown broke up with Parker and dropped a major bombshell
Brown then broke up with Parker and walked him out to the car, but when he continued to say he wanted to work things out with her, she confessed defiantly: "So like, I have had sex…and Jesus still loves me. From obviously how you feel, me f**king in a windmill, you probably want to go home. And my husband would never say what you said to me."
The Bachelorette then dropped a bombshell that shocked Bachelor Nation: "I didn't just go to the Fantasy Suite," she told ABC producers. "I f**ked in a windmill. And guess what? We did it a second time." 
"Can I pray over you before I leave?" Parker requested before he reluctantly got into the car. (Brown obviously declined.)
Fans reacted to Parker's statements negatively, claiming that he slut-shamed Brown and acted in a misogynistic way. 
The Bachelorette turned Luke P. away a second time in Greece
In a bold move, the 22-year-old from Georgia went back to the show the following week to try to win back his ex-girlfriend. Brown turned him away and sent him home again, however, saying she had no feelings left for him due to what she perceived as his shaming tactics.
Later, the pair even debated one another on Twitter during the season, with Brown pushing back against Parker's statements about "sin." Parker defended his behavior on Instagram, saying that he was drawn to Brown's religious beliefs and that he had thought they were on the same page. 
The former 'Bachelorette' villain shared his side of the story on a Christian YouTube channel 
Luke P. told Christian YouTubers and married couple Paul and Morgan Olliges on their channel, "Paul and Morgan," about his time on The Bachelorette in a September video, "Luke P. Talks About What Really Happened On The Bachelorette, His Faith and What's Next."
Interestingly, Luke P. was encouraged to go on the show by his brother and sister-in-law. Parker told Paul and Morgan that he only agreed to become a contestant if Hannah Brown was the Bachelorette, due to her statements about her deep Christian faith on Colton Underwood's season of The Bachelor. 
Parker gifted Brown with a Proverbs 31 bracelet on their first night together in reference to a Scripture she had quoted on Underwood's season about being a "godly" wife. The former contestant told Paul and Morgan that he and Brown bonded over their shared religious beliefs, speaking about them frequently in unaired conversations. 
"The first conversation I had with Hannah Brown was a faith conversation," he told Paul and Morgan in a one-on-one interview. "I asked her about her relationship with God."
The former contestant realized during filming that he would become the show's villain
Parker said that, while he didn't realize it at first, he did eventually figure out his role on the show while filming The Bachelorette. "It took until Latvia," he explained, "and that's where I kind of figured it out. I'm the villain."
He told Paul and Morgan that he began to realize how he might be perceived by Bachelor Nation when producers began to ask him what he described as leading questions. As the weeks went on, he said, the questions began to take on particular themes, and he realized he might become the show nemesis.
He began to ask himself, "Why are they asking me these types of questions/ Why are they trying to get me to say stuff like this? And then it started making sense," he explained. "I started connecting the dots." 
Parker blamed editing for some of his missteps
Morgan asked Parker how close the infamous "windmill" conversation was to reality. According to Parker, it wasn't close at all. 
"It was very different," he claimed. "They make me very long-winded with the edit, and also they rearrange a few things on the real timeline of real life."
For example, said Luke P., that was far from the first time he'd discussed avoiding premarital sex during the Fantasy Suites with Brown. As Parker told it, Brown herself mentioned it during Hometown Week. 
He told Paul and Morgan, "She comes home to the hometown date, she gets to meet my family. But first, she gets to come to my church and meet my Sunday school group, my community group. I get to share a little bit of my story, my testimony with the community group. 
"Then she comes up and shares a brief story of her testimony, and she goes as far to say, 'Listen, everyone, don't judge me for the Fantasy Suites, because I don't plan on using them for sex. I plan on using them for conversation to further the relationship.'"
Hannah didn't buy that Luke P. was not judgmental
According to the former Bachelorette boyfriend, his frustrations were over what he perceived as Brown's hypocrisy and the difference between her actions and stated beliefs, not necessarily the sex itself.
Brown, for her part, now appearing on Dancing With the Stars, didn't seem to agree with the former The Bachelorette contestant about his lack of judgment. 
She told him on Twitter that shaming, too, was a sin, writing after the episode aired: "The devil wants to shame sin. God dealt with shame when he dealt with sin, so I will not allow someone who comes in the name of God to bring me something that God has taken off me."
Luke P. told the "windmill" story very differently
Parker claimed that, by the time Brown confessed to having sex with other contestants, he still believed they shared the same beliefs about premarital sex. Luke P. went so far as to claim to Paul and Morgan that Brown had said earlier in the same evening, "Luke, I share the exact same heart and the exact same convictions as you. We're on the same page."  
He narrated the windmill conversation as a moment of confusion on his part, as he still allegedly had no idea that she had had sex on the show. "I still am so confused in this moment," he explained, "asking myself, 'Why is she having such an emotional response?' I'm having all these conflicting thoughts."
And the moment when he said he'd go home if she had had sex? Luke P. claimed that that wasn't exactly how it went down, saying: "She looks at me and she asks, 'Well, if I had had sex, not saying that if I had or hadn't, but if I had had sex, how would that change how you feel about me, Luke?'"
Parker told Paul and Morgan that he was willing to forgive, but conflicted: "And at first I'm like, well look, I don't know what I would say at first, to be honest. I was like, I'd want to talk to you about it, talk you through it, and regardless of you slipping up or making a mistake, I'd want to make things right. And the only part they aired of me was, 'My initial reaction would be, you know, hearing that you had sex, I'd just want to go home.'"
However, Parker said he was still hoping to make up with her after the argument. 
Parker "struggled" with pride on 'The Bachelorette'
Ultimately, Parker, who is now pursuing a career in fitness, did admit that he knew he didn't make the right choices throughout his time on The Bachelorette. 
Still, he said that he learned a great deal and "grew closer to God" during the experience. "What is really intriguing and really cool, I think, is after living the experience of The Bachelorette, I've gotten to come home and realize, well, regardless of any kind of edit, whatever airs happened," he admitted. 
Parker continued, "So whatever the context is, it actually happened. So I had to come to this realization through self-reflection, be like, ok, 'Why did I say some of the things that I said? Why did I put myself in some of those situations?'"
In particular, Parker confessed that he realized he had displayed arrogance over the course of the show. "And down the list that you mentioned was pride," he told Paul, referencing Paul's list of how Bachelor Nation often described Parker (misogynistic, prideful, and shaming).
"And that's been something that's been so hard for me to admit to. But…you can see on the show, I'm very overly confident."
The former 'Bachelorette' contestant said his motives were genuine
Parker added that he believed many of the other contestants went on the show "to be famous," while he truly wanted to find love. This difference, he argued, caused some of the clashes, as did the competitive atmosphere and the lack of communication with the outside world. 
Parker also cited the lack of "accountability" with faith-based mentors, saying that more accountability might have kept his growing arrogance in check. Ultimately, he claimed that the experience strengthened his faith and made him more aware of his flaws.