'The Bachelorette': What Tyler C. Tells His Mom When She Reads Negative Comments About Him Online
Tyler Cameron had a quick rise to fame after his time on The Bachelorette. Bachelor Nation was captivated by his feminist rhetoric and next-level good looks. And since he began dating Gigi Hadid post-show, his fan-base has only grown.
Cameron's life has changed immensely since his time on The Bachelorette.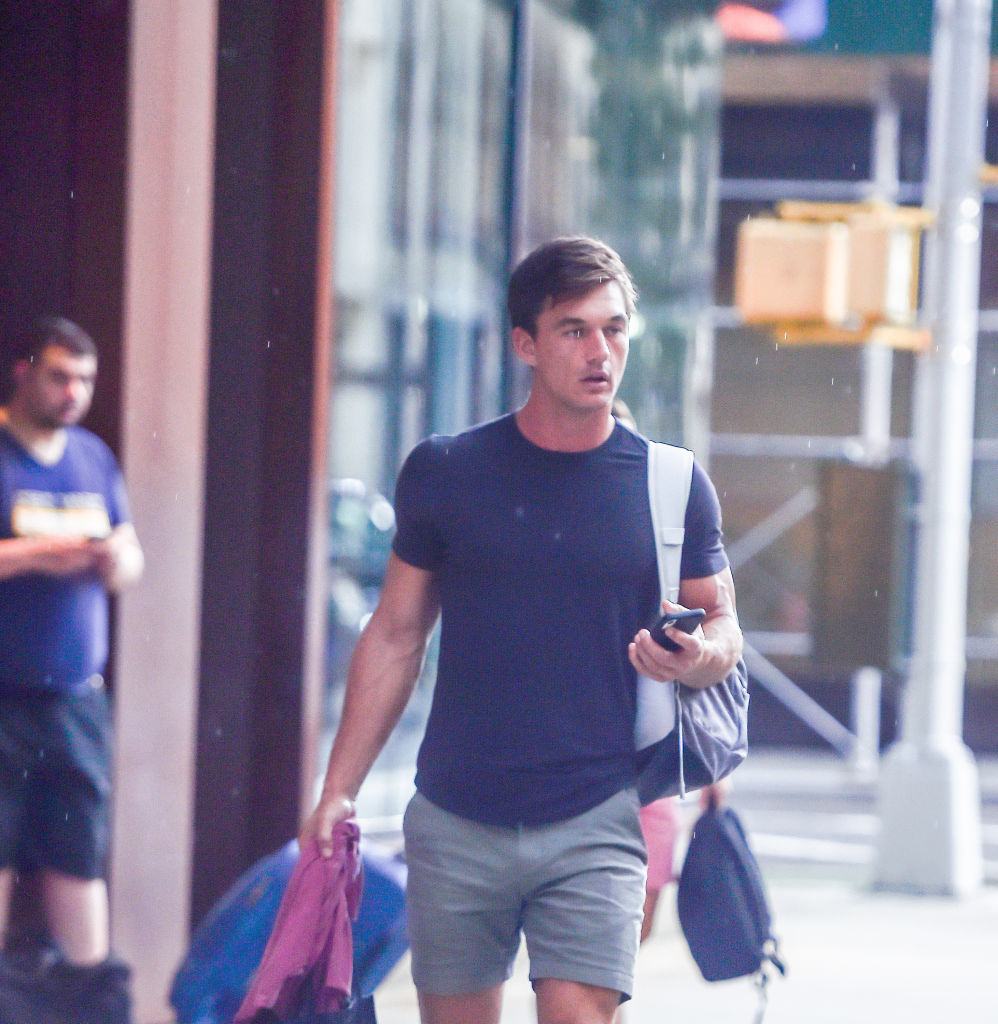 "Just walking around, people come up for photos, and then I started those group runs and how many people came out," he recently said on the Bachelor Party podcast of the moment he realized he was widely recognized.  
Cameron went on to say that he's incredibly grateful for his Bachelorette fans.
"The Bachelor world, those fans are awesome. I love my fans and you guys have been great. Very appreciative towards them. You guys are the best. It's been wild," he said.
But as every celebrity (reality TV or otherwise) will tell you, along with praise always comes hate.
Tyler C.'s mom sometimes can't help but read the negative comments about her son online
Even Cameron gets criticized sometimes. On the podcast, Cameron revealed that his mom sometimes gets caught up in the negative comments.
"My mom is loven' it. She's a wild one, she's fun. She gets all caught up in all the comments and stuff like that. I'm like 'mom, don't give the negative stuff energy.' So ya'll be good to my mom, alright?" he said.
Despite the negative comments here and there, Cameron says he wouldn't change any of his behavior on The Bachelorette. He's proud that he stayed true to himself.
"I was never gonna do things that weren't who I was. There's not one thing that I would take back from the show. I think everything was 100% me. That's how I truly feel about it. I think it's just staying true to your character and who you are. I would not take back anything I did," he said.
Cameron continued: "My friends would call me while the show would be airing and be 'dude I'm just proud of you for being who you are.' I wasn't gonna kiss someone's a*s to try and get more opportunity or whatever. I didn't believe in that. You're gonna like me for who I am and if you do, great, and if you don't, it's not gonna work." 
How Tyler C.'s family is handling his fame
All in all, Cameron says his family's excited for his newfound fame.
"I think they've been having a lot of fun with it. It's exciting for them," he said.
Something Cameron will always cherish from his time on The Bachelorette is the footage from his hometown date.
"That's a moment I'll always cherish and super grateful for. I had a professor for this film class I was in and he talked about, everyone should sit down with their family, their parents, and do a thirty minute or hour recording and just ask them questions. Ask them about their life. Just something you can always have and look at. Now that I have those times documented with my dad I'll forever have that. That's probably the thing I'm most thankful for from the show," he said.
Read more: Before 'The Bachelorette' Tyler C. Was Sleeping On A Friend's Futon Trying To Become A Model