'The Bachelorette': When Will Becca Kufrin and Garrett Yrigoyen Get Married?
Bachelor Nation watched the love story between Becca Kufrin and Garrett Yrigoyen unfold on The Bachelorette Season 14. The couple hit it off on night one, and as they say, the rest was history, as the finale ended in a romantic proposal. Now, over a year and one bachelorette later, fans are wondering whether they'll see the couple's nuptials in the near future. So when will Kufrin and Yrigoyen get married? It looks like they're taking things slow.
Are Becca Kufrin and Garrett Yrigoyen still together after 'The Bachelorette'?
As of this write-up, Kufrin and Yrigoyen are still together and happily engaged. And when speaking with People in early December, Kufrin gushed over their relationship — and growing family — since leaving The Bachelorette.
"We've been loving it," Kufrin said. "Life's still crazy and we've been traveling quite a bit."
She then showed off her new dog, a corgi named Minno.
"We did add a new little fur baby to our family a couple of months ago. She's actually sleeping next to me," Kufrin said, picking up her pup. "I was trying to convince Garrett to get a dog. We finally got her back in August and she's just been the best."
Kufrin and Yrigoyen also moved in together at the start of the year, shifting their home base to San Diego, California. Since then, both Bachelorette alums have illustrated their new life together through loving posts on Instagram. And on Dec. 25, Kufrin even shared a Christmas family portrait with Yrigoyen and Minno.
"Happy howlidays from my crazy little family," Kufrin wrote.
Becca Kufrin says wedding plans with Garrett Yrigoyen have yet to be made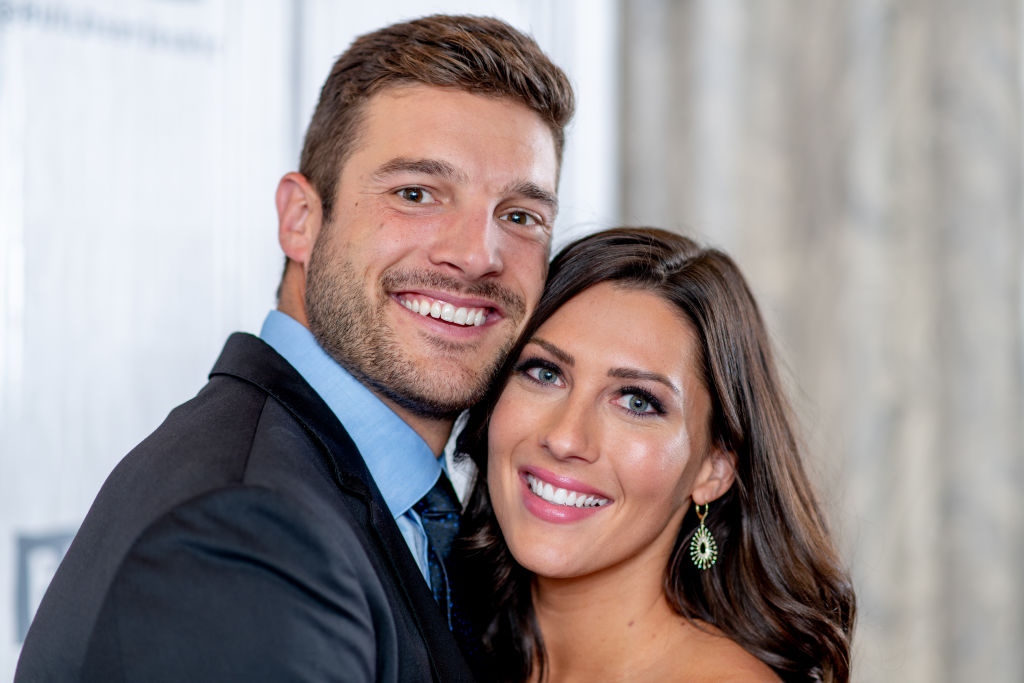 On Dec. 18, Kufrin went on Rachel Lindsay's Bachelor Happy Hour podcast and admitted she and Yrigoyen have yet to make any solid wedding plans.
"We literally have zero wedding plans right now," Kufrin said. Nevertheless, the 29-year-old noted her choice not to follow the typical Bachelor timeline isn't necessarily a negative thing.
"I went on the show to find somebody to get engaged to eventually get married, so I understand that that's why people always ask and they're interested," Kufrin said. "And everyone wants to know the first details. It's exciting — weddings are a great thing."
She continued: "If post a picture of Garrett and I, the only comments I feel like we get are, 'Oh, my gosh, have babies right now.' Or, 'Oh my gosh, when's the wedding?' There's more to our relationship than that. But again, it's because we put ourselves out there in that regard."
Then in an interview with Entertainment Tonight, Kufrin delved deeper into why no wedding plans have been made.
"I think we're just taking our time," Kufrin said. "[Yrigoyen] was previously married and divorced. So I never want him to feel rushed or pressured into anything. I'm fine with where we're at and I'm kind of just waiting for him to be like, 'OK let's do this now.'"
Even so, Kufrin confirmed that once she and Yrigoyen decide to plan their wedding, Bachelor Nation will be the second to know.
"We're just taking our time. It took us so long to figure out where we wanted to live, then to get a dog. So we're just dragging our feet," Kufrin said in the above interview with People. "We luckily aren't feeling any pressure and our family has been great about supporting us and going on along this journey. I think when we start making plans, we'll tell our family first. And then, I'm sure, share it with the world."
Will Bachelor Nation see Becca Kufrin and Garrett Yrigoyen's wedding?
Still speaking with People, Kufrin explained that she has a few things on her wedding wishlist — even if they haven't been fully realized just yet.
"I want it to be — whenever the date happens — a fun party," Kufrin said. "So I don't want it to be super traditional. I think that when we do it, we're just going to have a ton of food trucks and games — more of a party and mingling as opposed to a proper sitdown plated mean, where it's more formal. So we just want the vibe to be very fun and laid back."
The Bachelorette alum also mentioned she wants her wedding to be in a vineyard while her fiance is in love with the mountains. "We're going to have to come to a happy medium there," she said.
But regardless of what actually happens, it seems Bachelor Nation will not score an invite. When speaking with Entertainment Tonight, Kufrin revealed she doesn't want her nuptials to be filmed for TV.
"I'm not gonna say yes or no," Kufrin said. "But as of right now, probably not."
Meanwhile, both Kufrin and Yrigoyen will appear on The Bachelor Live on Stage tour, as the former bachelorette will be hosting the show with Ben Higgins. Then during an interview with Lindsay on Extra, Higgens proposed that Kufrin and Yrigoyen should get married live on stage. But chances are, that won't be happening.
"Ben, no!" Kufrin said when her co-host offered the idea. "I think my family and his family would probably kill us if we did it publicly."
Read more: Peter Weber's Greatest Fear About 'The Bachelor' Is Seriously Giving Us Hannah Brown Flashbacks