The Beatles' George Harrison: 10 of His Best Solo Songs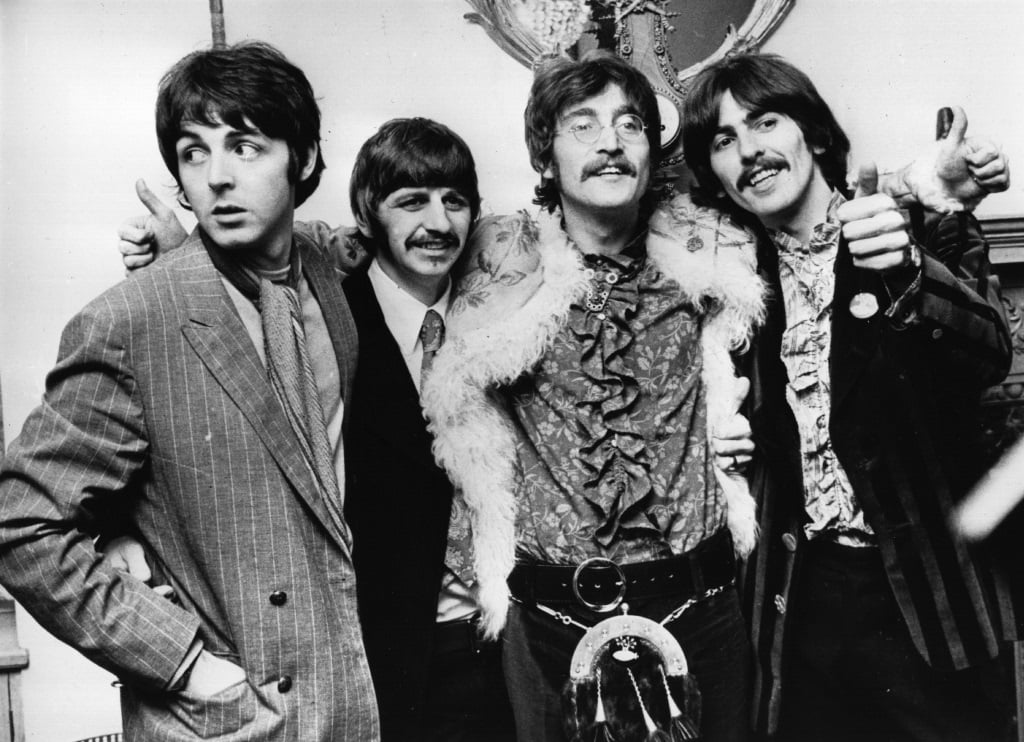 John Lennon and Paul McCartney might have written the bulk of the Beatles' discography, but the third part of their lovely three-part harmonies was quietly maturing as a songwriter alongside them. In the short eight years The Beatles were the biggest band in the world, guitarist George Harrison went from contributing one forgettable song per album to contributing a few of the best songs on their final albums, including the hit single "Something," which stands out as one of the band's greatest love songs.
Harrison's solo career found him continuing to pursue his passions and hone his songwriting personality, using spirituality, cheeky humor, and plain talent to craft a series of great albums and songs. These are 10 of his best.
1. 'What Is Life'
If there was any doubt of Harrison's ability to fill a record entirely on his own after the Beatles' 1970 split, they were dispelled by the classic triple album All Things Must Pass, a record overflowing with melody and originality. "What Is Life," which became a successful single in many countries, is a clear standout even among this collection of great tracks, both for its moving lyrical content about the importance of love in one's life and Phil Spector's rich wall-of-sound production, with triumphant brass and strings adorning a catchy descending guitar riff.
2. 'All Things Must Pass'
The title track from Harrison's proper solo debut edges out the album's bigger hit, "My Sweet Lord"  — which was plagiarized, unintentionally or not, from The Chiffons' "He's So Fine" — for its place on this list. "All Things Must Pass" is a painful yet optimistic confrontation with the enduring passage of time and a likely nod to the Beatles' recent dissolution, a weepy ballad drenched in moving strings that serves as a surprising showcase for Harrison's voice. Though sometimes criticized for his reserved vocals, especially compared to his former band mates, this song and this album prove again and again that Harrison can sing — and had plenty worth singing about.
3. 'Give Me Love (Give Me Peace on Earth)'
Living in the Material World was another triumph from Harrison, as confident if not as ambitious as All Things Must Pass, further cementing his heralded place as a solo artist. Harrison goes for intimacy rather than scope with "Give Me Love," replacing the enormous wall of sound with a series of beautiful slide guitar solos that lull the listener into imagining the same idyllic world Harrison dreams of through his openhearted lyrics, focused on how things could be as well as how they are.
4. 'Living in the Material World'
And yet another standout title track from Harrison. "Living in the Material World" is more than just a solid thumping rocker of a song featuring more than a few brilliant melodic and musical ideas — it's a great summation of the songwriting voice Harrison defined through his solo work. Blending Indian music and standard rock formulas, his lyricism boldly, cheekily criticizes the materialism and hypocrisies of modern life while paying tribute to his own spirituality and never coming off as anything less than absolutely inspired.
5. 'Bangla Desh'
John Lennon may be most famous among Beatles for his social and political involvements, but Harrison made a good case for his own powerful political messaging with this non-album single written as part of a relief effort for the people affected by the Bangladesh Liberation War. Pop music's first charity single and still quite possibly its best, "Bangla Desh" is a plea to be aware of do our best to help our fellow man, a message the never comes across as preachy in such a well-written package and surrounded by chaotic but compelling instrumentation that can still make you want to get up and do something, anything, to help out.
6. 'You'
Extra Texture was yet another successful album from Harrison, even if it couldn't meet the high bar he set for himself right out of the gate with All Things Must Pass. The album's biggest single is also happily one of its best songs. "You" sounds so crisp and tight to the point of being overproduced, but the sleek sound and sputtering saxophone that might now recall hacky '80s musical styles work well here in spite of themselves. This is a straightforward upbeat love song, but Harrison's croon and life-affirming melody elevate it to feel like so much more.
7. 'Dark Horse'
"Dark Horse" might not seem like such a loaded title today, but upon its release in 1974, the term referenced Harrison's status as the unlikely winner of the post-Beatles race for supremacy in the musical world. Here, Harrison uses the term for himself as a sort of humorous anthem taking on many of the detractors, including his former band mates and critics who took issue with the spirituality of his albums. Even divorced of all that context, "Dark Horse" is one hell of a song, featuring beautiful guitar strumming, perfectly imperfect lead vocals from Harrison and a propelling jazz-funk keyboard track.
8. 'All Those Years Ago'
After the tragic passing of John Lennon in 1980, the remaining three Beatles got in one room to record this song, which was one of the closest things to a Beatles reunion we ever got. Released as a single from Harrison's 1981 album Somewhere in England, the song plainly confronts John's passing while wistfully looking back upon his large part in the Beatles' success. Still, the music was firmly rooted in Harrison's present fascinations, featuring tons of original arrangements, particularly in those synthetic jazz-funk keyboards that might sound dated if they weren't so well-integrated.
9. 'Blow Away'
In a pop music landscape dominated by disco and punk bands, it took a former Beatle like Harrison to make a straightforward pop classic like "Blow Away" dominate the charts the way it did upon its release in 1979. The optimistic tone of the song matches well with the melody, whose lovely impact can't be dulled by its inspired simplicity.
10. 'Brainwashed'
Harrison died shortly before he could provide the finishing touches on his last album, the criminally underrated Brainwashed, whose title track closes the album and provides a fitting punctuation mark for Harrison's remarkable career as a songwriter. The song is a thumping rocker that cleverly criticizes the dulling of one's psyche promoted by seemingly every piece of the modern world, interspersed with meditative, lovely sequences that find Harrison joining in the Hindu chant "Namah Parvati" with his son Dhani.
Follow Jeff Rindskopf on Twitter @jrindskopf
Check out Entertainment Cheat Sheet on Facebook!