The Beatles: Ranking Their Albums From Worst to Best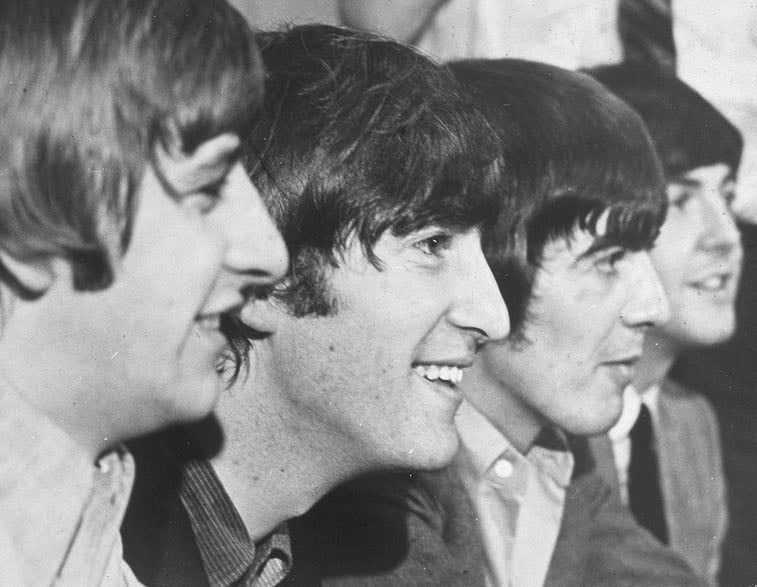 The Beatles are commonly considered to be the most important musical group of the 20th century, but even regardless of their historical significance, their original output is endlessly listenable. Within a span of only eight years in the 1960s, the Fab Four released a string of 11 studio LPs — more if you count the soundtrack and score for their animated film Yellow Submarine or the EP extended into an LP for American release Magical Mystery Tour, both excluded from this list to avoid complicating things — without ever releasing a real dud.
Their output is chock-full of melodically rich classics and oft-forgotten gems that demonstrate why they remain such a thrilling, brilliant musical and cultural force some 50 years after the height of their popularity. It's impossible to rank these beloved albums in a way that everyone can agree on, so here's our purely subjective list of Beatles studio albums, ranked from worst to best.
11. Beatles for Sale
Beatles for Sale might have been considered a telling downturn for The Beatles, as the album saw the acclaimed Fab Four taking a step back in songwriting by paying tribute to some of their influences with six cover songs out of 14. The covers are competent but pale in comparison to the albums' few highlights, including the McCartney ballad "I'll Follow the Sun" and the instant classic "Eight Days a Week." There's little on Beatles for Sale that's outright bad, but there isn't very much that's great either, making it the Beatles' weakest effort.
10. With the Beatles
The follow-up to the breakthrough success of their wildly successful first U.K. album, With the Beatles sports a dark cover advertising a more serious side of the young group. Unfortunately, the songwriting doesn't shine as brightly as it did on their first effort, as the band is bogged down by six forgettable covers. Most of the songs are solid but a few drag, and the album lacks as many burst of melodic brilliance as their first effort, with notable exceptions including "All My Loving" and the Ringo-led "I Wanna Be Your Man."
9. Help!
The soundtrack to their second feature film, Help! features its share of well-remembered classics ("Ticket to Ride," "Yesterday," "I've Just Seen a Face," the title track) and oft-forgotten gems ("You've Got to Hide Your Love Away," "The Night Before," "Tell Me What You See"), most featuring an unprecedented focus on delicate folk rock melodies. This unique thread makes the album great, but it's weighed down some by a few uninspired tracks ("Another Girl," "You're Going to Lose That Girl," "Dizzy Miss Lizzy") that recall Beatles for Sale instead of pointing forward to their burgeoning songwriting maturity.
8. Please Please Me
An explosion of unexpected brilliance heralded the arrival of the Fab Four with this energetic 1963 release that feels refreshingly new even today. Please Please Me predictably lacks some of the sophistication of the band's future output, but it still feels as though a wave of pent-up melodic genius has just been unleashed, as the four-piece almost unknowingly stumbles across deceptively simple, infectious hooks from the amazing opener "I Saw Her Standing There" to the closing wail of their best cover "Twist and Shout."
7. Let It Be
https://www.youtube.com/watch?v=cKolD582AVI
Only released after the Beatles had officially split, Let It Be is the product of a series of difficult recordings meant to bring the Beatles back to basics after several albums focused more heavily on studio experimentation. Let It Be sounds uncharacteristically raw for the Beatles without retreading their earlier material. Instead, tracks like "Get Back" and "I've Got a Feeling" reflect a more soulful, musically accomplished side of the band, while tracks like "Across the Universe" and "Let It Be" give solo members their time to shine alone. Phil Spector's sometimes-intrusive production makes Let It Be weaker as an entire experience, as does the inclusion of half-finished songs like "Dig It" or even "One After 909″ rather than a B-side like "Don't Let Me Down."
6. A Hard Day's Night
The Beatles' third album and soundtrack to their first film more or less perfected their early, four-piece pop-rock sound with a string of catchy melodies, brought to life with modest but precise loveliness. A Hard Day's Night is well-balanced between infectious explosions of music like "Can't Buy Me Love" and "I Should Have Known Better" and slower, more heartfelt and emotionally mature efforts like "And I Love Her" or the forward-thinking "Things We Said Today." Thankfully, after perfecting their early sound, they soon ventured out into more ambitious territory.
5. The Beatles (White Album)
The Beatles' self-titled album represents the band at their most splintered, as each member contributes tracks that are identifiably their own, often without any collaboration between the members. The resulting double album is undoubtedly a disjointed mess of solo tracks strung together, some fully-conceived and others more half-baked, like "Wild Honey Pie" or "Why Don't We Do It in the Road?" Nonetheless, the odd experiments are often as fascinating as they are enjoyable while others are their most brilliant efforts of all-time ("Back in the USSR," "While My Guitar Gently Weeps," "Sexy Sadie"), giving fans the chance to experience every stray experiment each respective Beatle was curious about.
4. Rubber Soul
Many consider Rubber Soul to be the Beatles' best album, a cross between the more modest melodic sensibilities of their early efforts and the unchecked ambition of their later ones. Rubber Soul does strike a perfect balance much of the time, representing the band as a cohesive unit while still allowing McCartney and Lennon to shine as their own distinct units with such all-time greats as "In My Life," "Girl," "Norwegian Wood" and "I'm Looking Through You." A few good-but-not-great songs hamper the effort for me, including the lyrically ugly "Run for Your Life" and the silly "Drive My Car."
3. Sgt. Pepper's Lonely Hearts Club Band
After experimenting in the studio on Revolver and Rubber Soul, The Beatles more or less abandoned their early sound for a new one focused on pop songs arranged using grand orchestral production-styles that elevate their songwriting skills to new levels. The concept of a fictional band gave the members the license they needed to explore new avenues, including the blistering rock of the title track, the trippy circus fare of "Being for the Benefit of Mr. Kite" and the epic "A Day in the Life." As with many Beatles albums, a few of the tracks simply can't keep up the same high standard — the worst offenders here being Paul's silly "When I'm Sixty Four" and "Good Morning Good Morning."
2. Abbey Road
Seeking to give themselves a proper send-off, The Beatles split their final album into two parts. The first consists of a series of full-fledged songs that include some of their most beloved recordings, presenting all four members at the height of their power — listen to "Something," "I Want You (She's So Heavy)," "Oh! Darling" and "Octopus's Garden" for a taste of each member's songwriting prowess. Side two begins with a few more fully-conceived songs before becoming a legendary suite of odds and ends, reminiscent of The White Album, strung together to create a beautifully-interconnected mosaic of all that is Beatles, from the silly "Mean Mr. Mustard" to the truly affecting final stretch from "Golden Slumbers" to "Her Majesty."
1. Revolver
Many come close, but none can beat the balance The Beatles achieved with their 1966 effort Revolver, whose songs hint at the band's forward-thinking studio work while keeping many of the songs simple in composition. Most of the songs seem to be inventing their own sounds on their own terms, from the psychedelic otherworldliness of "Tomorrow Never Knows" to the string-drenched production of "Eleanor Rigby" and the simple but distinct guitar tone on "She Said She Said." There isn't a stinker in the bunch, and each track has its own flavor that creates its own world while still contributing to an overall aesthetic.
Follow Jeff Rindskopf on Twitter @jrindskopf
Check out Entertainment Cheat Sheet on Facebook!