The Best 8 Episodes of 'The Office' to Watch on Netflix
The Office is the perfect, feel-good show to watch anytime. Having a bad night? Watch The Office and Michael Scott's management style, and it will make you feel better. Having friends over? Turn on The Office, and everyone will be laughing.
There's something terribly sad about the fact that there will never be another new episode of The Office. The show was classically funny in a way that few are able to mimic. Luckily, all nine seasons are available to watch on Netflix.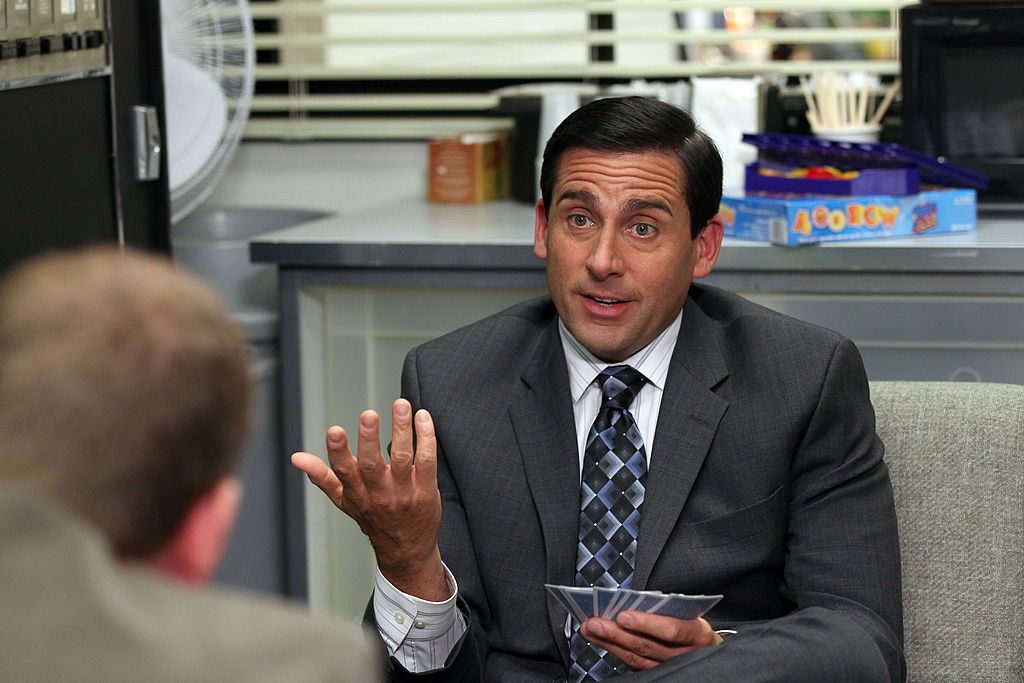 However, the sad news is that The Office may be leaving Netflix soon. NBCUniversal is creating its own TV streaming service, which means they'll want shows like The Office for themselves. Watch it on Netflix now, while you still can.
If you don't have time to binge watch all 201 episodes, don't worry. We've compiled a list of the top eight best episodes of The Office to watch right now. This list was compiled by comparing "Best of The Office" lists from around the web, including Entertainment Weekly, IMBd, UPROXX, Ranker, and of course, our own favorites.
1. 'The Dundies'
Season Two- Episode One: In this episode, we're introduced, for the first time, to the yearly awards ceremony at Dunder Mifflin. Organized by Michael and held at the Scranton Chili's, the awards are a disastrous mess, full of lame raps, flat jokes, and insults. And yet, somehow, Michael still seems to come across as someone who's trying to do his best to encourage his employees.
2. 'Stress Relief' (Part 1 & 2)
Season Five- Episodes 14 & 15: The beginning of this episode stands out as one of the most chaotic and hilarious scenes in the whole show. Yes, we're talking about the fire drill scene. In order to teach the office a lesson in fire safety, Dwight sets up a fake fire, while locking the doors and cutting the phone lines, causing the entire office to panic. Because of the commotion, Stanley suffers a heart attacks. Michael tries to get the office to calm down, by putting his own spin on stress relief.
3. 'The Injury'
Season Two- Episode 12: Michael burns his foot on a George Foreman Grill. He insists on coming to work, but because of his injury, he expects everyone to care for him. When that doesn't happen, Michael feels underappreciated.
4. 'Dinner Party'
Season Four- Episode 13: Michael and Jan invite the group over for a dinner party and end up embarrassing themselves and all of their guests. The extreme awkwardness makes it one of the funniest episodes. It's notable that it's a rare episode that takes viewers out of the office and into a character's home.
5. 'Gay Witch Hunt'
Season Three- Episode One: When Oscar is outed as gay, Michael tries to show him how accepting he is, but instead keeps insulting him. This is also the episode where Jim orders a "Gaydar" detector for Dwight.
6. 'Diversity Day'
Season One- Episode Two: When corporate insists that Michael needs diversity training, he comes up with a hilarious (and culturally insensitive) game for the employees at Dunder Mifflin. They probably wouldn't be able to get away with this episode today, and it may be too much for some viewers, but taping cards to your forehead with ethnicities and then trying to guess them with obvious stereotypes makes for a super-funny scenario.
7. 'Casino Night'
Season Two- Episode 22: This is the episode where Jim finally tells Pam how he feels. It's the culmination of two seasons worth of sexual tension between the characters, and they pull it off perfectly. Michael also invites two dates to one party.
8. Finale
Season Nine- Episodes 24 & 25: The series finale is equal parts funny and touching. We get to see Dwight and Angela get married, the airing of the documentary, and several of the old characters return for one last goodbye. It's the perfect ending to the show. You'll find yourself laughing- with tears streaming down your checks. It's an emotional rollercoaster, but exactly right for the Dunder Mifflin crew.