The Best (and Worst) of Quentin Tarantino: His Movies Ranked
Since the release of his debut feature in 1992, Quentin Tarantino has developed a reputation as one of the most consistently strong filmmakers working today. Each of his films is greeted with a sense of anticipation and excitement from fans and critics alike, with his distinct visual flair and ear for hyper-stylized dialogue setting him apart from his contemporaries.
Here are his directorial efforts — not counting screenwriting-only credits like From Dusk Till Dawn and True Romance — ranked by a combination of box office performance, critical reception, and cultural significance.
7. Death Proof (2007)
One half of the double-feature throwback experiment (and epic box office flop) that was Grindhouse, this slasher/car chase genre mash-up sees Kurt Russell taking on the role of the murderous driver Stuntman Mike, who hunts down groups of young women and slaughters them with his nigh-indestructible stunt car. The film features plenty of earmarks of classic Tarantino, including his trademark conversational magic and a killer soundtrack. Still, Death Proof lacks the energy and vision that permeates most of his releases, with the director himself admitting that it is the weakest film of his career.
6. Jackie Brown (1997)
Pam Grier was already an icon of 1970s cinema when Tarantino brought her on as the titular character of this quirky crime drama, alongside a cast that also includes Samuel L. Jackson, Robert De Niro, Bridget Fonda, and Robert Forster (who earned an Oscar nomination for this performance). Full of double-crosses and colorful criminals, Jackie Brown serves as an adaptation of novelist Elmore Leonard's Rum Punch but still feels largely like a story conceived by Tarantino. Coming off Pulp Fiction, the film is also the his most straightforward tale — lacking the narrative tricks that he's known for — and stands as perhaps his most frequently overlooked hit.
5. Django Unchained (2012)
Earning Tarantino his second Academy Award, Django Unchained continues the revenge-driven revisionist history approach that he first delved into with Inglourious Basterds. Jamie Foxx and Christoph Waltz star as a former slave and bounty hunter, respectively, targeting a notorious plantation owner (Leonardo DiCaprio) who has taken possession of Django's wife, Broomhilda (Kerry Washington). The film is dripping with style, from the ultraviolent set pieces to the hip hop-infused soundtrack, and the performances are all-around fantastic, though Waltz's Oscar-winning turn unfairly eclipsed DiCaprio's villain. Even with all the film's strong points, it still feels less focused and more indulgent than Tarantino's previous films.
4. Reservoir Dogs (1992)
The film that started it all, Reservoir Dogs effortlessly established Tarantino's style and confidence behind the camera. The film is ostensibly about a heist gone wrong, but the real trick of it all is that the crime itself is never shown. Rather, Tarantino delves into the individual stories of his main characters, setting the stage for an epic confrontation with deadly results. Moreover, the opening diner scene — which memorably dissects Madonna's "Like a Virgin" — instantly reveals the filmmaker's penchant for pop culture and the raw talent that brought this crime caper to life. Bonus points for ushering such unforgettable figures as Steve Buscemi's Mr. Pink and Michael Madsen's Mr. Blonde into the annals of film history.
3. Kill Bill (2003/2004)
The Bride's (Uma Thurman) "roaring rampage of revenge" may have been so epic that it took two separate theatrical releases to chronicle, but since Tarantino initially intended the story to be one long film, the second half doesn't really count as a bonafide sequel. Moreover, the two-part tale tonally balances itself out, with the first centering more on Eastern-influenced mayhem and the second on emotional weight and Western tropes. Thurman delivers an iconic badass that easily stands as one of the best female action heroes in movie history, and Kill Bill gives Tarantino the chance to create a world where all of his cinematic influences can coexist in one insanely engrossing viewing experience.
2. Inglourious Basterds (2009)
Some fans may have criticized the stylistic remixes that Tarantino offered with Kill Bill and Death Proof, but this World War II film proved that the director was more than capable of bringing something a bit fresher to the big screen. Brad Pitt stars as the leader of a team of Nazi hunters, and Melanie Laurent is a young woman with revenge on her mind. However, Christoph Waltz steals the show as the chilling Colonel Hans Landa in an Oscar-winning turn that stands as one of the very best onscreen villains in recent years. Exhilarating and darkly funny, Inglourious Basterds is one of Tarantino's finest works, and if not for one singular piece of movie history, it could very well — as the final line of dialogue implies — have been his masterpiece.
1. Pulp Fiction (1994)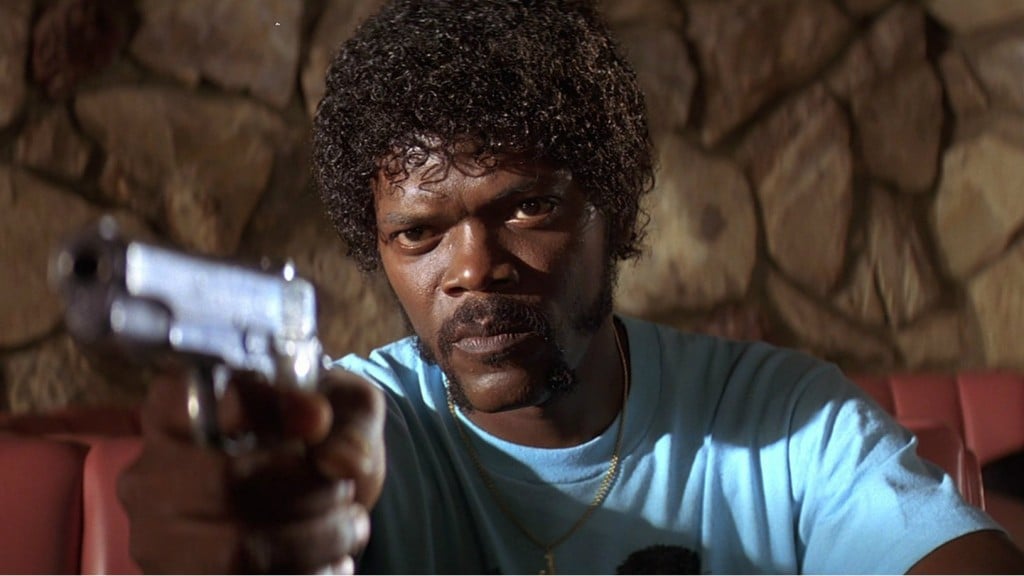 Was there ever any doubt that this would top our list? Pulp Fiction was such a game-changer for the industry in so many ways. Not only did it bring Tarantino to the mainstream (and a ton of awards attention) but its twisted sense of humor and interconnected narrative design spawned a legion of imitators. Characters like Vincent Vega (John Travolta), Mia Wallace (Uma Thurman), and Jules Winnfield (Samuel L. Jackson) have become instantly recognizable icons, and virtually the film's entire Oscar-winning screenplay is endlessly quotable. How else would the world know what they call a quarter-pounder with cheese in Paris? There's a reason Pulp Fiction is largely considered one of the best films of all time.
Follow Robert Yaniz Jr. on Twitter @CrookedTable
Check out Entertainment Cheat Sheet on Facebook!