The Best Gift Kim Kardashian Has Ever Received from Kanye West
Kim Kardashian and the rest of the Kardashian-Jenner family are known to go all out when it comes to gifts. For reference, on one occasion Kylie Jenner bought her mother, Kris Jenner, a Ferrari. That's how "all out" they go.

They're known to be especially extravagant with their Christmas gifts. Since Kanye West married Kardashian, he's become part of the Kardashian-Jenner family and goes all out on gifts too.

Keep reading to learn what Kardashian called "the best gift" she ever received from her husband. And it's not jewelry, clothes, or a car.

Kardashian's best gift from West

Kardashian and West have been together for a number of years now and done many gift exchanges. But one that stands out for Kardashian as the best gift she ever received from her husband, was the time he gave her a box of socks, headphones, and a Mickey Mouse toy for Christmas that had a hidden meaning.

Kardashian explained the gift in her Vogue "73 Questions With" video saying, "He gave me a box and I opened it and it was Mickey Mouse and Adidas socks and Apple headphones and I thought, 'OK.' And then he told me that he bought me major stock in all of those companies."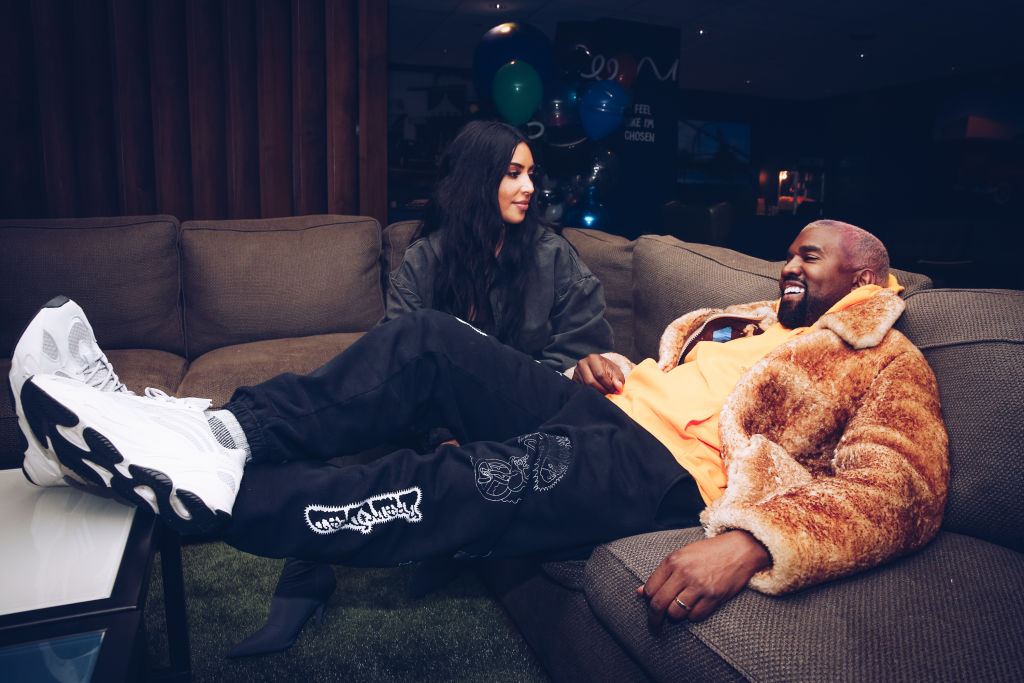 West, who also appeared in the video, imitated her response: "'She said, 'Uh, OK.'" Kardashian explained why she reacted to unenthusiastically saying, "Well, when I thought it was just Adidas socks and headphones I was like, 'Thanks.'"

The gift of stocks topped West's most recent Christmas gift of a Miami condo worth $14 million.

Holiday cards

Holiday cards are a big deal for the Kardashian-Jenner family. They have a long-standing tradition of taking a picture together to serve as their holiday card. And this isn't a quick thing either. The family spends hours doing "glam," or hair, makeup, and wardrobe, then to be snapped by a professional photographer in an extravagant winter setting for their card.

The process has been documented on the family's reality show, Keeping Up with the Kardashians and it truly is a production. The 2018 holiday card drew attention because two members of the family were missing, Kris and Kendall Jenner.

Kardashian explained how hectic it was to get the family all together to shoot the photo for the card on Instagram.

"This year we waited until the last minute to do a card," Kardashian said. "Schedules we're changing, my husband was in and out of town. But the day of this card last minute realized we were all together, so we had all of our kids come meet us. Kendall and my mom rushed to a meeting after this shoot so this is what we have!"

Kris Jenner cried giving up Christmas Eve party hosting duties
Then there's the family's annual Christmas Eve party. Kris Jenner used to host the annual bash but has since passed the tradition down to Kardashian to host. Kardashian talked about how hard it was for her mom to pass the torch so to speak.

"I cried when I took over my mom's Christmas Eve party and she was so emotional about it, giving it up, that she started crying, and it made me cry," Kardashian told Vogue in her "73 Questions With" video.
This past year, she hosted her first Christmas Eve party and didn't disappoint. She covered her Calabasas, Calif. home in a blanket of snow and had John Legend perform songs from his album, A Legendary Christmas. The cost of the party? Reportedly $1.3 million.