The Best Jennifer Aniston Movies You Can Watch Online
It's safe to say the most iconic star out of Friends was Jennifer Aniston, even if all the talents from the show went on to their own degree of success. There was something immediately appealing about Aniston, though, and it translated perfectly to the big screen.
While Aniston keeps in touch with her Friends colleagues, she's clearly had the better film career. It now goes back more than 30 years. Recently, her film career seems to have transitioned to Netflix where one movie has already aired and another is on the way.
Where can you watch her best movies online? Here's where to find them.
Early Jennifer Aniston films available for streaming
Jennifer Aniston Online: Welcome back to Jennifer Aniston Online! – https://t.co/JRjoD4DLxo #JenniferAniston pic.twitter.com/258WlzO7uM

— Jennifer Aniston Online (@JenniferAOnline) January 6, 2019
Did you know the first film Jennifer Aniston acted in was Mac and Me in 1988? She only had a small non-credited part playing a dancer in a McDonald's. Still, it didn't take long for her to land more substantial acting parts.
Ed Burns' She's the One was her first major acting part that gave people a chance to see what she could really do. It's available to rent as a download through many services like Google Play and YouTube.
No doubt Aniston joining Friends in 1994 had a lot to do with her landing good movie roles through the 1990s. Most of those roles were in romantic comedies like Picture Perfect and The Object of My Affection. Both of these are available on streaming services, with the former on iTunes and latter on Amazon Prime Video.
With these films alone, Aniston set up a solid fan base that's carried over with various fan sites on Twitter. Alas, though, she isn't on social media yet.
'Rock Star' and 'The Good Girl' as breakthroughs
Leprechaun was released on this day 26 years ago (1993). #WarwickDavis #JenniferAniston https://t.co/lthITQkJF7 pic.twitter.com/WLA1bZOqc2

— onthisdayfilm (@OnThisDayFilm) January 8, 2019
By 2001, Aniston was already a superstar on Friends and had over ten movie performances on her resume. Despite being memorable in each part, the 2002 film The Good Girl would arguably be considered her real acting breakthrough.
Regardless, she did do a memorable film called Rock Star a year before (co-starring with Mark Wahlberg). Critics took notice on how effective she was as a dramatic actress.
The black comedy of The Good Girl was what put Aniston on the movie star A-list thanks to her embodiment of her character (Justine Last).
These films were a far cry from some films Aniston acted in during the 1990s, like Leprechaun. Yet, this film is still celebrated by some on Twitter after recently celebrating its 25th anniversary.
Rock Star is available to stream on Amazon. The Good Girl is currently on Netflix.
Aniston's best follow-up films
It was all uphill from there after The Good Girl. One of her most dramatic (and some say twisted) performances in 2005 was in Derailed with co-star Clive Owen. Stream this on Amazon, because it's worth your time to see how powerful Aniston could be in her bleakest role up to this point.
Outside drama, she still took time to land a number of brilliant comedic parts. A highlight in the mid-2000s was Along Came Polly with Ben Stiller. You could call this Aniston's foray into modern screwball comedy.
Standout Aniston films from recent years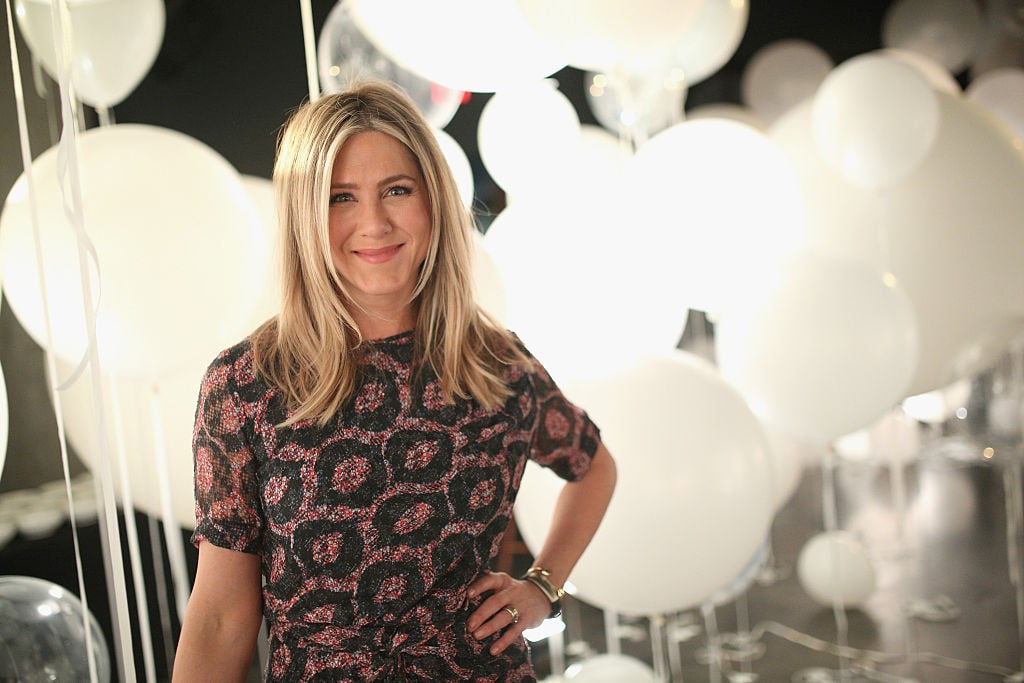 No doubt many of you remember when Aniston starred in her first award-worthy film Cake in 2014. No one could deny she was an unequivocal movie star by this time. Cake took her acting to a new level playing a woman suffering from perpetual physical pain and going through inexorable turmoil. A deserved Golden Globe nomination ensued.
Don't miss this on streaming services like Amazon if you've never seen it before.
With Aniston fully removed from her marriage turmoil with Brad Pitt by this time, it undoubtedly gave her more time to focus on giving a truly great performance.
Current Netflix projects
Like many top movie stars, Aniston is now turning to Netflix for a couple of movies. More focus has gone toward her successful career recently after writing an op-ed chastising those who think she should be married with children by now.
On December 7, she released Dumplin' on Netflix, a comedy adaptation she also executive-produced about the child of a former beauty queen.
Aniston's big-screen efforts have been a little more sporadic since Cake, but we can't say she's done there. For Netflix, she has another movie coming up called Murder Mystery, not including acting in an upcoming drama series for Apple TV called Top of the Morning.