The Best Mother's Day Movies to Watch on Netflix
We all know we should be celebrating the moms in our lives year-round. But Sunday is their special day. And while many people will mark Mother's Day with brunch, a nice dinner, or flowers, there's something to be said for curling up on the couch and just watching a movie. For some low-key (and budget-friendly) mom's day fun, press play on one of these movies on Netflix.

Little Women

Susan Sarandon plays stern-but-loving Marmie in this 1994 adaptation of the classic novel Little Women. Expect laughter, romance, and tears as the four March sisters grow up in Massachusetts during and after the Civil War.

Mamma Mia

Meryl Streep plays a free-spirited single mom whose soon-to-be-married daughter (Amanda Seyfried) secretly invites three guys from her mother's past to her wedding in the hopes of finally discovering who her father is.

Juanita

In this exclusive-to-Netflix film, Alfre Woodard plays an overworked mom to three grown — but not quite grown-up — kids who needs a break from her life. In desperate need of some self-care, she heads out west where she ends up expanding her horizons and learning more about herself.

Lion

In this based-on-a-true-story movie, Dev Patel plays Saroo Brierley, a man who was separated from his family as a child in India and sets out to find them as an adult. Nicole Kidman plays Saroo's adoptive mother and Abhishek Bharate plays his birth mother.

Daughters of the Dust

Julie Dash's groundbreaking 1991 movie — it was the first feature film directed by an African-American woman widely distributed in theaters — inspired Beyonce's Lemonade. Set in the early 1900s, it tells the story of a multi-generational Gullah family headed by matriarch Nana Peazant as they prepare to move from their island home off the coast of Georgia to the mainland.

Ali Wong Baby Cobra

OK, so this is a comedy special and not a movie, but Ali Wong's standup routine — delivered while she was seven months pregnant — about sex, pregnancy, fertility struggles, and her miscarriage is laugh-out-loud funny. A second special, Hard Knock Wife, features Wong, now pregnant with her second child, joking about the realities of first-time motherhood with lines like "Breastfeeding is the savage ritual that reminds you that your body is a cafeteria now."

Incredibles 2

If you're looking for a kid-friendly movie to watch on Mother's Day, you could do a lot worse that Incredibles 2, the animated flick that reminds us that moms are superheroes — literally.

Monster-in-Law

Jennifer Lopez stars in this 2005 romantic comedy about an engaged woman's clashes with her fiance's overbearing mother, played by Jane Fonda.

Wine Country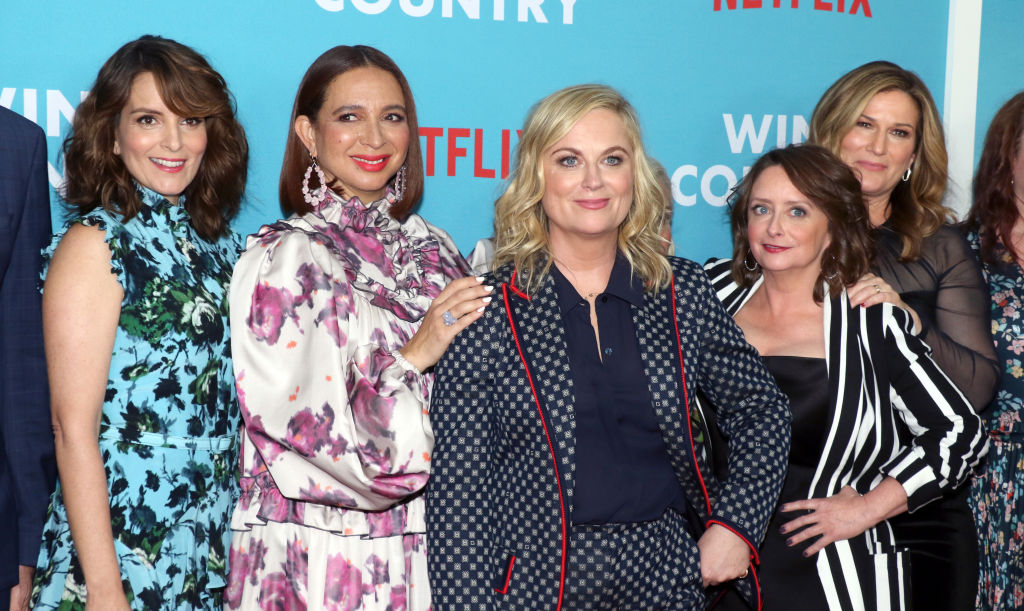 Amy Poehler makes her directorial debut with this comedy — which hit Netflix May 10 — about a group of female friends who spend a birthday weekend in Napa. SNL alums Rachel Dratch, May Rudolph, Tina Fey, and Ana Gasteyer all co-star. Perfect from moms who know their sauvignon blanc from their chardonnay.
Dumplin'

Mother-daughter relationships aren't always easy, as this Netflix comedy proves. Danielle Macdonald is Willowdean "Dumplin'" Dickson, the plus-size daughter of Rosie (Jennifer Aniston) a former beauty queen and current pageant judge. When Willowdean decides to enter her mom's pageant as a form of protest, hilarity — and life lessons — follow.

Check out The Cheat Sheet on Facebook!