'The Black List' Podcast Lets You Hear the Best Unmade Movies
If you're a movie fan, chances are very good that you've heard of The Black List. Created by Franklin Leonard in 2005, the annual survey lists the most popular, unproduced screenplays as determined by some of the top executives working in the industry today. Since its inception, the list has not only established itself as one of Hollywood's best sources for great screenplays, it's also inspired a full-fledged online script hosting service and most recently, a podcast called The Black List Table Reads.
As the title suggests, the podcast features dramatic table readings of some of Hollywood's best, unmade screenplays from some talented voice actors. Each episode tackles a different script, producing what is essentially an audio-only film or what host Leonard has dubbed "ear movies."
With season two of The Black List Table Reads now underway, we chatted with Leonard about how he started it all and what listeners can expect from the podcast this time around.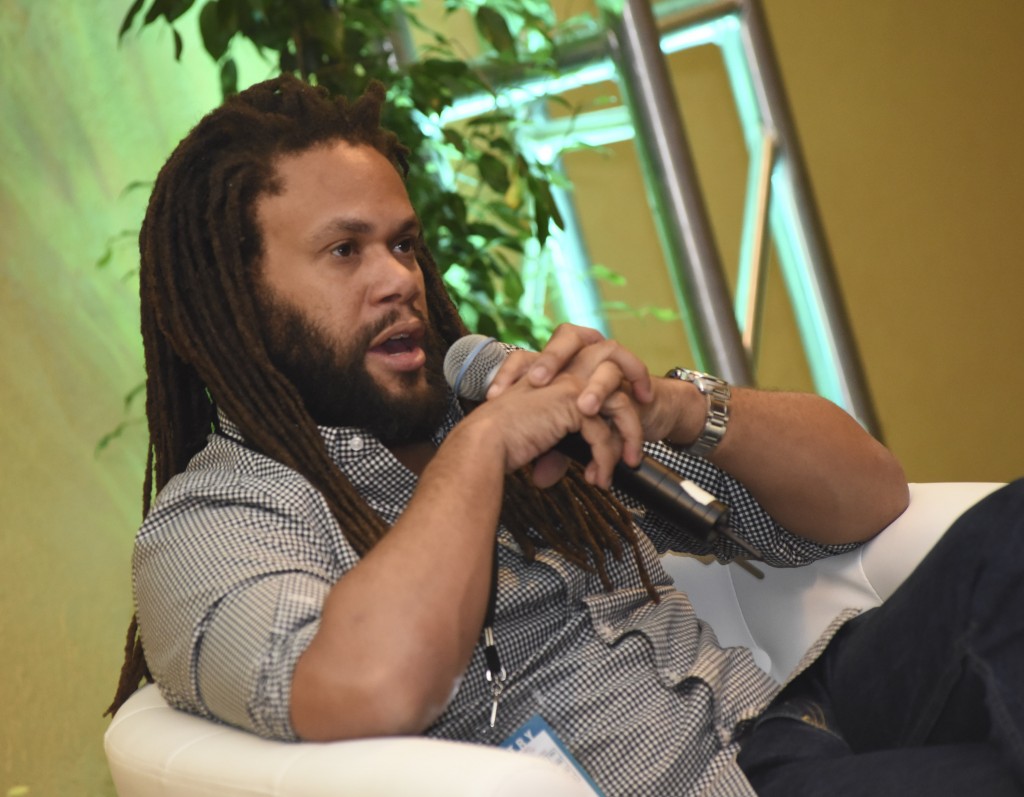 Cheat Sheet: What is the "Cheat Sheet" to how you founded The Black List?
Franklin Leonard: I started out working for Leonardo DiCaprio's production company, reading screenplays and I wasn't finding good material and felt like I was doing a very bad job at my job. So I was going on vacation and I wanted to find some really good scripts and give my boss some good stuff. I surveyed 75 of my peers and asked them to send me some of their favorite screenplays. In return, I sent out the combined list of everything and that was that.
CS: The Black List has become very well-known for those inside the industry and movie buffs in general. Did you ever think it would become quite so big?
FL: No, I did not. I created it largely selfishly as I wanted good scripts. Following in that success, I just wanted to preserve the reality of the Black List as being an organization that celebrates great screenwriting and the writers that it. Whether it's a podcast, whether it's an email from me via the site every couple of months, whether it's the site itself that allows great writers to be discovered, we just try to be an advocate for great storytelling and the people that do it
CS: Tell me a little about how The Black List Table Reads podcast began.
FL: The short version – The Black List is all about bringing Holllywood's best unproduced screenplays into one online database. The podcast came about because we're always looking for new ways to promote ambitious, high-quality materials. Right around the time that Serial became popular and Paul Scheer's podcast, we had a meeting with him and it occurred to me that we had great material and good scripts and if we put good actors into a room together and recorded it, we might have something of great value. And that's what we've done.
It's incredibly talented actors around the table in a recording studio and we record essentially a modern day radio play, which I call ear movies. Its really exciting this season especially, as we have eight scripts, all which are exceptional and all of which are very different and will appeal from ages 8 to 80.
CS: I know that you like to describe them as "ear movies." Why did you choose the podcast medium as opposed to a YouTube channel or something more visual?
FL: We always want our focus to be on the writing and the performance element of voice acting is significant. You know, a YouTube channel, besides requiring a great more deal of production, I think the audio medium allows you to draw attention to the quality of reading. It's further enhanced by the incredible performance of our actors and sound work editors Cody Skully and everyone at Earwolf and Wolfpop. Plus, a YouTube thing, you can watch only in certain venues right? Listening to a podcast, you can listen if you're driving, if you're sitting, if you're commuting — it really is a lot more accessible in terms of where you'll be able to listen to it.
CS: I was looking at list of upcoming episodes, and I noticed there's a pretty wide range of scripts – there's some comedy, there's some dramatic stuff. Do you purposely try to pick a variety of genres?
FL: We want a diversity of material, a diversity of backgrounds from the writers. This season, the best material that we harvested from the site was diverse already. I think we see that [diversity] generally on the site. It may range from a small dramedy about an 18-year old queer kid in Miami who may have HIV to a bigger action comedy. We celebrate diversity in content and in the writers in whom we work with.
CS: Is there anything in particular that draws you to a specific script?
FL: This is a really tough question. For me, when I'm reading a screenplay I want to be invested in the characters that I'm reading about and I want to be compelled to want to know what happens. I get asked this question a lot and my short answer is always, "Make me sad when it's over." I'm loathe to say well, this needs to happen by this stage or you need to say these 5 things. Just invest me in the story.
CS: You mentioned that it's important for a script to be dialogue-heavy for the podcast. Are there other certain elements that make a script better for a Table Read episiode?
FL: Substantial ambition in the storytelling and exceptional execution.
CS: What is the process like to set up each episode/table read? Do you have certain names in mind to read specific scripts?
FL: We're blessed with working with really amazing casting directors, so any credit that we get on the casting really should be accrued to them. We take the scripts, we offer the writer a chance to do an audio-focused rewrite or a description or whatever, and we share that with the casting director.
Actors usually take about three to four hours to record and then there's post-work to sort of clean up the performance, in the sense of if there's a line that was flubbed. Then, they add their really beautiful sound design to make what is really an ear movie. It is reading a screenplay with exceptional sound design on top of it, so what you get is an experience of listening to a movie and imagining that movie in your head. That's a form that existed in the height of the radio era 70 to 80 years ago and we're sort of bringing it back for a new generation.
CS: What are some new changes/features that listeners can expect from season two of the podcast?
FL: Last season, we'd split up each script so that it was read over a course of month. Everyone loved the podcast, but they'd get to the end of the episode and want to go to next bit of the script. This time, we're going to release a whole movie every other week. Instead of having to wait a month to listen to the entire story, you get the entire story and the entire movie is available. In between those movies, the podcast will feature me interviewing some other major screenwriters. So the first of those is an interview with John McNamara, who worked on Trumbo.
CS: The first episode of this season was a table read of the script Three Months, and you conducted a separate interview with screenwriter Jared Frieder. Will you be doing that with each screenwriter after every episode?
FL: Absolutely yes, so every single episode will feature a co-released interview with the screenwriter of that script. We like to say the writer is the star, because it's about them right? We always have them doing interviews and it also gives some really interesting insight into where the script came from.
CS: Do you have three "cheats" you use in your daily life that we should know about?
FL:
Good is not good enough is never good enough.
Keep getting back up when you get knocked down.
Try to keep things in perspective.
CS: What is the one thing you always make time to do?
FL: Play and watch soccer. I'm a huge soccer fan. It's funny that the reason why I love the sport, in addition to the game itself which I grew up watching, I love the culture around the game. It's a sport where in people all around the world have some knowledge and some relationship to it. It expands race, age, class, gender sexual preferences and all of those things, much in the same way that I think film does. You know, I think we all go into these dark rooms with people that we don't know and we have this shared experience. Obviously, in soccer, you root for your team. But like film, it allows us a common language that binds us together as humanity.
CS: What's one piece of unconventional wisdom that has stuck with you over the years? Where did you hear it?
FL: My parents told me something when I was very young, it continues to be true and I see evidence of it being true all the time and that's "Good enough is never good enough." It's not simply good enough to be just as good as some other person whose successful or moderately successful. Good enough needs to be great, it needs to be the best that you're capable of and that's definitely an aspiration that I remind myself of.
You can listen to season two of The Black List Table Reads on Wolfpop and also follow them on Twitter, @earmovies.
More from Entertainment Cheat Sheet:
Want more great content like this? Sign up here to receive the best of Cheat Sheet delivered daily. No spam; just tailored content straight to your inbox.