The 'Brady Bunch' Cast Posts Throwbacks to Social Media to Celebrate 50th Anniversary
Who can forget the name 'Brady?' No, not the football guy – the Brady Bunch! Mike and Carol with their six kids (and Alice, of course!) are firmly cemented in television history, delivering some of sitcom's most iconic lines and showing America what a blended family looks like.
The kids of the cast have been getting some press recently due to the HGTV renovation of the show's infamous home, A Very Brady Renovation. The show just celebrated its 50th anniversary since its launch, with some of its stars sharing their most memorable moments, and taking to social media to pay tribute.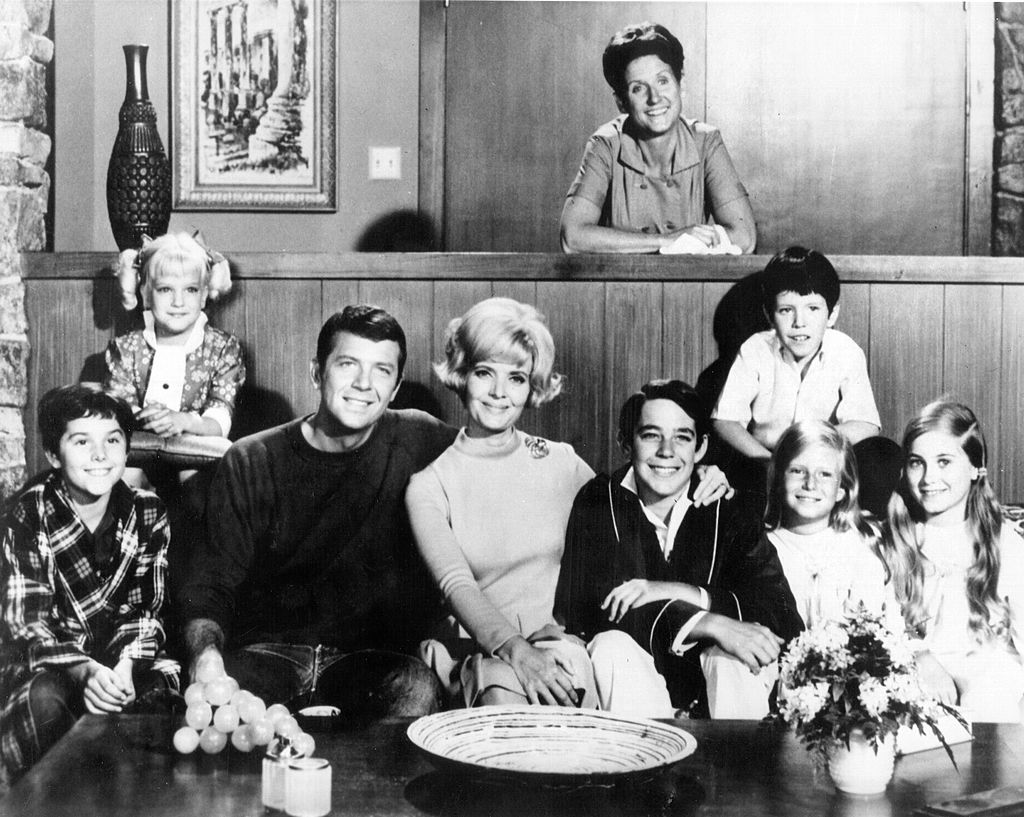 Five years on the air, forever in our hearts
The Brady Bunch premiered on September 26, 1969 on ABC and ran for five seasons. The series followed the marriage of two single parents, Mike and Carol Brady, and their six children – Greg (Barry Williams), Marcia (Maureen McCormick), Peter (Christopher Knight), Jan (Eve Plumb), Bobby (Mike Lookinland), and Cindy (Susan Olsen). The family's live-in housekeeper Alicia (Ann B. Davis) kept the household afloat with comedic brilliance.
While wholesome to the core, the show also brought the concept of blended families into our living rooms, and covered issues like teenage smoking, bullying, and childhood insecurity. Overall, the main crux of the show highlighted the importance of family and supporting each other through life's highs and lows.
"It was a very nice, safe, fun show, knowing that nothing scary was going to happen and that problems would be solved in 20 minutes," Plumb told the New York Post. "It was familiar — like a chocolate chip cookie."
Favorite memories
Some of the cast members recently shared their most cherished memories from their time on the show. Williams went tropical with an episode shot on location. "When we went to Hawaii [for the trilogy episode "Hawaii Bound"]. The only thing I've been longer than a Brady is a surfer," Williams said. "I had to talk them into letting me do my own surfing… That was an extraordinary teenage experience which has become a lifetime memory."
McCormick relished one-on-one episodes with her character's parents. "I loved doing the episode ["The Show Must Go On"] with Florence where we sang "Together Wherever We Go," where we were two hobos," McCormick told the New York Post. "I also loved the "Father of the Year" episode — I always looked up to Bob [Reed] as a father figure, and my father was just such an important part of my life … so that meant a lot to me."
Lookinland appreciated the 'film-within-a-TV-show' idea. "I like the episode where Greg had to make a movie for his high school history class ["The Un-Underground Movie"] and we were pilgrims and Indians. We got to dress up and do stuff and be in slow motion and do fake fights," he shared.
Olsen also enjoyed the episodes away from the set, focusing on recreational activities outside of taping. "Going to Hawaii. Robert Reed actually showed up at the airport when we arrived and when we got to the hotel I said, "Oh no, it's raining" — I wanted to go swimming — and he said, 'Don't worry about it, Susan, everybody here swims in the rain,'" she recalled.
Posting the past
Last week, cast members took to social media to honor the show's 50th anniversary since hitting the air waves, along with photos taken during their time on the show. "50 years ago today The Brady Bunch pilot 'The Honeymoon' first aired," McCormick wrote on Twitter. "This show and all the crew, cast, extended family members, and fans of the show will always hold a very special place in my heart. Happy 50th Anniversary The Brady Bunch!"
Knight also posted a cast picture, expressing his gratitude for fans who hold a special place in their hearts for the Bradys. "Today we are celebrating 50 years!! The first episode aired on September 26, 1969. It ended in 1974 with 117 episodes produced," he posted on Instagram. "But as you can see we have stood the test of time and probably will forever thanks to all of you who have shown us so much support over the years! Happy 50th Anniversary The Brady Bunch!!"
Williams also posted a throwback from the series, thanking his cast mates and Brady devotees. "Happy 50th Anniversary to all my Brady siblings and to ALL the wonderful fans of the #BradyBunch! #50Years #50thAnniversary," he tweeted.
Few shows can stand the test of time like The Brady Bunch. The show's place in history is well deserved!
A Very Brady Renovation can be seen on HGTV.