The 'Brady Bunch' Cast Reveals Who They Were Closest To On The Show
There are very few people who don't know the words to the infamous theme song that starts with "Here's the story… of a man named Brady…" The iconic sitcom The Brady Bunch brought America's now most famous blended family into everyone's living room.
Single parents Mike (Robert Reed) and Carol (Florence Henderson), with the help of comedic sidekick housekeeper Alice (Ann B. Davis) were watched by millions as they raised their six kids from 1969 to 1974. Greg (Barry Williams), Marcia (Maureen McCormick), Peter (Christopher Knight), Jan (Eve Plumb), Bobby (Mike Lookinland), and Cindy (Susan Olsen) entertained viewers with their squabbles, teamwork, and adolescent issues for five seasons, and continue to live in infamy thanks to syndication.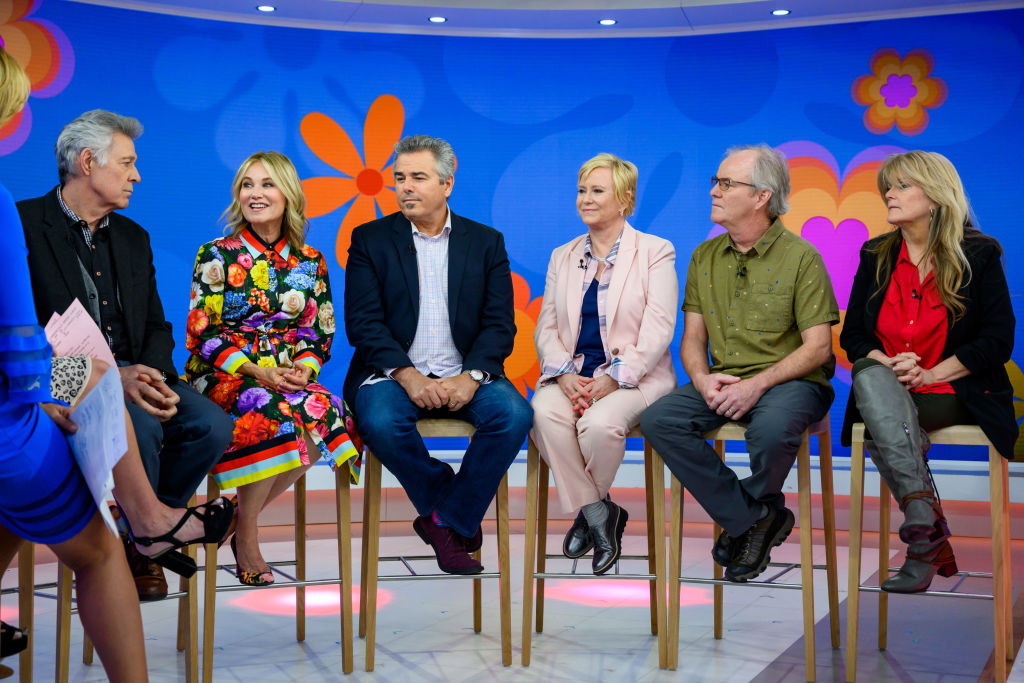 The kids of the cast have been working on HGTV's A Very Brady Renovation, where the show's legendary home is getting a makeover. The series also recently celebrated its 50th anniversary, where cast members commented on a myriad of topics related to their time on the sitcom.
Being a Brady in real life
The six actors and actresses who played the roles of the kids on the show have shared the sitcom's impact on their personal lives, where their fame stretched to all walks of life. "I think first time I realized 'The Brady Bunch' was cool was when I met the singer from the Black Crowes, who came running up to me and said, 'Oh my gosh, our drummer would be crying if he was here because he has an 'I Saw The Brady Bunch Live in Concert' picture on his wall.' Suddenly being cool with rock stars made a whole difference to me," Olsen shared, according to the New York Post.
Knight saw that his role as a solid family member carried over into real life in the eyes of viewers. "It became this thing that I owe everything to… what is really has provided is this wholeness with this community that's huge. I'm a member of everyone's family and that engenders this great outpouring of brotherhood and love."
'Big brother' Williams also was grateful for playing a part that gave him a long-lasting career. "I realized some people would or would not cast me because I was Greg Brady. The good news for me was that Greg could conceivably grow up to become anything," the actor said. "I've had a thriving career over the last 54 years."
Lasting bonds
For decades, the cast has publicly proclaimed the close bonds they have formed with each other. Some cast members discussed who they share particular close ties with from the show. "It was Mike [Lookinland]," Knight said. "I'm a little Huck Finn-ish and was looking to explore, and he was my little explorer buddy, although he always fashioned himself to be an adult. Only later in the show or even after did we the show we become closer and closer friends. He always cracked me up and was always great company. I would consider him my closest buddy. If I got into a little bit of trouble, it's probably because I was trying to drag him into a little bit of trouble."
Knight also revealed he could take on the role of 'annoying' big brother to McCormick. "I teased Maureen [McCormick] mercilessly. She couldn't be more different from me — she was so prissy and nice and clean, and I needed to dirty her up."
Speaking of McCormick, Williams disclosed his previous crush on his former co-star. "I was romantically interested in Maureen," he shared, adding that he felt a bond with his onscreen parents and middle brother. "I'd say I was closest to Robert Reed and Florence Henderson, and through the years I'd say Chris Knight. We've probably shared the most mutual experiences — weddings, dates, camping, hanging out. Just being together."
Turns out Bobby and Peter really were close, since Lookinland returned the accolades to Knight, while also giving a shout out to Olsen. "No question it was Chris Knight. We had sleepovers at each other's houses," Lookinland said. "Susan and I were very buddy-buddy and hung out together. She has a real sick sense of humor and I thought, 'She's a little off' and I thought it was my duty to keep her laughing. So we hit it off on that basis."
Carrying on a name
Olsen clearly has a special bond with Lookinland, giving him a special honor in her own family. "It was Mike. He's my favorite. I named my son after him."
And though Jan always had to live with 'Marcia, Marcia, Marcia,' it turns out Cindy had a special place in her heart for the middle sister. "And also Eve, because I looked up to her and I already had a sister who was the same age as Maureen, so that was covered. Eve was closer to my age so it was easier for me to look up to her and I did — because she was very, very cool."
A Very Brady Renovation can be seen on HGTV.