The Cast Of 'The Good Place': Who Plays Jason Mendoza?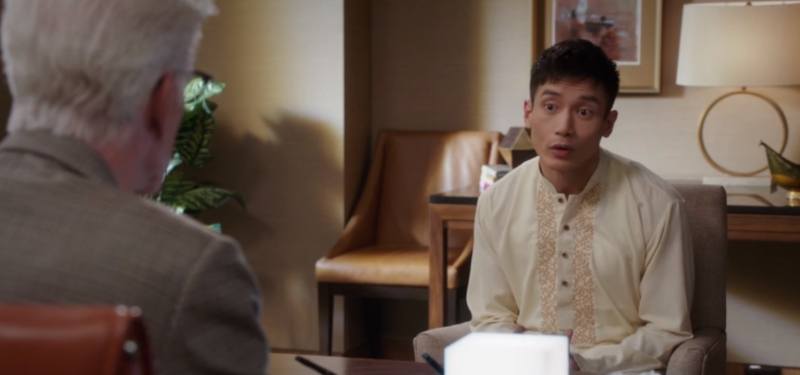 The Good Place, like the rest of Michael Schur's popular shows, is essentially a workplace comedy — if you worked in the afterlife. The heart of the popular NBC series are the core characters: Eleanor (Kristen Bell), Michael (Ted Danson), Chidi (William Jackson Harper), Janet (D'arcy Carden), Tahani (Jameela Jamil), and, of course, Jason. Jason Mendoza, the sweet yet simple Floridian, is a fan-favorite character. Here's what you need to know about the actor who portrays him.
Manny Jacinto plays Jason Mendoza
The actor behind the character is Manny Jacinto. Jacinto is 31 years old and was born in the Philippines. However, he lived in Canada most of his life, attending Vancouver College and the University of British Columbia.
How did Jacinto get into acting?
Jacinto got a degree in civil engineering from UBC but chose to pursue a career in the arts. "Right now I am going to follow my heart, to be honest, and acting and performing is what I want to do," he told Richmond News. "It's what [sic]gets me up in the morning. And right now, things are going pretty well." He added, "I always have the engineering degree in my back pocket. But for now, it's full on acting."
What are Jacinto's previous roles?
Jacinto has appeared in several popular TV shows. His first credited role was as Quon in the ABC fantasy series Once Upon a Time. Jacinto has also appeared on a number of series on The CW, including Supernatural, The 100, and iZombie.
This is Jacinto's breakout role
https://www.instagram.com/p/BsYt5U8g3Wn/
Prior to playing Jason Mendoza, Jacinto's most notable role was as Wing Lei in the first season of Canadian spy thriller The Romeo Section. But it wasn't until The Good Place that his career really took off.
And the show has opened up a lot of doors for him. Jacinto appeared in the star-studded thriller Bad Times at the El Royale in 2018. Right now, he's filming Top Gun: Maverick, where he'll play Fritz opposite Tom Cruise.
Jacinto is a dancer, just like his character on 'The Good Place'
Though he may be seen as a lovable doofus, Jason does demonstrate one very impressive skill: his dancing. Like his character, Jacinto has a history of performing with a hip-hop dance crew. After watching America's Best Dance Crew and admiring the many dancers of Asian descent, he knew he wanted to be like them.
In fact, his love of dancing is what got him into acting in the first place. "I started taking acting classes because I wanted to improve my dance performance on stage," Jacinto told Kore Magazine. "But then it kind of just snowballed. I was like, what is this acting thing? It's an amazing feeling, so I'm going to pursue this."
He was surprised by the changes in his character
https://www.instagram.com/p/BME76jqgIsu/
When audiences first meet "Jason," he appears to be a monk named Jianyu, who is said to have taken a vow of silence on Earth and is continuing the process in the afterlife. However, we soon learn who he really is. However, Jacinto learned about his character(s) in the opposite order.
"It wasn't until later when I had a meeting with Mike [Schur] after I fortunately got the role that he said, "Oh, heads up you're going to be a silent monk for a few episodes. So, you're not going to talk. Then, we'll go from there." It was a bit of a shock in the beginning, but we all trust Mike," he told Starry Magazine.
Though he's not necessarily similar to either of his characters, Jacinto knew how to play Jason, who was originally more of a "bro" than he ended up playing him as. Jacinto says, "When I did the callback, they were like, 'Let's take out the bro-ness and make him more positive, if anything, or lighthearted. But still not the brightest bulb.'"
The Blake Bortles-obsessed character Jason may be the one we've fallen in love with on screen, but considering Jacinto's talents, it looks like we'll be seeing him try on many different hats in the future.