'The Chi' Season 2 Finale: How Does Everyone's Story End Until Season 3?
During this season of The Chi, viewers watched Brandon struggle with pursuing his cooking dreams while resisting the temptations of gang life. Fans saw Kevin let his friends choose his identity for so long, and then finally break out of the mold by attending the private school. Emmett went from sleeping all day and having no responsibilities to the manager of a restaurant and paying child support for three kids. How does The Chi Season 2 finale wrap up everyone's storylines until it's picked up again in Season 3?
** SPOILER ALERT ** This article contains information released on The Chi Season 2 finale.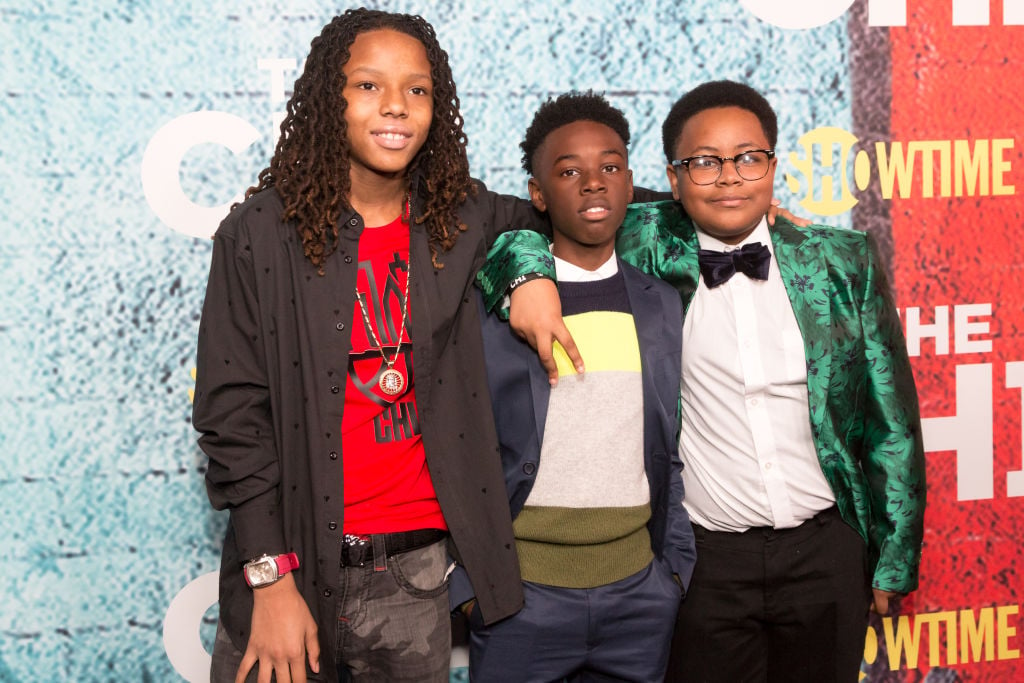 Brandon and Jerrika

Detective Alice Touissant served Brandon with a search warrant for his food truck, and she found a gun. She arrested him, and Otis Perry bailed him out. Brandon begged Perry to let him out of their business dealings. However, Perry claimed he still believed in Brandon. Jerrika showed up at the jail to take Brandon home and got upset when she realized Perry bailed him out.

They took the argument home and eventually stopped speaking to each other for a couple of days. Brandon couldn't take the silent treatment any longer and confronted Jerrika. Ultimately, they decided they were too different, and Jerrika ended their relationship by giving him her ring back.

Brandon saw Ronnie, the man who shot and killed his younger brother, painting a wall outside of his truck. He walked over to him and explained his feelings of frustration, hurt, and angry that he knows Ronnie can identify with because his son was shot and killed. With tears running down his face, Brandon let go and forgave Ronnie, enabling Ronnie to forgive his father.

The next time viewers saw Brandon in The Chi Season 2 finale; he chose to work with the detectives and flip on Perry. His scene ends with them watching Perry cutting a ribbon for a new building. Viewers know that neither Brandon or Jerrika will return for Season 3, so how Lena Waithe decides to cut them out is not yet clear.

Emmett

In The Chi Season 2 finale, he found a small, worn-out apartment room for rent, only $300 a month, so he fixed it up and decided to stay there as opposed to his fathers' house. His dad, Darnell, came by his job and wondered why Emmett was ignoring him and his pregnant baby momma. He also told Emmett that he met EJ for the first time and gave him advice instead of preaching at him.

Darnell then went to Emmett's mom's house to drop off clothes for EJ. Emmett's mother, Jada, has been single for a while and feeling lonely after Emmett moved out. She tried something with Ronnie, but after he showed up at her house drunk, she quit working for his grandmother and cut him out of her life.
Jada let her loneliness get to her, and ended up making out with Darnell on the couch. Emmett walked in on them, then disgustingly walked out, and Jada came to his job to apologize. She explained that she's trying to figure out her life also and will make mistakes along the way.

Emmett went to Tiffany's house and apologized for not answering her. He childproofed his home and got a crib and toys, so can have visitation rights with EJ. Emmett also told Tiffany that even though it's going to be hard taking care of a 4th child, he supports whatever decision she makes.

Kevin and Papa
Kevin tried to apologize to Myeisha for his comments about her. However, she gave him back the earth keychain he gave her. Myeisha also gave him an alumni book from the private school he may want to attend. Myeisha told Kevin she thought he was different, and Kevin went over Brandon's house for Haircut Thursday for advice.

Brandon admitted he doesn't know as much about women as he thought, but told Kevin to keep apologizing to her. Kevin also wanted all his hair cut, like Brandon's, because he wanted to "do something different." Papa told Kevin that he doesn't care about his relationship and will support him no matter what. At the end of The Chi Season 2 finale, Kevin decided to go to the private school.

Jake and Reggie

Otis Perry talked to Reggie about getting Jake a job at his pizza restaurant. He told Reggie to keep him off the streets so Jake can be in Perry's shoes one day. However, Jake is selling drugs outside of high school in plain view. He ends up getting caught, and Kevin and Papa watch him get arrested.

When Reggie talked to Perry, he asked if he had anything to worry about. Perry assured Reggie that he's doing fine. However, The Chi Season 2 finale ended with Reggie getting shot by assailants on motorcycles. His friend picked him up and ran to get help, so viewers will have to tune in for The Chi Season 3 premiere to see if Reggie lives.