The Companies Offshoring Jobs at a Record Pace Under Trump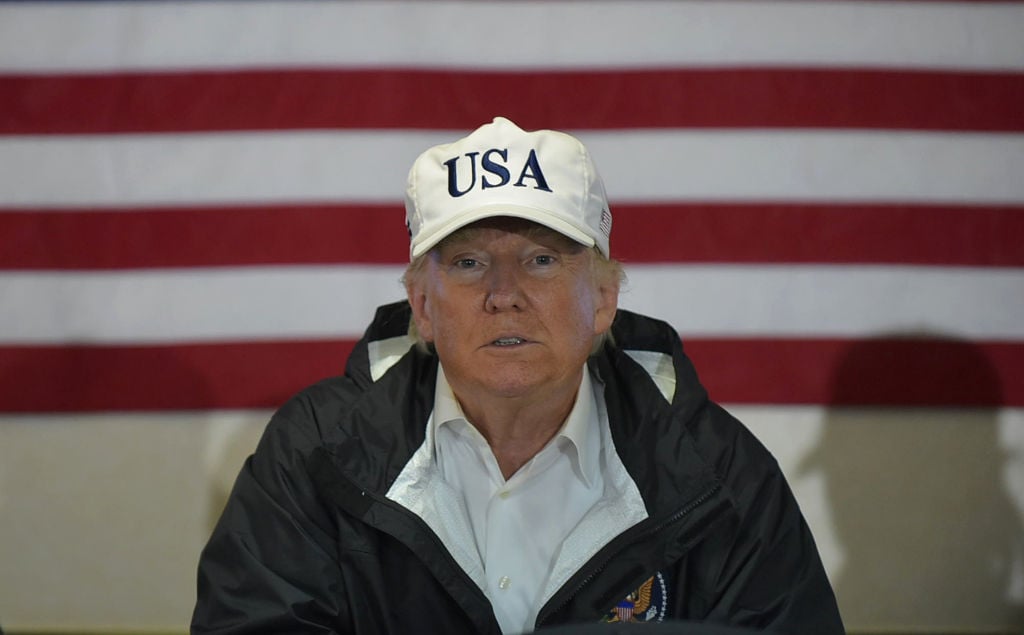 You may remember these words from Donald Trump when he was running for president: "A Trump administration will stop the jobs from leaving America."
But U.S. companies sent thousands of jobs overseas in his first year as president. And many of the companies responsible for offshoring jobs received huge government contracts.
In fact, according to employment data charted by Good Jobs Nation and Public Citizen, federal contractors alone outsourced 10,269 jobs while taking over $19 billion in government money.
Never before in U.S. history have federal contractors sent so many jobs overseas. Here are the contractors that are offshoring the most jobs under Donald Trump, including the parent company of Carrier (page 7).
9. Hewlett Packard
Trump administration contracts: $1.04 billion
Outsourced jobs: 125
Hewlett Packard is a multinational computer company with headquarters in Palo Alto, California. Over the past decade, HP has struggled to keep pace in the tech industry and continues has cut expenses whenever possible. In September 2017, Bloomberg reported Hewlett Packard planned to cut 5,000 jobs, or 10% of its job force. The $1.04 billion in federal contracts HP received didn't change a thing.
Next: You might own some of this company's products.
8. Honeywell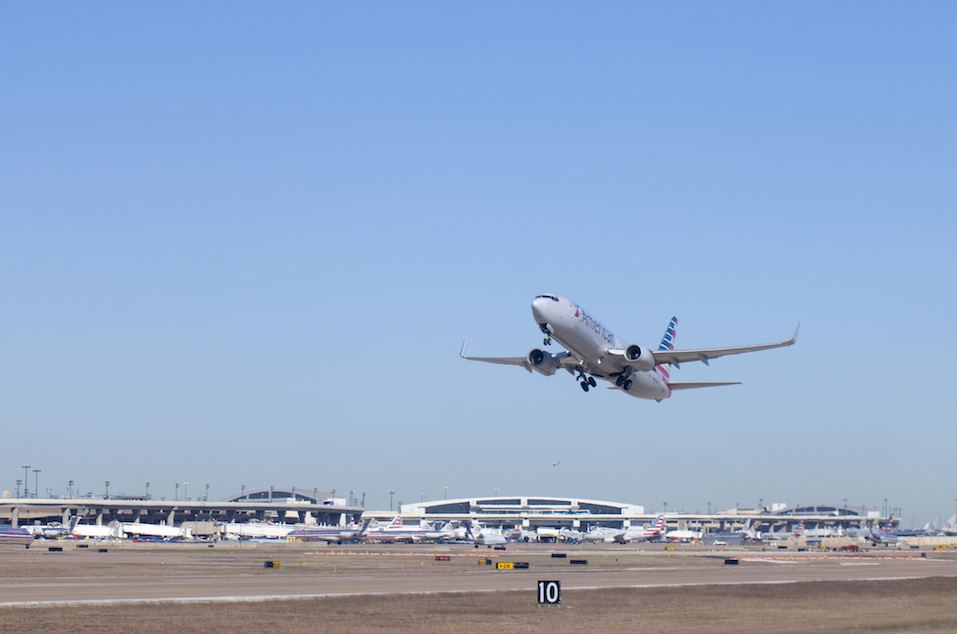 Trump administration contracts: $1.65 billion
Outsourced jobs: 202
If you look at the mission statement of New Jersey-based Honeywell, you will read about the company's "global focus to achieve double-digit earnings growth." Part of that process involves sending work overseas in order to keep the returns coming for investors. The math worked out pretty well in 2017. For the $1.65 billion in federal contracts, Honeywell offshored 202 jobs.
Next: This company outsourced 254 jobs in Trump's first year.
7. Merck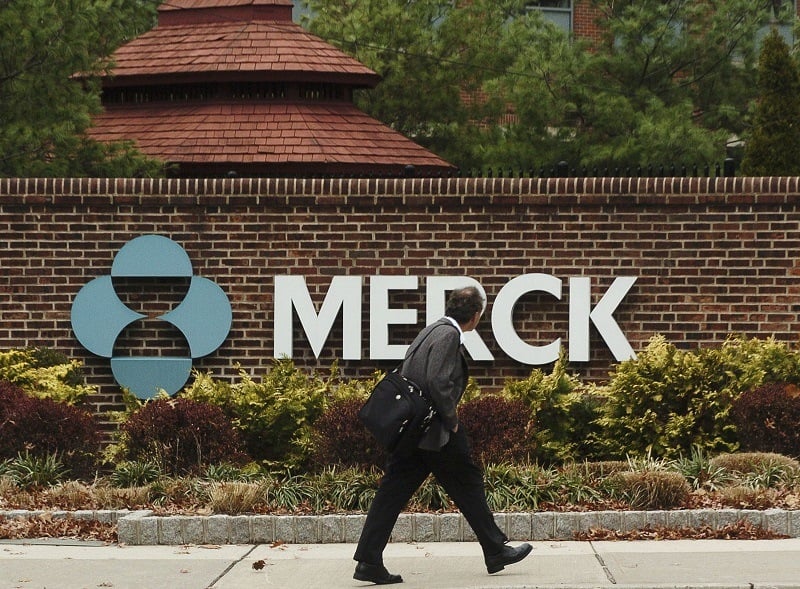 Trump administration contracts: $1.62 billion
Outsourced jobs: 254
Things are about the same, only worse, for the workers at another company with New Jersey headquarters. Merck won $1.62 billion in federal contacts since Trump took office. Unfortunately, there were no guarantees about keeping that money — or the jobs it would theoretically create — inside the country. According to employment data, at least 254 Merck jobs left America since Trump's election.
Next: More than 500 of this tech company's jobs left the U.S.
6. IBM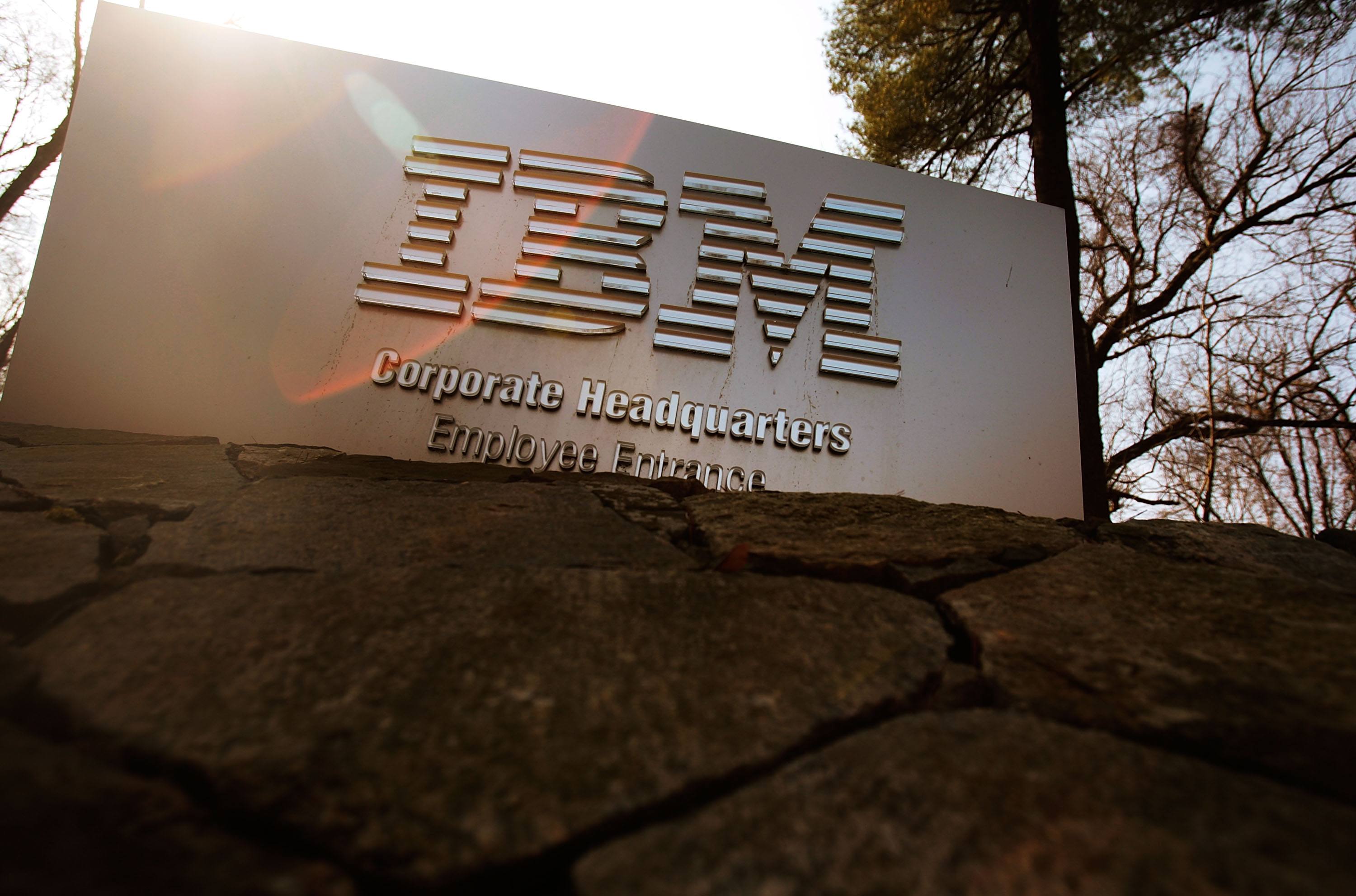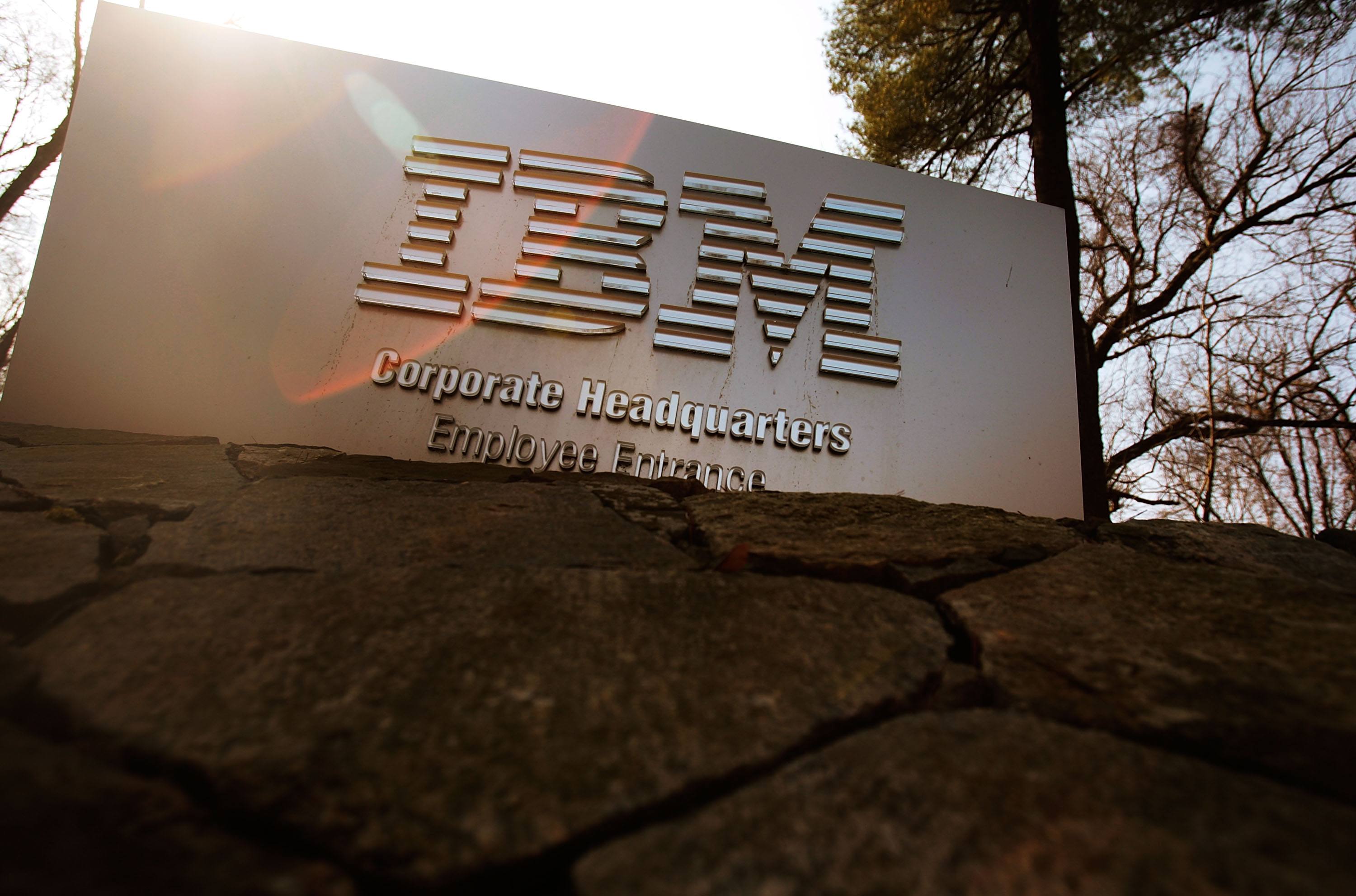 Trump administration contracts: $1.55 billion
Outsourced jobs: 527
While the Trump administration may not be able to reverse global trends, the people in his Cabinet and Congressional majority certainly can control who gets federal contracts. Sadly, that power of the purse has not been used by Trump and his team. In the case of New York-based IBM, 527 jobs already left America since Trump won the election. Meanwhile, the fabulously wealthy corporation racked up $1.55 billion in federal contracts.
Next: This company's CEO made some poor decisions.
5. General Electric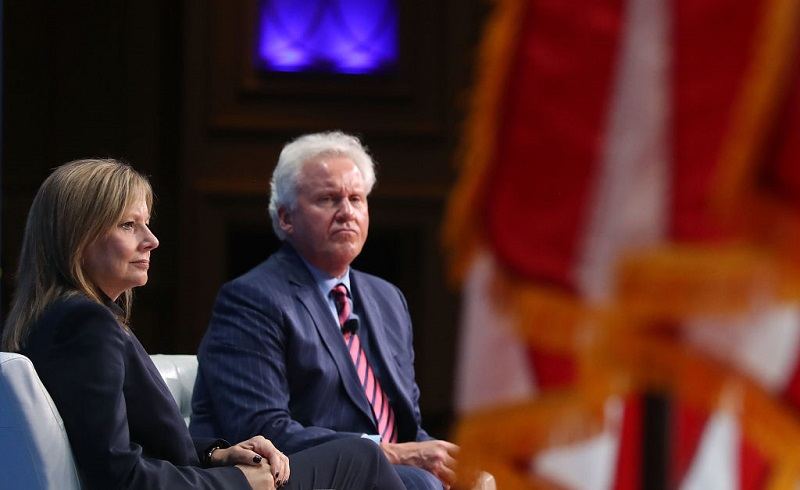 Trump administration contracts: $1.2 billion
Outsourced jobs: 921
After leaving Trump's Economic Advisory Council in August, General Electric CEO Jeffrey Immelt made a strong statement. "The Committee I joined had the intention to foster policies that promote American manufacturing and growth," he said. With $1.2 billion from the Trump administration, we're guessing his company had the cash to make it happen, too.
Instead, GE outsourced 921 jobs while Immelt blew $250,000 on personal air travel. We're not sure you can put workers any further down on the priority list while benefiting more from government contracts.
Next: This pharmaceutical company faced no consequences for taking money and shipping jobs overseas.
4. Pfizer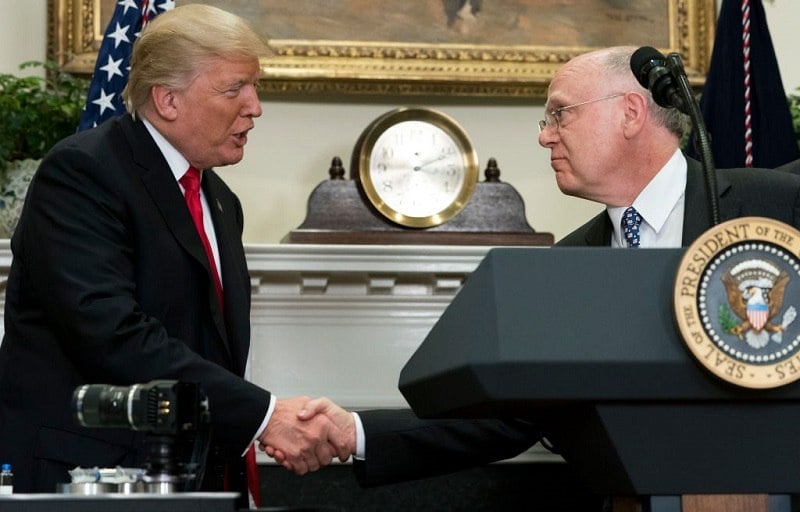 Trump administration contracts: $1.07 billion
Outsourced jobs: 1,200
You may recall the eventful "Made in America Week" at the White House over the summer. During that week in July, America's CEOs touted their companies' achievements in getting things done in the U.S. One business leader on hand was Pfizer CEO Ian Read, whose firm received $1.07 billion in federal contracts under Trump. Despite that windfall, the company offshored 1,200 jobs and faced no consequences.
Next: Donald Trump's speech at a Carrier plant didn't have the desired effect.
3. United Technologies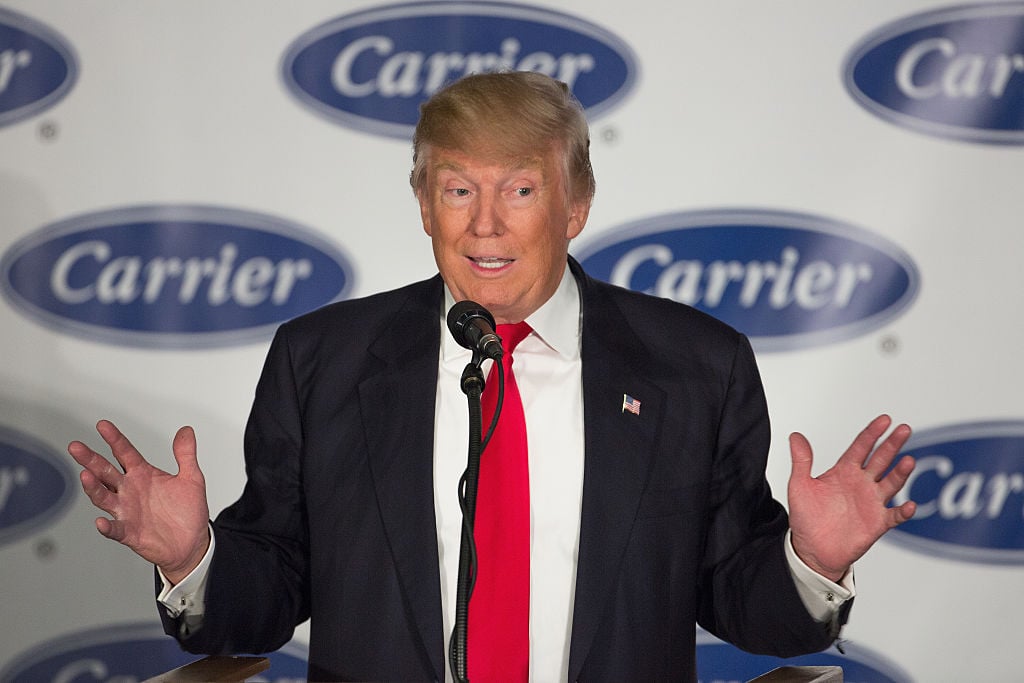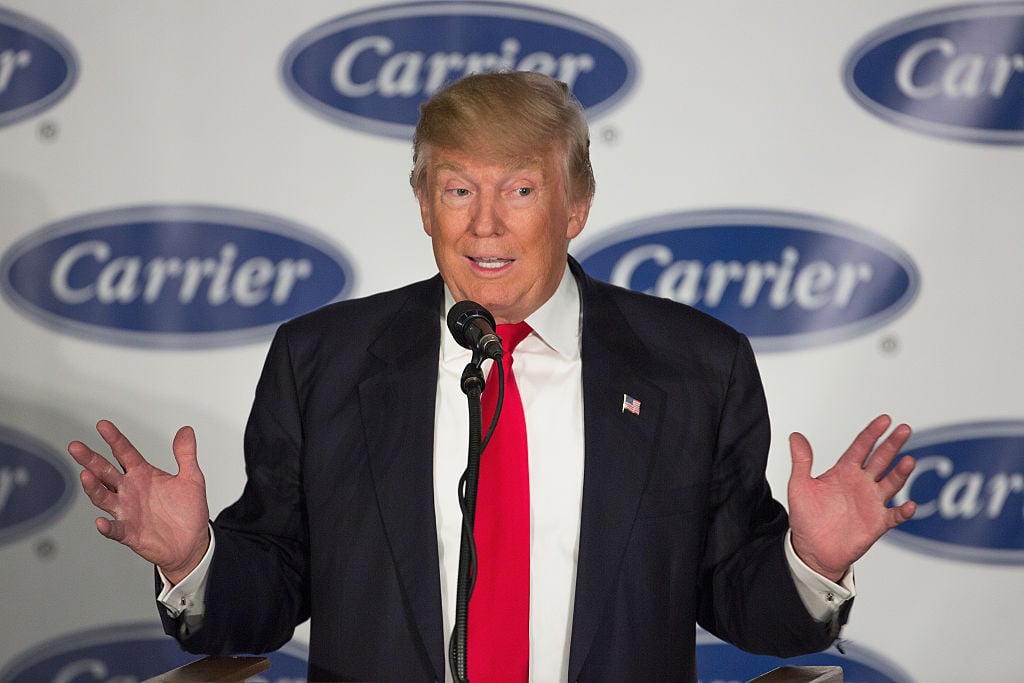 Trump administration contracts: $1.07 billion
Outsourced jobs: 1,414
In December 2016, Trump went to a Carrier plant in Indiana to boast of the 1,100 jobs he was saving in exchange for a $7 million tax credit to the company. A year later, several hundred workers in that plant had lost their jobs. Worse, United Technologies — the company that owns Carrier — added insult to injury by sending another 700 jobs to Mexico in 2017.
All told, United Technologies offshored 1,414 jobs while raking in $1.07 billion in federal contracts. If that's "the art of the deal," America's workers are in very bad shape.
Next: Paul Ryan tried to make the tax reform plan appeal to this company.
2. Boeing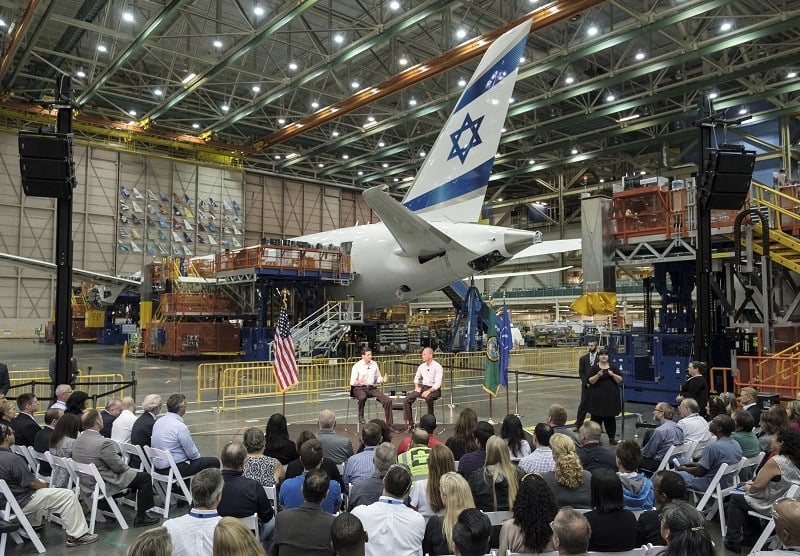 Trump administration contracts: $9.46 billion
Outsourced jobs: 2,681
In terms of federal contracts under Trump, Boeing made about half what the rest of the top 100 did combined: $9.46 billion in less than a year. Maybe that's why House Speaker Paul Ryan took time out of his schedule to visit the Boeing plant in Washington.
Ryan was pushing the tax reform plan that would supposedly open the floodgates for hiring. Apparently, Boeing really need such a tax break, because it offshored 2,681 jobs since Trump's election victory.
Next: This company sent more jobs overseas than any other federal contractor in Trump's first year.
1. General Motors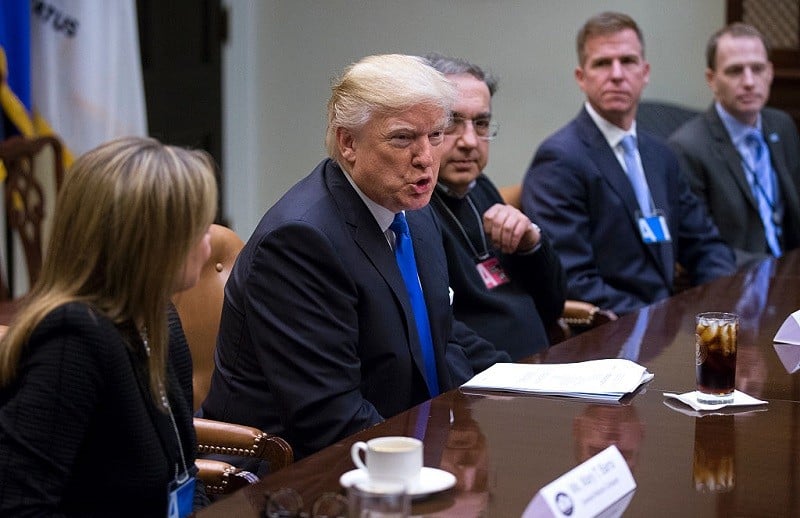 Trump administration contracts: $323 million
Outsourced jobs: 2,781
Trump carried Michigan in the 2016 election, largely on the hopes of a manufacturing revival there. The CEOs of the Detroit automakers went to the White House in January to discuss the many promises Trump made to the industry and they, in turn, made to their employees. Well, those three automakers eliminated over 9,000 jobs since Trump's victory in November 2017.
Meanwhile, GM offshored the most jobs of any top federal contractor in America. Considering the company landed $323 million in government contracts from Trump, someone should check the receipts.
Check out The Cheat Sheet on Facebook!