The Crazy Story Behind This 'Friends' Throwback Pic Has Fans Feeling Nostalgic
It's hard to imagine the cast of Friends before they were famous, but a recent throwback photo that one of the series' stars shared on Instagram shows the cast in a different light. Before Friends blew up in the way that fans all know, they were just a group of actors unknowingly on the verge of something huge. Courteney Cox's pic of the co-stars comes with an interesting story that few know.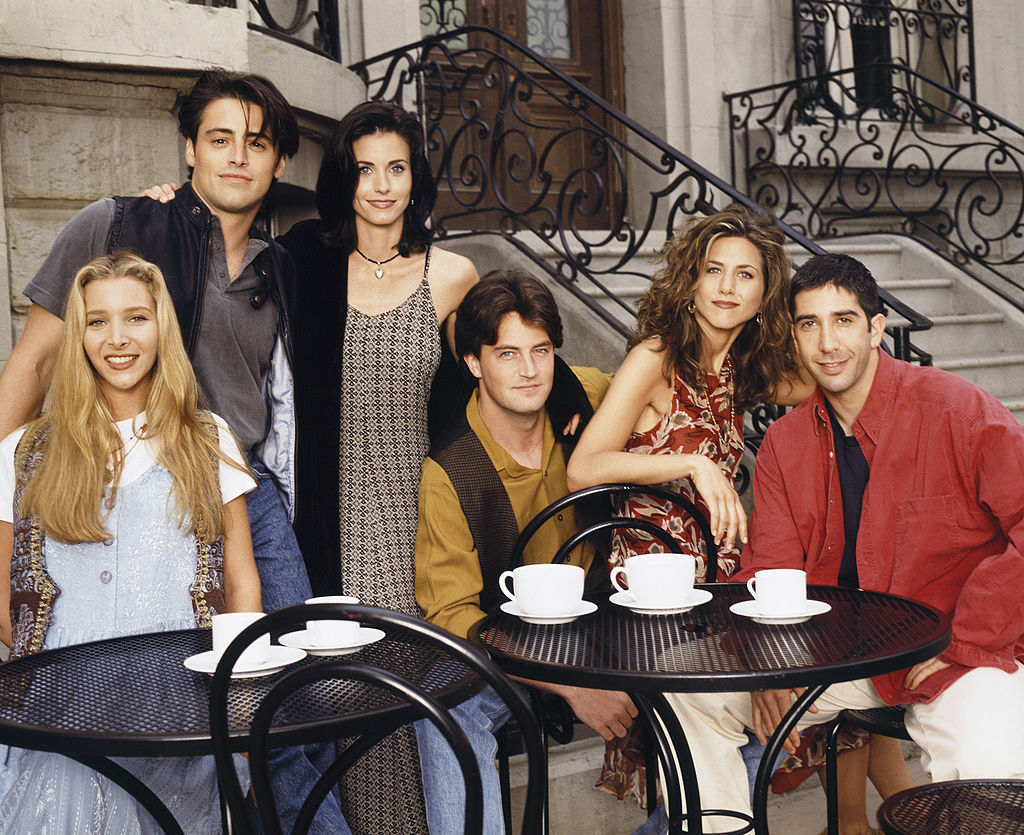 Courteney Cox's Instagram post made Friends fans nostalgic
With Friends celebrating its 25th anniversary this year, it's only fitting that Cox would throw it all the way back to when it began, posting an image of the stars: David Schwimmer, Jennifer Aniston, Matthew Perry, Lisa Kudrow, Matt LeBlanc and herself aboard a plane as they jetted off to Vegas together.
On the surface, it looks like some good pals sharing a fun time together, but there's more to the picture. The timing, it seems, was before the Friends pilot aired in 1994. Cox captioned the feel-good pic: "The one where the six of us went to Vegas and no one knew we were F.R.I.E.N.D.S yet." She included the hashtags "#tbt #beforeitaired #lovetheseguys."
The story behind the Friends photo
Some Friends fans are well aware of the story behind this image, but others heard it for the first time after Cox's Instagram post. Friends director James Burrows was responsible for planning the fun outing, he shared back in 2013 when he was honored by the Academy of Television Arts & Sciences.
He explained to Us Weekly at the time: "I took them to Vegas. We ate at Caesar's Palace in Spago. I had me and six of them and I said — I don't know why I said this — I said, 'This is your last shot at anonymity.' I said, 'Once the show comes on the air, you guys will never be able to go anywhere without being hounded.' I knew the show had a chance to really take off."
He continued: "So I did that and then I said, 'Do you want to gamble?' and they said, 'Yes.' I said, 'Okay, go ahead.' And all six of them didn't have any money so they each wrote me checks for $200 and I cashed them. And that was it. They came back and premiered and they don't have a shot of anonymity anymore."
Lisa Kudrow was skeptical
The Friends story was also touched on in former NBC president Warren Littlefield's 2018 book Top of the Rock: Inside the Rise and Fall of Must See TV.
Burrows remarked in the book: "Based on the [live] audience for the Friends pilot, I knew how popular that show would be. The kids were all pretty and funny, so beautiful. I said to Les Moonves, who was head of Warner Bros., 'Give me the plane. I'll pay for dinner.' I took the cast to Vegas."
Kudrow shared how Burrows made the remark about their last bit of anonymity but wasn't so sure, explaining: "He said, 'I want you to be aware that this is the last time that you all can be out and not be swarmed, because that's what's going to happen.' And everyone was like, 'Really?' I thought, 'Well, we'll see. Maybe. Who knows? We don't know how the show's going to do. Why is he so certain?'"
At the dinner, Burrows told the cast: "Your life is going to change. The six of you will never be able to do this again."
The cast saw the pilot episode of Friends for the first time on that plane.