The Cruel Way Liam Hemsworth Learned About His Breakup With Miley Cyrus
Liam Hemsworth and Miley Cyrus had a rocky relationship when they were young, but they always found their way back to each other. After their secret wedding in December, fans thought they were ready to live happily ever after. However, a statement from Cyrus' rep changed all that. The breakup news shocked the world and now we've found out that Hemsworth was just as shocked as everyone else.
How Liam Hemsworth learned about his split from Miley Cyrus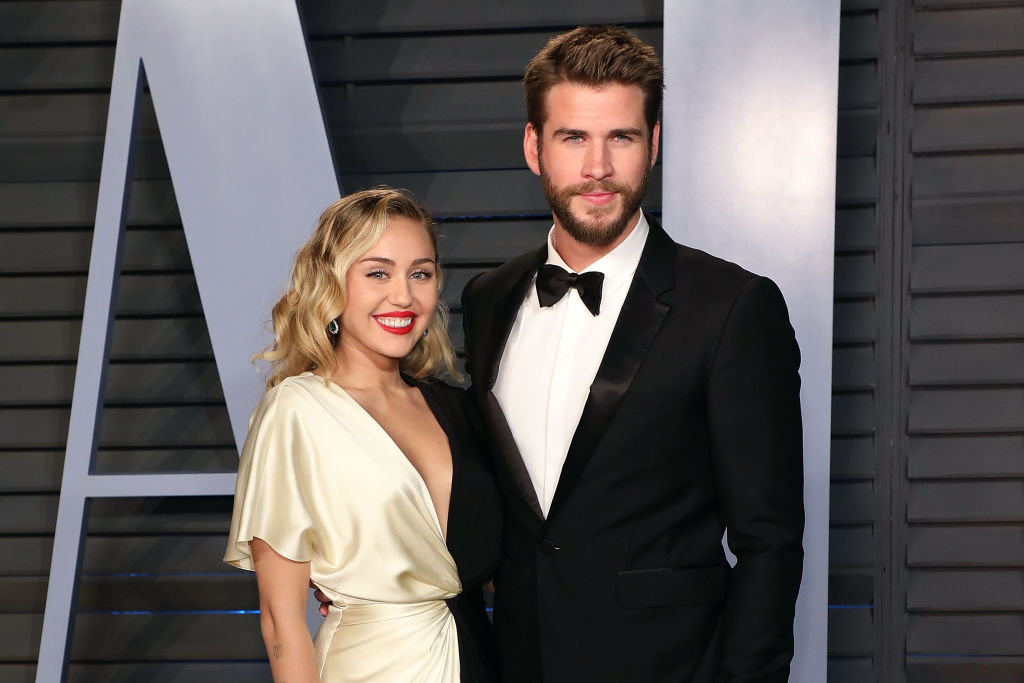 Fans first learned that Hemsworth and Cyrus were getting a divorce on social media, but now a new report is saying that Hemsworth may have learned about his marriage's fate at the same time the rest of us did.
Hemsworth was in his native Australia when Cyrus released a statement, which read in part: "Liam and Miley have agreed to separate at this time. Ever-evolving, changing as partners and individuals, they have decided this is what's best while they both focus on themselves and careers."
The couple had been troubled for some time and were living separately when Cyrus, who identifies as pansexual, made the announcement. But according to a source for Page Six, Hemsworth was trying to work things out and wasn't ready to announce the split to the public. He was completely blindsided by the statement because he thought they were still fighting for their relationship.
However, Cyrus was ready to move on. Just hours after releasing her statement, photos surfaced of her kissing reality star Kaitlynn Carter in Lake Como, Italy, where the two were on vacation.
The split really hurt Liam Hemsworth
Hemsworth remained silent about the breakup for several days, until he was finally spotted in public getting frozen yogurt with his brothers. A reporter for Daily Mail Australia approached him and asked for a comment.
"You don't understand what it's like," Hemsworth replied, with a solemn expression. "I don't want to talk about it mate."
Later, Hemsworth finally addressed the split on social media. On his Instagram, he posted: "Just a quick note to say that Miley and I have recently separated and I wish her nothing but health and happiness going forward."
He then explained that he wasn't ready to talk to reporters and that any stories about him or his feeling on the matter weren't true. Meanwhile, Cyrus seemed to be living it up and enjoying her newly single status. She continued to spend time with Carter, even making a scene with their PDA during a night out.
While Cyrus appeared to be embracing her new relationship, Hemsworth still mourned the loss of their marriage. The public nature of the split reportedly made him even more uncomfortable. He tried to deal with the whole ordeal by spending time with family in Australia.
"It makes him uncomfortable that everything has been so public," an insider told E!News. "It's been a difficult few weeks for him. He's with his family and just wants to be around people that are going to a support him and try and take his mind off of what's going on."
A month later: Where are Liam Hemsworth and Miley Cyrus now?
Now, more than a month after their split, Hemsworth is remaining in Australia. His older brother and his brother's wife, Chris Hemsworth and Elsa Pataky, have reportedly taken Hemsworth under their care for the time being. They live in Byron Bay, Australia,
A source told Woman's Day, as reported by the Daily Mail, that they feel like Hollywood is "suffocating" Liam Hemsworth. Chris Hemsworth and Pataky would like him to stay down under with them for as long as he needs to work through his feelings and get back on his feet.
After reports that Cyrus and Carter were living together, after only a month of dating, they've broken up as well. "They've been friends forever and were there for each other when they were both getting separated," a source told People, "but they're just not in a romantic relationship anymore."