The Duggar Kids Allegedly Get This Strange Gift From Michelle Duggar for Easter
Whether you've been keeping up with the Duggar family for years or you've just begun your journey with them on Counting On, it's clear the family's traditions are always deeply steeped in religion. From the clothes they wear to the way they date, Jim Bob and Michelle Duggar raised all 19 of their kids to be Christian fundamentalists. And when there's a religious holiday, like Easter, to celebrate, the Duggars certainly don't skimp on the fanfare.
For many Christians, Easter is the most important holiday of the year. And it's so important to the Duggar family that they even have a totally different name for it. Here's how the family celebrates the big day, including the odd gift Michelle likes to give her kids.
Michelle Duggar notes the family calls Easter 'Resurrection Day'
Many in the Christian community consider Easter to be even more important than Christmas day, as it resembles the moment Jesus rose from the dead. It shouldn't be any surprise that the holiday is ultra important to the Duggars for this reason as well. The family is known for having huge celebrations together for every big religious holiday (we remember their giant Christmas party), so Easter surely is no different.
Michelle Duggar explained all the way back in 2014 what the family calls Easter, too. "We call it 'Resurrection Day' because we really want to make the focus and emphasis on the fact that it's the resurrection of Jesus Christ," Michelle explained excitedly to the camera. In addition to the religious aspect, she also mentions that the day serves as a great time for her to make new, happy memories with her family.
They have a number of religious activities they participate in to celebrate
A Duggar celebration wouldn't be complete without loads of fun-filled activities for the kids to enjoy. Just like the rest of the religious holidays that occur year-round, Michelle makes sure that whatever's going on that day is something everyone can participate in with no age limitations. "We sing songs, we draw pictures of the cross, and we make cookies. … We will make cookies and decorate them, and then we memorize little verses," she adds.
It seems like some of these traditions have been taking place for over two decades, too. In her interview, Michelle adds that she still has relics from when their oldest son, Joshua, was participating in the Easter activities as a child — and now her youngest kids are also having fun with the same activities now. "I think it's fun making memories as a family, and sometimes doing the same things each year is just those memories that they enjoy," she added. As for what the kids enjoy doing the most on Resurrection Day, it seems baking cookies is a favorite.
Michelle also allegedly likes to give her kids this strange Easter gift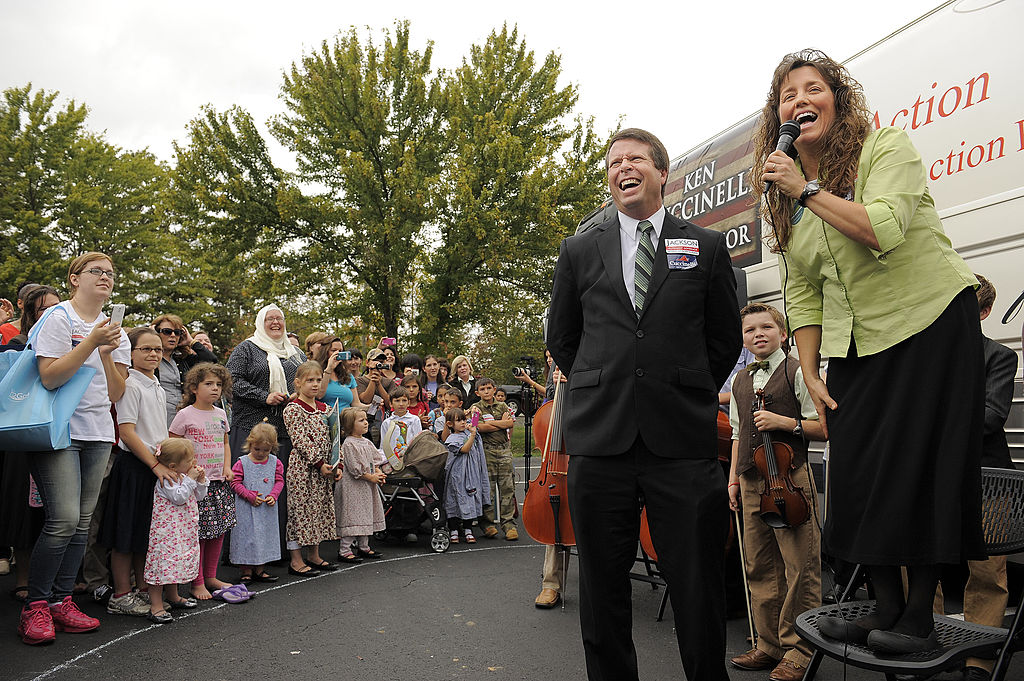 It's typical for kids to get some gift from the Easter Bunny for the holiday — and that usually includes chocolate and other sweet goods. It seems a whole lot different in the Duggar household, however. The Duggar Family Fan Blog notes Michelle likes to make up special treat baskets filled with beef jerky, chips, and jars of refrigerated pickles.
It shouldn't come as too much of a surprise that pickles are in the holiday gift basket, of course. In Touch Weekly reminds us Jessa Duggar said a few years back on Counting On, "The Duggars love pickles. I think it probably started that when my mom is pregnant she craves pickles, that is the one thing. Every time we see her eating pickles we say 'Are you pregnant?'" And Joy-Anna has also mentioned that it's a big deal when a family member eats their first pickle. "Any time a family member tries a pickle for the first time, we always go around and take videos and pictures and everyone comes around to watch their facial expression," she said.
We probably won't be adding pickles to our own Easter baskets anytime soon, but we're certainly glad the Duggars have found something that works for them.
Check out The Cheat Sheet on Facebook!