The End of an Era: Saying Farewell to 'The Colbert Report'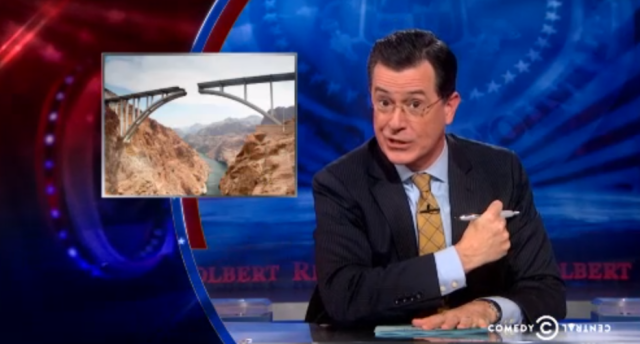 Stephen Colbert has long been a go-to source of catharsis in the face of the insanity of the 24-hour news cycle. Starting out as a correspondent on The Daily Show, he rose through the ranks until he parlayed into his own show airing directly after his alma mater. The Colbert Report quickly assumed the role as the yin to Jon Stewart's yang, providing a tongue-in-cheek caricature to balance out The Daily Show's straighter delivery of comedy news. Soon though, Colbert in many ways equaled and surpassed The Daily Show, hauling in awards and accolades left and right until his show truly existed as its own entity altogether.
December 18 will mark the final episode of Colbert's journey on Comedy Central, and the world will be worse off without it as he moves on to host The Late Show in 2015. His epic half-hour every Monday-Thursday was the definition of "one-of-a-kind," and there's a good chance we won't see another quite like it.
The influence of the show was evident on a daily basis. Things like "the Colbert Bump" came into existence: the phenomena where any time Colbert plugged a product, showed up on the cover of a magazine, or generally told people to do something, sales skyrocketed for each respective thing he plugged. He's a man so influential that, according to the American Political Science Association, any candidate that appeared on The Report had their contributions increase by up to 40% for 30 days following their appearance. The Colbert Bump is one of many aspects that will live on in Colbert's legacy, showing that even the people who make us laugh can enact change on a massive scale.
Without Colbert occupying the chair behind his C-shaped desk, a large pair of shoes will be left to fill by Larry Wilmore, another former Daily Show correspondent tagged to start his own show now. Wilmore will have to measure up to a host that in his tenure won a handful of Emmys, a Grammy, and two Peabody Awards. Thanks to a knighthood from the Queen of Jordan and an honorary doctorate from Knox College, he has the honor of the full title of Sir Dr. Stephen T. Colbert, DFA. The New Yorker lauds Colbert as the host who "changed the way that young liberals of a certain class think and talk about civic culture." Needless to say, the bar has been set high for Wilmore.
These are all accomplishments one would expect to come out of a hard-hitting Anderson Cooper-esque news hour. Instead, they came from a half-hour comedy show with a host who made it his mission to don the guise of the boogie-man conservative, and in the process exposed the hypocrisies and backwards thinking of our political system. Colbert may very well be the only journalist in history to influence his industry to such a degree while never directly stating an opinion that wasn't part of a shtick.
What will the comedy news landscape look like in the wake of Colbert's departure? It's hard to tell, but what's certain is that the end of The Colbert Report will mark the end of an era in television. Jon Stewart and Larry Wilmore will soldier on, but with Stephen Colbert slotted in to host late night TV for the first time ever, the book is closed on the hyper-conservative knighted doctor caricature for good.
More from Entertainment Cheat Sheet:
Want more great content like this? Sign up here to receive the best of Cheat Sheet delivered daily. No spam; just tailored content straight to your inbox.