'The Eternals' Set Leak Offers Marvel Fans Their First Glimpse of Kit Harington and Angelina Jolie
We are still a year away from watching Kit Harington and Angelina Jolie team up on the big screens for Marvel's The Eternals, yet a new leak from the set of the movie offers a first look at the stars in action. Since Marvel has not even released promotional posters of The Eternals, fans went crazy after seeing the leaked images. There is no doubt that the photos feature Jolie, but not everyone is convinced that Harington is actually included in the shots.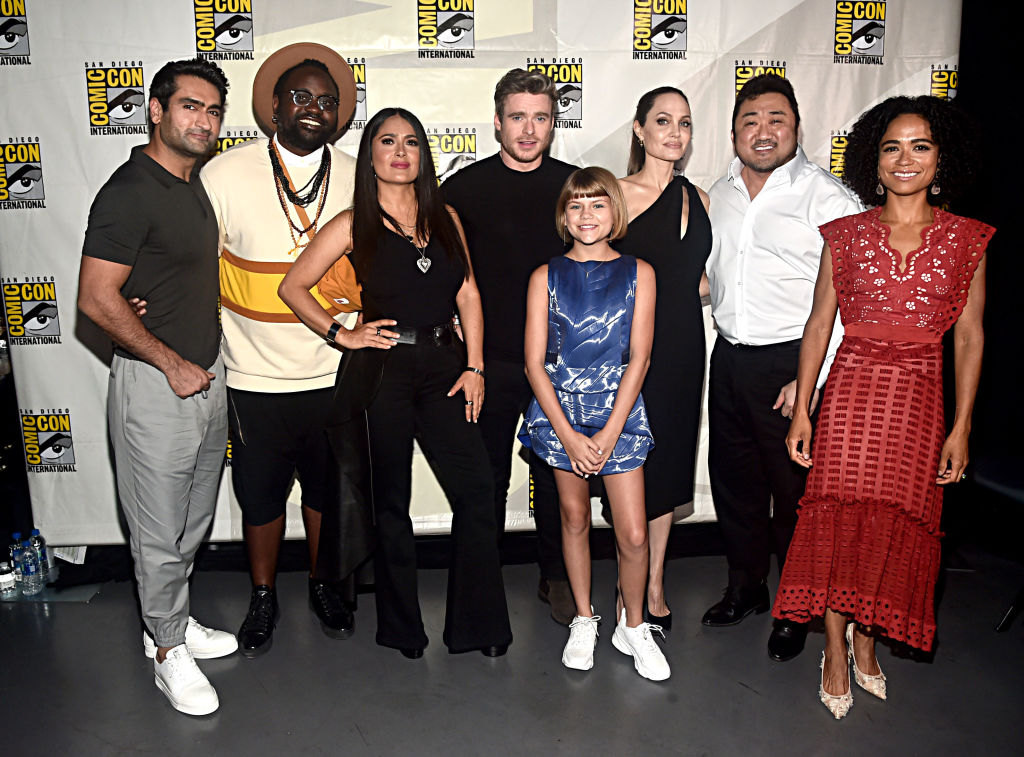 Inside 'The Eternals' leak
Production on The Eternals is currently underway at several locations in Spain. We have already seen a few photos of Jolie as Thena, though the latest leak is the first time we have seen her in a superhero costume.
The leak includes a slew of images of Jolie performing scenes with Gemma Chan (Sersi) and Brian Tyree Henry (Phastos). All three actors are wearing costumes of different colors, with Jolie rocking what looks like a metallic getup.
According to Pink Villa, the shots also include a few looks at The Eternals crew in action as well as the set location. The photos were taken in a desert area of Spain, though we still do not know what that might mean for the overall storyline.
While it was great to see Jolie, Henry, and Chan in action for the first time, some fans are convinced that Harington was featured in the images as well.
Did we just get our first look at Harington in 'The Eternals'?
A few months ago, Marvel confirmed the news that it had cast Harington to play the part of the Black Knight in The Eternals. The casting reunited Harington with his former Game of Thrones co-star, Richard Madden, who has also been spotted on the set.
So far, Marvel has kept Harington's character tightly under wraps, yet some fans believe the new leak shows the Game of Thrones alum in action for the first time.
Unfortunately, the images in question were taken from a great distance. The quality is not there to say for sure if Harington was on set that day. It is possible that the person is Kit Harington, but it could also be another cast member.
Aside from Harington, Jolie, Madden, Henry, and Chan, the film stars Salma Hayek, Lauren Ridloff, Kumail Nanjiani, and Lia McHugh. Chloé Zhao, meanwhile, is in the director's seat.
A look at Jolie as Thena
While fans continue to debate the leaked images of The Eternals, there is no doubt that the photos offer a first look at Jolie in her full costume.
Jolie, who recently finished promoting her new movie, Maleficent 2, plays the part of Thena in the film, a superhero who was first introduced as Athena's (the Greek goddess) ambassador on Earth.
The images show Jolie wearing a skin-tight metallic costume and a blonde wig. We cannot wait to see Jolie in action next year, and the actress is also looking forward to playing such a strong role in the Marvel Cinematic Universe (MCU) moving forward.
In a recent interview, Jolie opened up about playing Thena in The Eternals and revealed that her main goal is to empower women all around the world.
"My dream for everyone in 2020 is to remember who they are and to be who they are regardless of what might be disrupting their ability to be free. If you feel you are not living your life fully, try to identify what it is or who it is that is blocking you from breathing. Identify and fight past whatever is oppressing you," she stated.
Kevin Feige opens up about 'The Eternals'
With The Eternals being the second movie in Phase 4 of the MCU, Marvel president Kevin Feige understands the importance of getting it right.
The Eternals will introduce a whole new team of superheroes, many of whom will go on to play an important role in the MCU. With that in mind, Feige admitted that the project is a pretty big risk for the studio — though he believes it is a risk worth taking.
"It is a very big movie. It is a very expensive movie. And we are making it because we believe in [Zhao's] vision and we believe in what those characters can do and we believe we need to continue to grow and evolve and change and push our genre forward," Feige shared.
Feige did not reveal which characters would be playing a larger role in the MUC moving forward, but there is a good reason to believe that this will not be the last time we will see Jolie and Harington in action.
The first film in Marvel's Phase 4 if Scarlett Johansson's Black Widow, which is due out in theaters this coming May. The Eternals hits theaters on November 6, 2020.