The Final 'Big Bang' Episode: Did Fans Love It or Hate It?
Following the conclusion of a popular, long-running and beloved sitcom, fans are often left either miserably disappointed or completely overjoyed with the conclusion of their favorite show.
Here are a few perfect examples of how these different outcomes have played out in the past much to the disgust or delight of die-hard fans.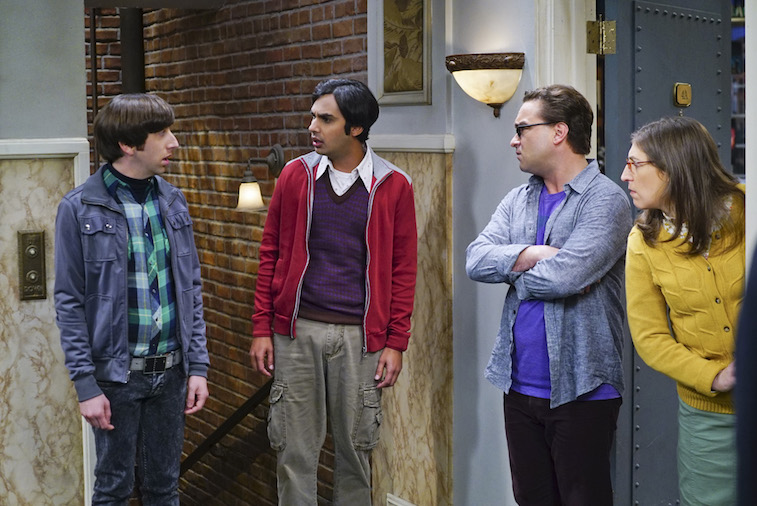 SPOILER ALERT(S):
Closing out six successful seasons of Mike & Molly, fans embraced their "fairy-tale happy-ending" scenario when they adopted a child. They later discovered Molly was pregnant and the duo lovingly sang the theme song "I See Love" into their first baby's eyes.
During a lengthy explanation of How I Met Your Mother to his nearly-grown children, the main character of Ted Mosby was falling in-and-out of love with Robin Scherbatsky's role. He finally met his soulmate only to have CBS kill off the title character in the season finale.
Remember being completely lost after the ending of Lost? What about when the lights were unexpectedly shut off on The Sopranos while "Don't Stop Believing" played in the backdrop?
Did 'The Big Bang Theory' finale flow fabulously or fall flat?
Back to one of the most popular and longest-running sitcoms ever to air on television, we recently bid a fond farewell to the overwhelmingly successful and beloved Big Bang Theory on May 16.
Speculations on how the series would end were running rampant everywhere on social media and the talk show circuit. Now that we watched the very last time we'll ever see anything new exploding from these chic geeks in the future, today's tried-and-true nerds flooded social media with positive reviews and here's why.
The persistent Penny predicament
Sheldon and Penny have always had an unusual relationship, to say the very least, and during a discussion at a bar (of all places) during the finale, she gives him some intelligent advice.
With everything suddenly, catastrophically and constantly changing in Sheldon's weird world, after he has another classic Cooper meltdown, Penny swoops in to save the day. In an ironic twist, she reminds him of an important theoretical concept he has overlooked; change is constant.
A decade later, after watching these two trying to teach each other everything from acting 101 to advanced physics, Sheldon and Penny taught us plenty. When the show ended, we already knew all the weird and bizarre relationships on The Big Bang Theory really resonated with fans.
Putting this show to bed with "tears, laughter and a great ending" was the perfect way to close down this comedy that's already destined to be a classic in reruns.
The preface point ponderance
Leading up to The Big Bang finale, some of its more seasoned fans were wondering if this hour-long episode (technically it was two episodes) would break the record of nearly 106 million viewers who watched the two-and-a-half-hour "Goodbye, Farewell and Amen" episode that emotionally ended the memorable M*A*S*H series in the '70s.
Predictions were also pondering a similar tissue-grabbing type of experience during the ending of The Big Bang Theory and this concept certainly rang true for the majority of fans.
Let's break everything down quickly similar to the opening of the final two episodes:
Amy and Sheldon are on top of their respective fields and nominated for the Nobel Prize
Penny and Leonard along with Bernadette and Howard are happily married (we finally get to see the Wolowitz kids)
Raj nearly got hitched but backed out at the last minute to avoid moving to London to be a part of an arranged marriage
Even sickly Stuart's character has a girlfriend at the end of the series in hopes that they would all "couple up" in the end
The speculation spectrometer
When leading characters like Johnny Galecki and Kaley Cuoco were promoting the final episode they told CBS Good Morning the writers have always treated the series as being episodic.
In other words, there weren't times when plot lines were laid out weeks or months in advance and instead they allowed the story to develop on its own.
For example, a couple of expectations for show's finale that came true was the long-time non-operational elevator was finally repaired and Leonard and Penny are expecting a baby as the curtains close on this show.
The Sheldon salutation
With the cast all dressed in formal wear, Sheldon has his most important epiphany when he finally understands the true meaning of friendship. Devoid of any social cues or conventions, Cooper comes to conceive how valuable the relationships are he has with his friends and family are actually worth.
Rather than going on a rant about his superior nature, instead, Sheldon becomes a "real boy" and recognizes the importance of his peers and sets aside his arrogance.
For fans of this leading character from The Big Bang Theory, viewers will still enjoy all of Cooper's quirks and antics on Young Sheldon as narrated by Jim Parsons.
For followers of the rest of the cast, we'll have to wait and see how the careers of these celebrities will unfold off the set "that all started with a Big Bang."