The First Dish Guy Fieri Ever Made and the 1 Food He Can't Live Without
Guy Fieri is indisputably the face of Food Network. His shows, Diners, Drive-Ins, and Dives, Guy Off the Hook, and Guy's Big Bite, to name only a few, have cemented his reputation as the food czar of culinary TV.
With his bleached spiky blond hair, rock star looks, and surfer dude vibes, Guy has had fans eating out of the palm of his hand since his arrival at the Food Network in 2006 and he's never looked back.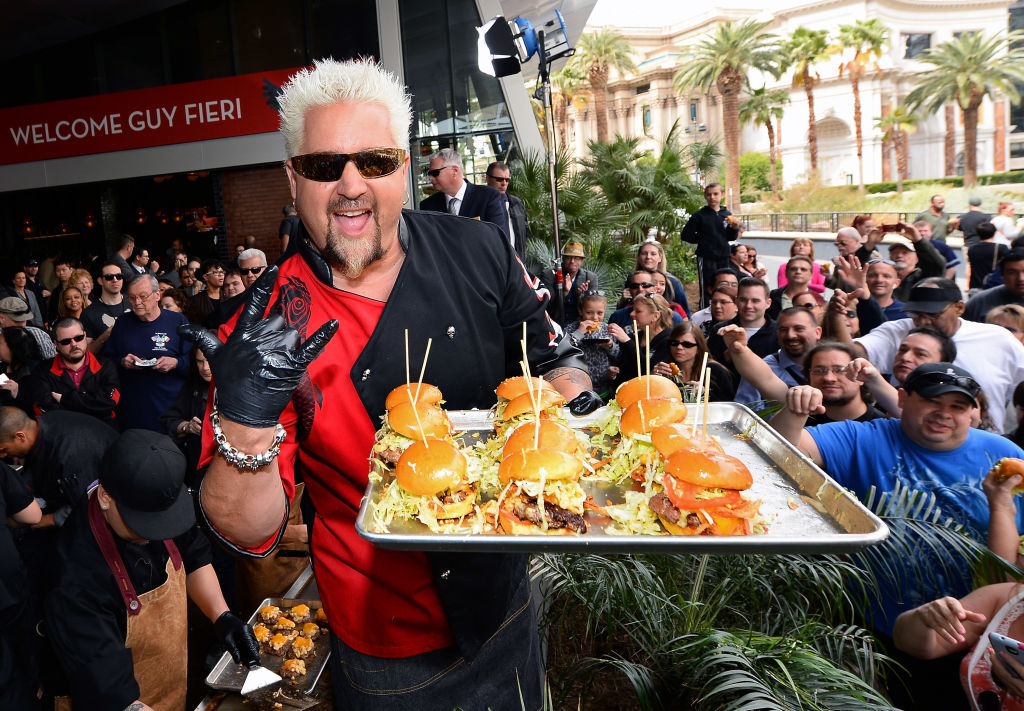 Get down to his roots (not the ones on his head) to find out all about his favorite bites plus what didn't go so well when he started out at Food Network.
He flopped on his first try with Food Network
Although Fieri won the second season of The Next Food Network Star, his first try to get on a Food Network show was not so successful. According to The Daily Meal, Fieri had auditioned for a barbecue show pilot in 2004 that didn't work, so he had to be talked into trying again.
When he auditioned for The Next Food Network Star, "he used his own nickname, Guido, and demonstrated how to make a sushi roll." It was a hit, and the rest is history.
The first dish he ever made as a kid
The mayor of Flavortown's first culinary creation was a true classic. He told The Daily Meal in 2018, "I started cooking when I was 9. My mom was making eggplant Parmesan…And I said, 'Can't we just have chicken Parmesan like the normal families?' So my mom said, 'You know, Guy? If you don't like the way we cook, you cook.'"
"That day after school, I went to the grocery store and I went to the butcher. I said, 'John, I want to make dinner tonight. I want to make steak.' He gave me two big steaks — I think they were ribeyes. I cooked the steak in a sauté pan and I hit it with a little soy sauce."
He served the steak and still remembers with pride his father's reaction that the steak was one of the best he ever had in his life.
Fieri's secret to the perfect steak? "A really good steak is seasoned properly, cooked really fast, allowed to rest, and seasoned properly. We just don't season enough, or we hide it. There's only two ways to cook in my world: low and slow, or hot and fast. I think once we go into the middle, you go into the mediocre."
The Food Item Fieri Just Can't Live Without
Fieri's incredible appetite and fearlessness in trying anything, no matter how odd-sounding is one of his best-known features, aside from his catchphrase, 'Holy moly, stromboli!'
He told Today, however, that his home cuisine is really very much like what any other family eats.
"We get down with vegetarian and vegan dishes," especially Asian cuisine such as spicy Indian curries and sushi. "That's my jam. Anywhere. Anytime."
So it shouldn't be too much of a surprise that his favorite food item of all time is a staple in Asian cuisine, the ketchup of the Orient.
"If I had to pick one thing that I couldn't live without, it'd probably be soy sauce," he continued. "Or Brussels sprouts." 
Now you know!