The First 'Downton Abbey' Movie Trailer Is Here: We Know the Characters Slated to Appear
We are so excited about Downton Abbey coming to the big screen in September 2019! The recently released teaser trailer offers little insight into the storyline but shares gorgeous filming views and a potential Best Original Score nomination for composer John Lunn. Lunn has won two Emmys for his work with the TV series.
Highclere Castle is used in the movie as home to the Crawley family as it was for television. This castle is actually steeped in British royal history and is the actual home to the 8th Earl and Countess of Carnarvon. Another filming location shared is the Beamish Open Air Museum.
The film offers much of the original cast and some new roles.
Maggie Smith as Violet Crawley, Dowager Countess of Grantham
We have to mention Dame Maggie Smith first as at the age of 84 she remains one of the hardest working actors in the UK, and the most beloved. She reprises her role as Violet Crawley in the Downton Abbey TV series which aired in the U.S. on PBS. This is great for the film as Smith has such a universal following.
For younger viewers she is best known as Minerva McGonagall from the Harry Potter series. For baby boomers, the love affair with Maggie dates back to 1969 in The Prime of Miss Jean Brodie for which she won her Best Actress Academy Award, Travels with my Aunt in 1972, and California Suite in 1978 for which she picked up her Best Supporting Actress Award from the Academy. This only names a couple of her awards and accolades which are just too numerous to share here.
Michelle Dockery as Lady Mary Crawley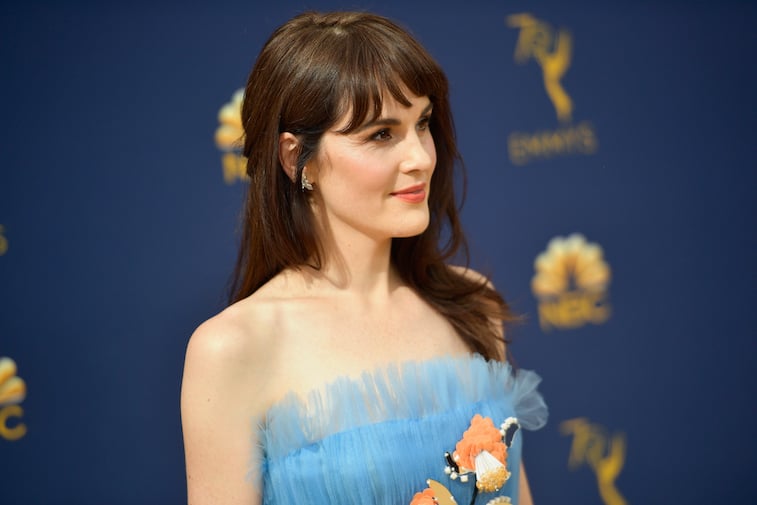 Michelle Dockery has received nominations for a Golden Globe and three Primetime Emmys for her role as Lady Mary Crawley. For the most part Dockery claims she is unlike Lady Mary. She can relate to some of Mary's poor decision-making skills. But Dockery has none of Mary's coldness and snobbishness, but that makes it more challenging and fun to portray her, he has said.
Dockery's first starring motion picture role came in Hanna in 2011, followed by Anna Karenina in 2012 and Non-Stop in 2014.
Elizabeth McGovern as Cora Crawley, Countess of Grantham
Elizabeth McGovern returns in the film as Cora Crawley. The 57-year-old actress was born in Illinois and studied at Juilliard. She has received Emmy and Golden Globe nominations for her role of the American pushed into marrying into British aristocracy by her mother.
In her role, McGovern often conflicts with that of her mother-in-law, Violet, portrayed by Smith. For continuity the fact the two return in their roles for the big screen will be a part of the film's great success.
Other original cast members include Hugh Bonneville as Robert Crawley, Laura Carmichael as Lady Edith Crawley, Allen Leech as Thomas Branson, and Joanne Froggatt as lady's maid Anna Bates.
Harry Potter fan alert!
Harry Potter fans not only will you get to see Maggie back as Violet, but new to the cast is the actress who portrayed Professor Dolores Umbridge! Imelda Staunton will play alongside her real-life hubby, Jim Carter, who returns to his role as butler Charles Carson.
The Downton Abbey television series took us through a fictional Yorkshire County estate from 1912 to the mid-1920s. During its original run from September 2010 – December 2015 the series earned a Golden Globe Award for Best Miniseries or Television Film and a Primetime Emmy Award for Outstanding Miniseries or Movie. With a total of 27 nominations, the series has earned the most ever Primetime Emmy noms of any international television series.
The series having ended on New Year's Eve 1925, it is our best guess the movie will take us on from there. We expect to further explore the Crawley family and the lives of those who serve them. It is due to release on September 20 in the U.S., following a week's earlier release in the UK.