'The Flash' Season 2: Is a Major Character About to Die?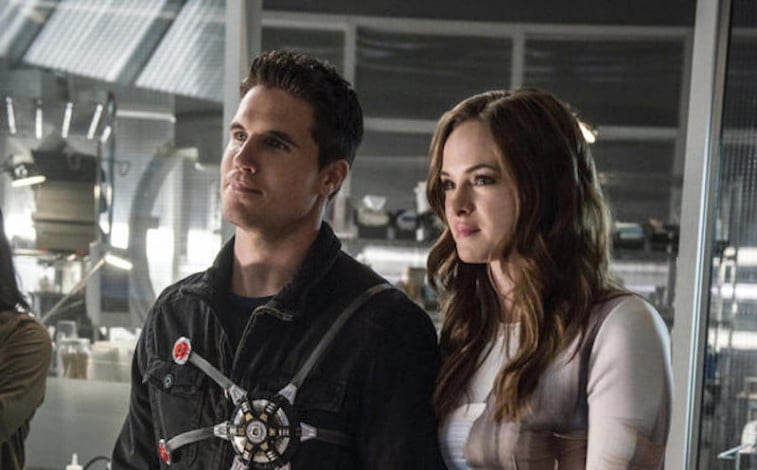 Fans of The Flash might be getting a big shock later this season, courtesy of recurring star Robbie Amell. The actor, who portrayed one half of Firestorm in the series freshman season, recently dropped a huge spoiler about how his character's pending return will have an unexpected impact on the show.
As fans know, Amell hasn't appeared on the series since the Season 2 premiere when his character sacrificed himself in order to save Central City. But as revealed in January, the actor will return to the show in an upcoming episode to play the Earth-Two version of Ronnie a.k.a Deathstorm. Unlike the good guy Ronnie that viewers saw in the first two seasons, this version of the character is evil, villainous, and, as Arnell just suggested, deadly.
While confirming the date of his return at a recent Heroes and Villains Fan Fest panel, Amell revealed that Deathstorm will actually kill one of the show's main characters during his appearance. "In episode 13, so in a couple weeks, you'll see me as Deathstorm, and Caitlin as Killer Frost," the actor said, per ComicBook.com. "So I get to come back, and I kill a series regular. So there's that, I'm probably going to get in trouble for saying that."
The death of a series regular is a pretty big revelation to drop so casually and one that's sure to get fans worried about which of their favorite characters is about to lose their life. But this is The Flash multi-verse we're talking about, which means any demise that occurs probably won't be as cut and dry as you think.
Since the majority of that particular episode (airing February 9) presumably takes place on Earth-2, the question is, will Deathstorm really kill a main character or just the Earth-2 version of a main character?
It's an important distinction, as fans know. Killing an Earth 1 regular would have drastic repercussions on the series for the rest of the season. But having the death take place on Earth 2 (a much more likely option) lowers the stakes, as it means whatever series regular is killed by Deathstorm could still be alive and well on Earth 1, where the show usually takes place. Fans will have to stay tuned to see how it all plays out, but it's clear that the multiverse is about to get even more complicated.
In the meantime, Amell's return won't be the only one making waves. Despite apparently dying in the season one finale, last season's villain, Eobard Thawne's The Reverse-Flash (Matt Letscher) recently resurfaced on Earth 1 from an earlier timeline. As expected, his reappearance will also have a huge impact on the whole Flash team.
"What's interesting about it is this Thawne hasn't experienced last season yet, and Barry has. On Barry's side, there's a lot stronger feelings — a lot more anger, a lot more betrayal, and in some cases, that's blinding Barry to what he needs to do," producer Andrew Kreisberg teased, per EW.
With the return of two influential characters coming up, fans can expect the next few episodes of The Flash to be action-packed.
The Flash airs Tuesdays at 8 p.m. Eastern on The CW.
More from Entertainment Cheat Sheet: