The Future of Demi Lovato's Music Career Doesn't Look Good
It's been almost a year since Demi Lovato suffered from a nearly fatal overdose.
Since that time, she's been focusing on her sobriety, and developing herself, which means her music has been put on the back burner.
Fans are supportive, and want to see her be healthy, but they're also eager for more songs from the artist. Will she ever make it back into the studio, or is Lovato's career as we know it basically over?
Demi Lovato's overdose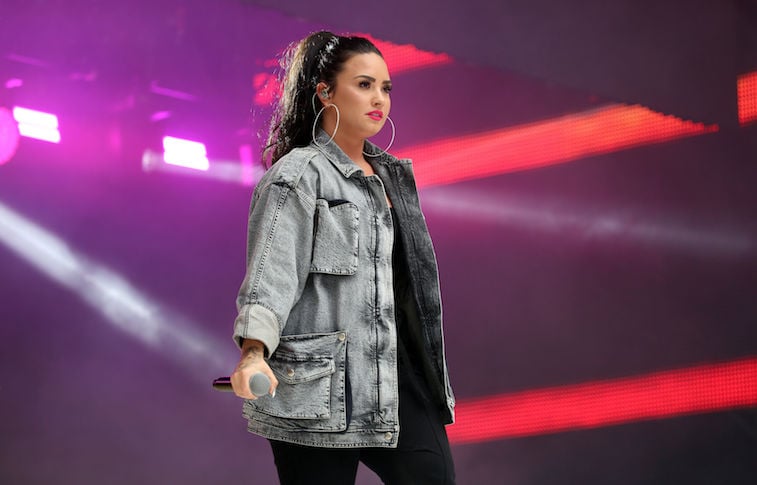 In July 2018, Lovato was rushed from her Los Angeles home to the hospital because of an overdose. After spending two weeks in the hospital, she was transferred to inpatient rehab and began working on her recovery.
Everyone was relieved when it appeared that Lovato was taking her sobriety seriously. Last January, she celebrated six months clean and sober by posting a photo of her sobriety coin on Instagram. This month, she's coming up on another anniversary- one year clean.
Shortly after her release from rehab, Lovato shared an update in a now-deleted social media post. According to People, she wrote:
"I have always been transparent about my journey with addiction. What I've learned is that this illness is not something that disappears or fades with time. It is something I must continue to overcome and have not done yet. I want to thank God for keeping me alive and well."
Since her overdose, Lovato has stopped working on music to focus solely on her health. The last time she released new music was way back in 2016, so fans are eager for some new material. And now that it's been almost a year, they're becoming worried that she may not ever return to music.
However, there have been some updates that show Lovato hasn't forgotten about her career completely.
Lovato has a new manager
While she may not be releasing music quite yet, Lovato is still thinking about what's best for her career. This is evident in her recent decision to sign with a new manager. Lovato announced on Instagram that she'd signed with celebrity music manager, Scooter Braun, who also manages big names such as Ariana Grande, Justin Bieber, and Hilary Duff.
In her post, Lovato expressed her excitement. She wrote, "GUYS!!!!!!! Dreams came true today for me. I officially have a NEW MANAGER!!! And not just any new manager but the one and only @scooterbraun!!!!" Lovato revealed on Instagram, along with a photo of her and Braun. "Couldn't be happier, inspired and excited to begin this next chapter with you Scooter!!! Thank you for believing in me and for being a part of this new journey. Let's DO THIS!!!!!!"
We can't say for sure, but a new manager could mean she's at least thinking about making new music.
Lovato may be back in the studio
Recently, we learned from Idina Menzel, that Lovato may be getting back to making music- or at least spending time in the studio. Menzel posted a photo to her Instagram that showed her and Lovato embracing in a purple-lighted studio room. Although, they were not in a recording booth. But this does show that Lovato has at least been spending time in the music studio.
The photo was captioned by Menzel, "Ran into the beautiful and talented @ddlovato at the studio today!"
Before her overdose, Lovato had teased an upcoming release. In a Q&A session that took place back in May 2018, a fan asked if she was done releasing singles from Tell Me You Love Me. "Pretty much," Lovato answered. "I have so much new music to release very VERY soon!!!"
But then, only a couple of months later, Lovato had her overdose, and everything was put on hold. Now that we know she's visiting the studio, fans wonder if she's continuing the work on her 2018 music, or if she's starting something completely new.
Although it's important for Lovato to focus on her sobriety, the longer she waits to release new music, the harder it's going to be to find success in her career. Unfortunately, people do forget about an artist if they aren't making new songs.
Hopefully, Lovato will be able to find a happy medium between caring for herself, and caring for career. And hopefully, she figures it out soon.