'The Good Doctor': Why Shaun's Love Life Just Got More Interesting
The third season of The Good Doctor will kick things off with a romantic note — although it may not be with the romantic partner that some viewers expected.
Jasika Nicole, who had played the recurring character Dr. Carly Lever, has been promoted to a series regular. This comes hard on the heels of the Season 2 finale in which series lead Dr. Shaun Murphy (Freddie Highmore) asked Carly out on a date — and she said yes.
With Nicole being a regular now, we're going to guess the date goes well – and some fans actually seem to be OK with that.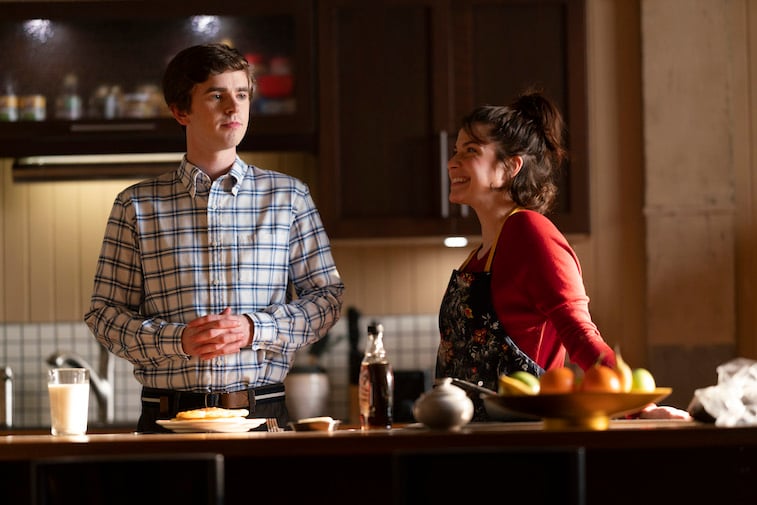 Dr. Lever gets a promotion and a date
Carly is a pathologist who has been around since season 1 but hasn't been a constant presence. At the end of season 2, we saw Shaun getting decked out in a suit, go to Carly's house and ask her out. However, this pulled the rug out from viewers who had seen Shaun's roommate Lea (Paige Spara) comes home to find Shaun suited up with a bouquet. It looked like he was going to ask Lea for the date.
Don't you just hate it when you find out flowers aren't for you?
What makes this all the more ironic is that Spara had been in the recurring cast for Season 1 and became a series regular herself in Season 2. She had been Shaun's love interest until she left to pursue her dream.
When she came back, she and Shaun decided to be just friends — but given the misdirect between her and Carly, it seems as though the show thought audiences were shipping Shaun and Lea, not Shaun and Carly.
Why did Shaun pick Carly?
Executive producer David Shore explained his rationale this way to TV Line:
"The audience wants to see Shaun with Lea [together], and I kind of do, too, but we'll see where that goes … At a certain point, I was going, 'Oh, the audience is going to hate me for not having him ask Lea out,' but then I thought just seeing him ask anybody out — and Carly is someone we care about, and somebody who cares about Shaun — is going to be a lovely victory. All [of those romantic pairings] are on the table and continue to be on the table as we go forward."
While the show clearly thought it was springing a big surprise on the audience, Shore might be surprised to learn that viewers approve of this date, if the comments on TV Line are to be believed. Some liked Nicole anyway because of her work on Fringe.
"Yes i do not like shaun with lea at all she is so selfish new pairing much better," said one.
Another said, "Frankly, even though I liked the Lea/Shaun pairing at first, I now prefer Shaun to be with someone else. Lea seems to take Shaun for granted & almost flaunts her bf in front of him. I still like the nurse, but don't mind this pairing with Carly."
Does 'The Good Doctor' get love and autism right?
While The Good Doctor spends a lot of time defining how someone with autism functions in the workplace, not many shows deal with how someone with autism deals with love or sex. So for The Good Doctor to dig deeper in this area, there are many ways to break new ground. Shaun has found romance difficult because of a childhood incident where a girl he liked mocked him publicly for wanting to kiss her.
"Often with love and relationships, when someone who has a diagnosis is rejected by someone they're pursuing or is interested in, it can really stop them forever from trying to pursue any other kind of relationship again," said Melissa Reiner, an autism consultant who spoke to Indiewire. That's why Shaun asking anyone out is such a big deal.
Reiner had her doubts about whether Shaun and Lea could work as a romantic couple, even though she gave him his first kiss.
Reiner said, "A woman like Lea would feel the responsibility and the weight and the gravity of that. You can't just have sex with this guy or even kiss this guy again, or interact in a more intimate way, and have it then kind of fizzle. This would need to be permanent, forever. Unless you want to marry this guy, there has to be a clear boundary."