When Does 'The Good Place' Season 4 Premiere?
The hit NBC comedy The Good Place has not been canceled. In fact, Season 4 is on its way. The series, which stars Ted Danson, Kristen Bell, and many more, is a unique sitcom about the afterlife that features many twists and turns, and there's no telling where it will go next. Here's what you need to know about the upcoming fourth season.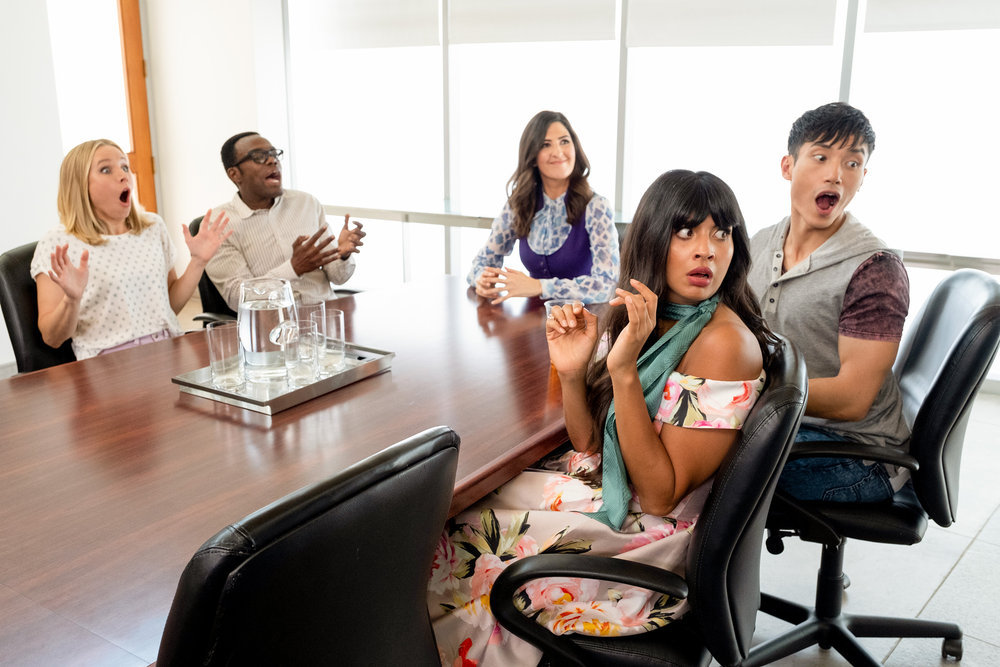 What is The Good Place about?

This is a show that you really don't want to have spoiled if you plan to watch. So here's a brief overview. Bell's Eleanor finds herself in "The Good Place" after dying in a freak accident. In this heaven-like place, she meets Michael (Danson), the "architect" of the neighborhood, along with fellow deceased persons Chidi (William Jackson Harper), Tahani (Jameela Jamil), and Jason (Manny Jacinto). But something isn't quite right…

Season 4 has begun filming

The Good Place Season 3 aired from Sept. 2018 – Jan. 2019. During that time, it was renewed for a fourth season by the network. Now, it would appear that filming has begun for the upcoming season.

Though there is no set premiere date for Season 4, all of the previous seasons have begun airing in September and concluded in January or February, and all featured 13 episodes. This pattern likely will not change for Season 4, so expect the announcement of an official Sept. premiere date sometime this summer.

What will happen in Season 4 of The Good Place?

This is a show that can go absolutely anywhere — there are no constraints when it comes to reality, and anything goes. So anyone's guess about what's to come is valid.

However, we do know a few things (ahem, spoilers ahead): Chidi and Eleanor have a journey ahead of them, and Eleanor's character development will definitely continue/come into play there. There are new characters on the horizon, which will hopefully bring about exciting new dynamics. And we're in for a more in-depth look at The Good Place, which offers endless possibilities (likely involving frozen yogurt).

Here's what the stars are saying about the show

Stars Jamil, Harper, and more have been celebrating their return to set with social media posts. While Jamil is here to give us a quick look around, Harper is offering up an exclusive behind-the-scenes shot of this very good director.
D'Arcy Carden, who plays Janet in all her many forms, was especially excited to get back to work with Bell and Harper. She may have even hinted that about what's to come for Eleanor and Chidi.
How many more season of The Good Place will there be?

Like we said before, the possibilities are endless when it comes to The Good Place. Just when you think they've written themselves into a corner, there's a new giant twist. So how much longer can this go on?

According to creator Mike Schur, there's a finite ending not too far down the line. "Obviously because of that DNA, where status quos get blown up so frequently, this is not a show that is destined to be on for nine years," he told The Hollywood Reporter in 2018. "It's not a 200-episode, Friends kind of a deal. It's not a hangout show. So, yeah, we've given it a lot of thought, and we have a certain plan, which I think you'll get the sense of in the fairly near future."