'The Good Place': Why Blake Bortles Is Often Mentioned on the Show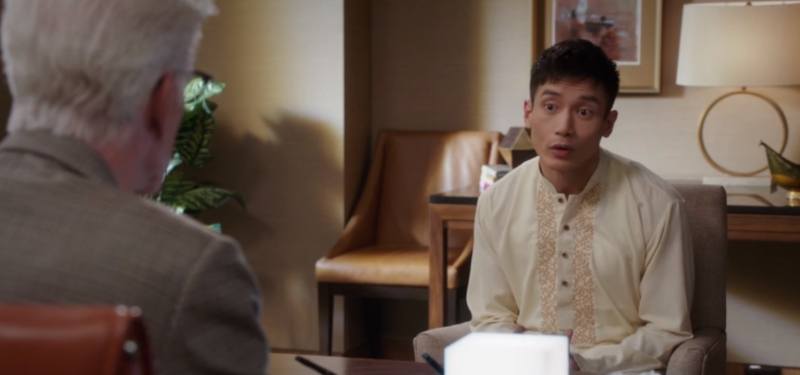 The Good Place is a very unique show in every aspect. That includes the weird long-running jokes throughout the series. One unexpected joke is Jason Mendoza (Manny Jacinto) being a diehard fan of Blake Bortles, the starting quarterback of the Jacksonville Jaguars. So why does The Good Place often mention the football player and how has the show's relationship with the team evolved? Here is everything you need to know.
Blake Bortles was picked because of his name and how he looks
Jason is meant to fit many Florida stereotypes. Him being a huge supporter of the state's NFL team despite it not being known for being good is part of that. But the reason why Blake Bortles is often mentioned goes beyond the character's love of football.
"Yeah, you've got that alliteration," The Good Place producer, Joe Mande told SB Nation. "I don't follow football as closely as I follow basketball, but I know that he was sort of drafted because he looked like a quarterback."
He then explained that the first Blake Bortles joke in Season 1 already existed. "But yeah, Bortles is a funny name," Mande continued. "Blake Bortles, it's right up there. We shot a thing for my episode in Season 1 where Jason throws a Molotov cocktail at a speedboat, and we ad libbed it. So he says "Bortles!", the way a**holes who play pickup basketball say 'Kobe!' when they make a bad shot. So instead of Kobe, it's Bortles. And I loved it so much."
Manny Jacinto went to a Jaguars game
Jason made it back. Duval Til We Die and forever.#DTWD @nbcthegoodplace pic.twitter.com/zIsOfJcqAY

— Jacksonville Jaguars (@Jaguars) January 7, 2018
The show's running joke led to Manny Jacinto getting an invite to a Jaguars game in January 2018. Luckily, the team beat the Buffalo Bills 10-3 and the actor got to make a video as his character.
"It was a weird experience," Jacinto admitted to Inverse. "I didn't know whether to be Manny Jacinto or Jason Mendoza. Within a group of people that recognized me, I'm Jason. If I had a private moment, I could be Manny. I had to juggle."
But there is a downside of the show mentioning the NFL quarterback so many times. Blake Bortles was benched for the rest of 2018's season and Cody Kessler will be taking his place as starting quarterback. This is after the team had a pretty promising season and the show even acknowledged that through Maya Rudolph's character, the Judge who blames changes made on earth on Michael (Ted Danson) and Janet (D'Arcy Carden) going to earth and interfering with humans.
"Also, the Jacksonville Jaguars are good now," the Judge said. "I'm serious. They're gonna make the playoffs. Blake Bortles is kind of okay, maybe, I don't know, it's being debated amongst experts; it's confusing. But whatever it is, it's yo' fault!"
But in the end, there might be a lot more fans of Blake Bortles just because of Jason Mendoza's fascination with him. It should be interesting where things go from here.
Read more: How Much Does Kristen Bell Get Paid for Starring in 'The Good Place'?
Check out The Cheat Sheet on Facebook!