'The Handmaid's Tale': How Yvonne Strahovski Really Feels About Playing Serena Waterford After Having a Baby
Hulu has been stepping up their game for original content as of late, and Season 3 of The Handmaid's Tale doesn't disappoint. We've been watching June Osborne, played by Elisabeth Moss, navigate the totalitarian state of Gilead as a handmaid for years. And while Osborne hopes to leave Gilead behind with her daughter, Hannah, in tow, she's currently stuck where she is and attempting to implode everything from the inside out.
Along with Osborne, fans are highly invested in the Waterfords. Osborn was placed in the household of Serena Joy Waterford and her commander husband, Fred, in Season 1, and the characters have been at odds ever since. Yvonne Strahovski plays the infamous Mrs. Waterford — and since she had a baby herself within the last year, she's had quite a few thoughts and feelings regarding her character. Here's what she said.
Yvonne Strahovski has discussed Serena Waterford's desperation for motherhood
It's hard to believe just how different actress Yvonne Strahovski is from her character of Serena Joy Waterford. We know Waterford has desired a baby since the very beginning of The Handmaid's Tale — and after Osborne produced a child for the family, Waterford eventually did the right thing and allowed Osborne to take the baby out of Gilead. Unfortunately, now Waterford is having second thoughts about her decision in Season 3. And she's attempting to get the baby back at all costs.
Playing a brutal character who desperately wants a child presents an interesting situation for Strahovski. "I think so much of motherhood is putting yourself aside, putting aside all your fears and all your selfishness and all your flaws and giving the best self to your child," she told the Los Angeles Time. "I think Serena did that at the end of the season. It took her a big, long journey to learn how to do it, but she did it."
Strahovski also explained Waterford's desperation for motherhood and how that drives the character's actions. As she told Katie Couric, "I think motherhood in my real life has solidified for me just how badly Serena wants this baby. In having a child you realize that you will do anything for it and Serena believes that Nicole is her baby and so she will do anything for her baby."
Strahovski became a mother before Season 3 of The Handmaid's Tale
Strahovski started playing Waterford without any kids of her own, but she now has a baby who's less than a year old with husband Tim Loden. In October 2018, she posted this photo to Instagram with the caption, "My heart has melted into a billion pieces a thousand times already. We have been blessed with the greatest joy of our lives, our baby boy. Welcome to the world Peanut, your parents love you beyond measure and you are already my little dream boat. My heart has been stolen!"
As anyone would guess, returning to work just six weeks after having a child — especially returning as Serena Waterford — was not easy. "I play such a miserable character and (especially at the start of season three) we see Serena in all her misery, being quite confused by her decision to hand over her baby," Strahovski said. "So it was really a split personality vibe from having to go between set when I was deeply embedded in this misery as Serena and then going back to the trailer where I was deeply embedded in the absolute pure joy, magic and hormonal high of having just birthed my gorgeous son who continues to delight us daily with all his funny new tricks."
She says having a baby doesn't change the way she thinks about playing her character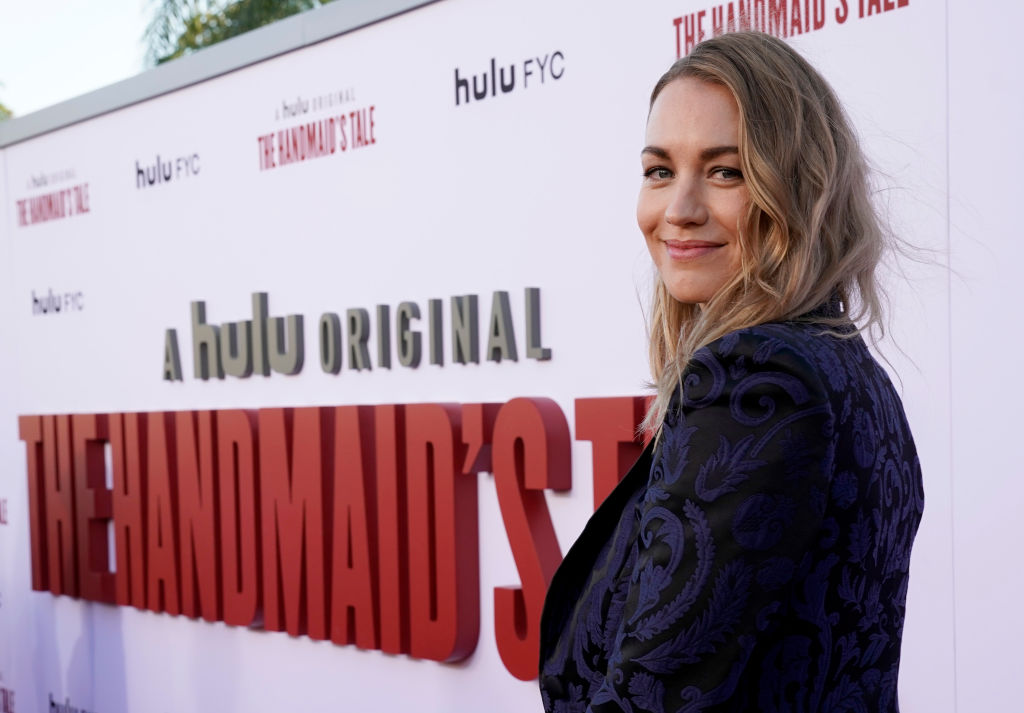 So, since Waterford is desperate for children and Strahovski recently gave birth, has her personal experience with motherhood changed how she views her character? It turns out it hasn't. Instead, it's just helped Strahovski further understand Waterford's intentions and the emotions that drive her. As the actress told Couric, "I don't think it has changed the way I think about Serena, it has really just inspired the emotions in playing that desperation to have her baby, to regret the decision of giving her baby away, the need and the primal desire to have the baby returned to Serena."
As far as what Waterford's fate will be in Season 3, we're not quite sure just yet. But we know Strahovski understands her character will do absolutely anything for Osborne's baby that she feels entitled to. "She doesn't really have much left for herself, so she wants this baby and she'll do anything for that baby, at the expense of others," she told the Los Angeles Times.
Check out new episodes of The Handmaid's Tale every Wednesday on Hulu.
Check out The Cheat Sheet on Facebook!