'The Handmaid's Tale's' Rita Explains Her Thoughts on the Season
The finale of The Handmaid's Tale left fans reeling from shock. Although there were some happy occasions, the season left much to be desired in regards to the main character's fate. There were a lot of shocking moments that culminated in an explosive finale. Amanda Brugel, who plays Rita, spoke with Bazaar.com about her role in the series and her thoughts on the season. Spoilers are ahead, so only read on if you have watched season 3 of The Handmaid's Tale.
Episode 13 of 'The Handmaid's Tale' held an emotional reunion
The final episode to an emotional season holds a special reunion for Rita. She finally reunited with Emily (Alexis Bledel) and got to meet June's (Elisabeth Moss) husband, Luke (O-T Fagbenle). She felt like she already knew him, which is very apparent in their meeting. She tells him this was all because of June, and it's impossible not to cry while watching the exchange. She knows she only made it this far because of her, and it's sad June isn't also there with them.
Rita spoke about her favorite scene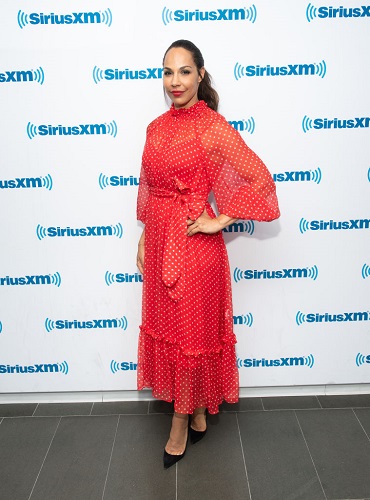 When asked about her favorite scene from season 3, Brugel says the final episode involving them walking through the forest was her favorite to shoot. It was an emotional moment for everyone involved.
"My favorite was in the finale, where none of us are saying anything, but you have to imagine weaving through the beautiful forest in April in Canada with 152 little boy and girl extras," explains Brugel. "We were walking in silence, and we were all so emotional imagining taking these children to safety. All these actors are now my close girlfriends, and it felt like we were really doing something for the audience, like creating a sense of hope in embodying these courageous women. We were so happy to do it. I was at the finale [screening] in LA last week, and people were standing, and screaming, and shouting, and you want that. By far, Episode 13 was the most beautiful piece of television I've ever been a part of."
June went down a dark path in season 3
Entertainment Weekly spoke with showrunner Bruce Miller about the show and his thoughts on the season now that it has come to an end. He envisioned June as a real hero, not a fictional one. She went through many dark moments this season that took her on a path of resistance.
"For me, the intention was to show June as a real hero, not a fictional hero. It's one thing to decide to be a rebel; what does it look like to actually do that? What does that mean? We watch a lot of TV and movies where people are appointed rebels, and then they don't want to go get their hands dirty," explains Miller. "What I was looking for from June is, what's the real process of going from a normal person to being someone who's basically fighting a guerrilla war. There are steps that go into that, and a lot of changes happen in who you are and your moral code. I didn't want to skip over all that. The big journey for June is, at the beginning, she says, 'I'm a rebel,' and then the entire season is answering, 'Wait, what does that mean?'"
The children of Gilead make it to safety
After a season full of fighting and getting nowhere, June was finally able to put her plan into action. The children of Gilead escape to Canada, but not without a snag in the plan. June is shot trying to distract an armed guard away from the plane. Luckily, she is able to shoot him in self-defense and make it out alive. The other handmaid's whisk her away to safety. June is clearly content because her plan worked. Even though she herself wasn't able to get away, she feels she has done enough because she got the children out. They will now lead full lives because of her. The Handmaid's Tale will be back for a highly anticipated season 4.