'The Hateful Eight': 8 Things to Know About Tarantino's New Movie
Quentin Tarantino's resumé of films is one that's made him into one of Hollywood's most accomplished directors. Movies like Pulp Fiction, Kill Bill, and Inglourious Basterds. Each of his movies carries with a distinct style, rooted in Tarantino's own love of cinema, and more specifically Westerns. From the very beginning of his career, he's been fascinated with the entirety of the classic Spaghetti Western, often including elements of the genre in films set in completely separate time periods than your run-of-the-mill John Wayne flick.
Now on his eighth movie, Tarantino is finally making a straight Western, entitled The Hateful Eight. It releases this Christmas, in a month jam-packed with holiday blockbusters. And while it'll have its hands full in the way of competition, there's no doubting that this is Tarantino in his element. As a man who's more familiar with the genre than any other modern filmmaker, it's truly the movie he was born to make. So what can we expect once it makes its debut? Here's what we know so far.
1. The story
Based on the few trailers we've seen, the plot behind The Hateful Eight seems simple enough: Eight strangers are stranded in a cabin together during a snowstorm, and one of them can't be trusted. The twist: One is a man taking a criminal to be hanged, and will haul in a hefty reward for the capture and delivery. In a room full of your average Western degenerates and shifty characters, there's plenty of room for intrigue, told in the frame of Tarantino's expertise in dialogue and movie tropes.
2. The bottle plot
A "bottle episode" in the realm of television is when an entire episode takes place in a single setting, usually driven by a single factor keeping everyone in the room (usually to save the budget for a week since no new sets or locations are required). The Hateful Eight will take this and blow it up into a decidedly more cinematic proportion: Eight people, one room, one movie. In an age of cinema that's consistently been about big-budget special effects and exotic locales, a film that brings things back to the basics of dialogue and set design is a necessity.
3. The Tarantino regulars (and not-so-regulars)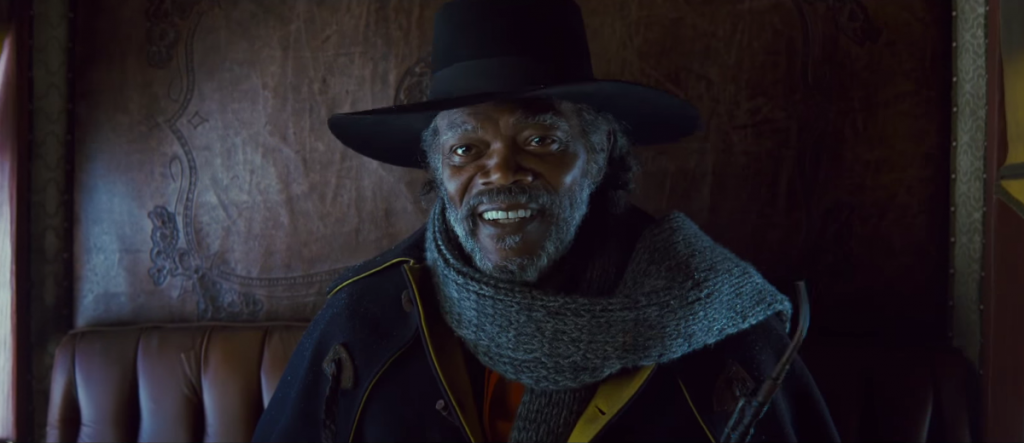 Quentin Tarantino has made a habit of using generally the same actors throughout his films (with a few notable exceptions here and there). That crew includes Tim Roth, James Parks, Samuel L. Jackson, Christoph Waltz, and Michael Madsen, all of which will be appearing in some capacity in The Hateful Eight. There will also be some actors new to the Tarantino universe though, including Kurt Russell, Channing Tatum, Walton Goggins, and Jennifer Jason Leigh.
4. The (alleged) comedy elements
If there's one thing that Tarantino has always managed to infuse into even his most serious films, it's elements of comedy. The Hateful Eight will carry a similar banner, with the director telling Entertainment Weekly that "as bleak as our movie is, we are definitely the funniest snow Western ever made." Even Django Unchained, a movie about the horrors of slavery in Civil War-era America, managed to make us laugh at times, so striking that balance is certainly not beyond Tarantino's capability.
5. The music by Spaghetti Western legend, Ennio Morricone
If you haven't heard of Ennio Morricone, odds are you've at least heard one of his iconic film scores. The famous "oo-ee-oo-ee-ooooooo" from The Good, The Bad, and the Ugly was created by none other than the talented Italian composer, having scored dozens upon dozens of films throughout his lengthy career. That being so, The Hateful Eight will mark the first Western Morricone has done in 40 years, making this a huge get for Tarantino and co.
6. The 70mm film stock
The unique format for The Hateful Eight has been well-documented lately, but it's worth mentioning nonetheless. To give you some reference, most films are shot in 35mm, which is standard in the industry for widescreen. 70mm on the other hand gives you twice the width, and is typically used to display vast landscapes. Movies like 2001: A Space Odyssey and Lawrence of Arabia are the most famous examples of the 70mm format, leaving us to wonder what a film that primarily takes place in a single room will do to utilize the extra width.
7. 8 Clips From the Movie
https://www.youtube.com/watch?v=xtGrZJs4PTc
For anyone who can't wait until Christmas to open their presents, we have 8 clips from the movie, that put the gorgeous 70 mm format on display. If there's anything we can learn from these, it's that more films need to double down on 70 mm, if for no other reason than to take full advantage of the frame the way Tarantino does. You can check the first of the 8 clips above, and can see the other 7 over here.
8. The strange origin of The Hateful Eight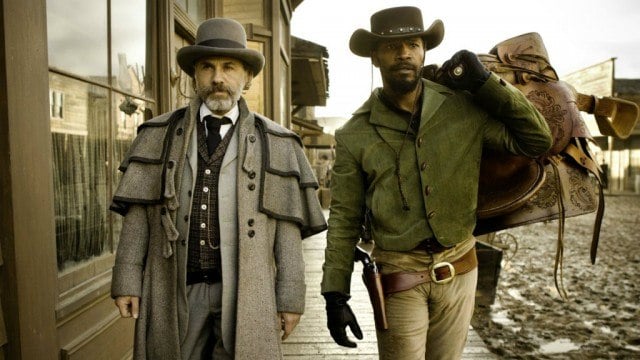 If The Hateful Eight seems similar to Quentin Tarantino's last movie, Django Unchained, that's only because it was originally meant to be a sequel. The character played by Samuel L. Jackson was going to Jamie Foxx as Django, and was later changed to be someone else when Tarantino decided the "moral center" Foxx's character represented needed to go. With a far more morally ambiguous and unknown character in Django's place, it opened up the potential of The Hateful Eight in a big way.
We'll be updating this article as more information comes, so stay tuned! Per IMDb, The Hateful Eight will have a limited theatrical release on December 25, and a nationwide release on January 8, 2016.
Follow Nick on Twitter @NickNorthwest
More from Entertainment Cheat Sheet:
Want more great content like this? Sign up here to receive the best of Cheat Sheet delivered daily. No spam; just tailored content straight to your inbox.