The Hateful Gawker: Tarantino Sues Over Leaked Screenplay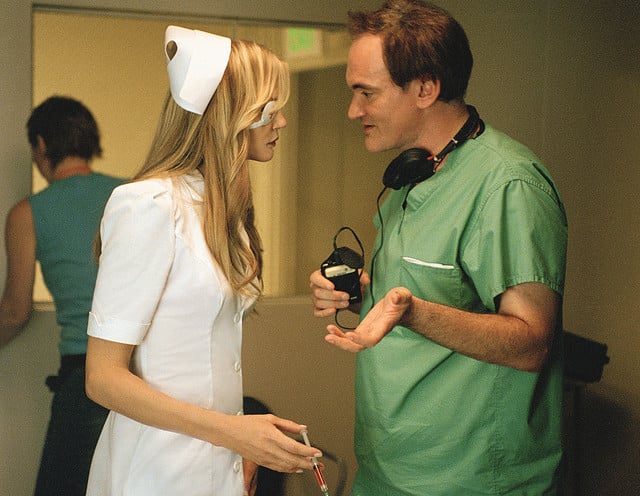 Iconoclastic director Quentin Tarantino is suing the online news source Gawker Media for copyright infringement after the Gawker-owned website Defamer posted links to read a leaked script of his latest project, The Hateful Eight.
"Gawker Media has made a business of predatory journalism, violating people's rights to make a buck. This time they went too far. Rather than merely publishing a news story reporting that Plaintiff's screenplay may have been circulating in Hollywood without his permission, Gawker Media crossed the journalistic line by promoting itself to the public as the first source to read the entire Screenplay illegally," the suit reads.
Shortly after finding out that the script had been leaked by one of his trusted associates, Tarantino did an interview with Deadline, saying that because of the leak he will abandon the project for now, if not all together. "But I can tell you, it's not going to be the next thing I do. It's my baby, and if the muse calls me later to do it, we'll do it. I was thinking about the idea of maybe publishing it before I made it, but now that deal happens for sure, and I'm not doing it next," Tarantino said.
"I'm very, very depressed," Tarantino said in the Deadline interview. "I finished a script, a first draft, and I didn't mean to shoot it until next winter, a year from now. I gave it to six people, and apparently it's gotten out today." He was so angry about the leak that he named all the people who'd been given copies of the script, and insinuated that the agent of one of the actors was guilty of leaking the script to the media.
After news about the lawsuit came out on Monday, Gawker posted a response, claiming that Tarantino was milking the story to get media attention. Gawker says that all it's guilty of is posting a link to another site, Anonfiles, which had posted the leaked script in its entirety. Gawker says that it did not turn the leak into a news story, but Tarantino himself did in the Deadline interview. "No one at Gawker has any earthly idea how AnonFiles obtained a copy," the site said of the leaked script.
"Thanks to Tarantino's shrewd publicity strategy, the leak of The Hateful Eight — and the content of the script — had been widely dissected online and was a topic of heated conversation among Defamer readers. News of the fact that it existed on the internet advanced a story that Tarantino himself had launched, and our publication of the link was a routine and unremarkable component of our job: making people aware of news and information about which they are curious," the Gawker post reads.
The issue becomes more confusing as Tarantino himself says in the Deadline interview that he encourages online commentary on his scripts before they are produced, but that this particular leak was infuriating because it happened before he had a chance to discuss details of the film with Harvey Weinstein and because it had been given to such a small, trusted group of his associates.
"I am not talking out of both sides of my mouth, because I do like the fact that everyone eventually posts it, gets it, and reviews it on the net," Tarantino said. "Frankly, I wouldn't want it any other way. I like the fact that people like my shit, and that they go out of their way to find it and read it. But I gave it to six motherfucking people!"
The Hateful Eight was planned to be an ensemble Western starring some of Tarantino's usual suspects. Michael Madsen, Bruce Dern, and Tim Roth were the actors who received copies of the script to review, and Tarantino said he'd planned on giving it to Christoph Waltz and Samuel L. Jackson later.
The Deadline journalist who spoke to Tarantino, Mike Fleming Jr., said that he spent much of the interview trying to convince Tarantino not to abandon the project, as the chance to see Tarantino's take on a true ensemble Western is enough to make any fan of the director salivate in anticipation. "I could totally change my mind; I own the fucking thing," Tarantino said.
More From Wall St. Cheat Sheet:
Follow Jacqueline on Twitter @Jacqui_WSCS