The Heartbreaking Reason Phil Collins Doesn't Play the Drums Anymore
During his heyday, Phil Collins was one of the best drummers of his generation. Now, over 40 years later, he's lived through an addiction that almost killed him, and suffered an injury that took away his ability to play the drums.
But despite this, Collins is still going strong, singing his legendary songs on tour for thousands of fans. This is the inspiring story of Phil Collins.
Phil Collin's injury stops him from playing the drums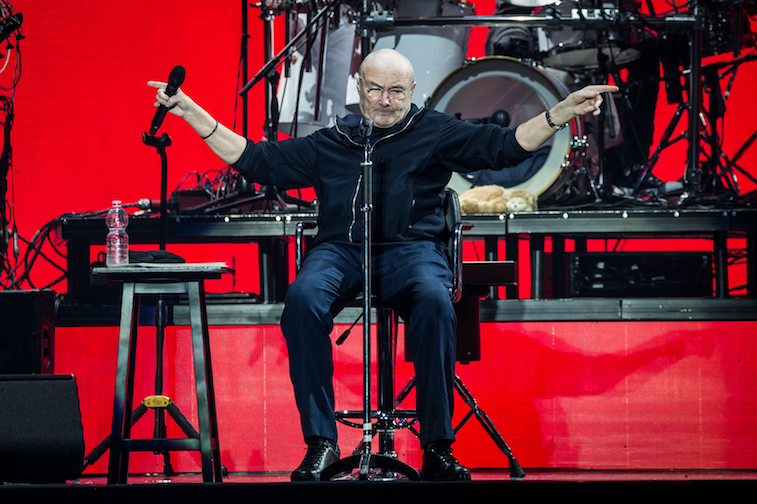 After a long and prolific career playing the drums, a painful spine injury means that Collins is no longer able to play. According to Collin's own words in the Daily Mail, "My vertebrae have been crushing my spinal cord because of the position I drum in. It comes from years of playing. I can't even hold the sticks properly without it being painful."
Collins describes how he used to tape the drumsticks to his hands in order to play, but that's not a long-term solution.
The injury, along with his desire to spend more time with his family convinced Collins to go into retirement. However, soon after his decision, his third marriage to wife Orianne Cevey, with whom he shares two sons, ended in divorce.
"I didn't have anyone to go home to. That's why I started drinking," Collins told the Telegraph.
While many rock stars struggle with addiction during the height of their career, Collins took the bottle once he retired. "You start drinking, and then you start drinking too much. Then it physically hurts you. I came very close to dying at that point," Collins admitted to the Independent.
However, Collins was able to get his life back on track. He even reunited with Cevey, and the couple is now living together with their sons. In addition, Collins has decided that retirement is not for him.
Despite his use of a cane, and still not being able to play the drums, Collins has returned to his life as a rock star. "Don't worry, I can still sing," he told the Daily Mail.
Collins passes the drumsticks to his son
Collin's return to music required that he find another drummer to play, while he sang the lyrics to his legendary songs. Luckily, he didn't have to look far. Collin's son, Nicholas, was only a teen at the time, but he was a talented drummer, just like dad.
Collins passed the drumsticks to his son, and the two went on tour together.
"He's really good, and he can take criticism," Collins said. "Which is always a danger working with someone so close to you."
The first challenge for Nicholas came when he was only 15 years old, and he was to play the most famous drum fill in rock history, for his father's iconic song, In the Air Tonight, at the U.S. Open.
In front of thousands of fans, and millions more watching over the live stream on their televisions, Nicholas nailed it — earning his place as drummer for Collins' legendary rock tour.
"Everyone knows that fill," Nicholas told Rolling Stone, "But to be honest, it's not that hard to play. Still, doing it at the U.S. Open was very nerve-racking."
Going on tour as father and son for 'Not Dead Yet'
In 2016, along with his son, Collins began the Not Dead Yet tour. The tour was so successful that he's continuing this year with another leg in the states. Starting this fall, the Not Dead Yet, Live! tour will stop in 15 cities across the country, playing Collin's hits from four decades of his career.
His concert promoter said fans should expect to hear songs such as "Another Day in Paradise," "Against All Odds," "In the Air Tonight," "Follow You, Follow Me," and others.
Collins still suffers from his spinal cord injury, and so he performs most of the show sitting down. At first, he was worried about how fans would react to the vastly different style of show, but the response has been positive.
"It means that people are focused on the music and I am too," Collins said of his new concert style. "So far it hasn't been a problem at all. It's been very positive, if anything. It's kind of a little bit different to me, but it's physically impossible for me to stand for two and a half hours without going through real pain. It's all gone well."