The Heartwarming Start to Jennifer Aniston and Ellen DeGeneres' Friendship
Jennifer Aniston and Ellen DeGeneres have been friends for decades. Learn more about how the two stars first met.
Ellen DeGeneres and Jennifer Aniston have been friends for longer than most Hollywood marriages last. Aniston loves to appear on DeGeneres' show. They celebrate the good times in life together and even depend on each other when things get tough. So how did this great friendship start? The answer may not be what you think. 
How did Jennifer Aniston and Ellen DeGeneres become friends?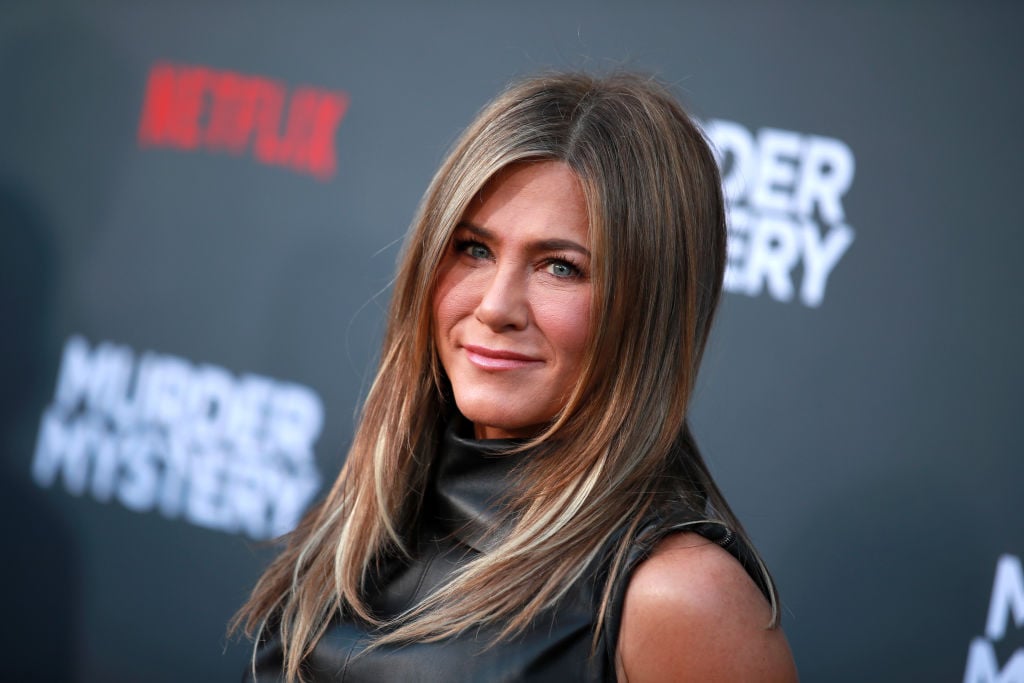 Sixteen years ago, when The Ellen DeGeneres Show started its long run on-air, Aniston was the first guest. During the iconic interview, the two discussed Aniston making Forbes' annual Celebrity 100 list as the number one celebrity for 2003. That same year, Eminem and Dr. Dre shared the number two spot, and Tiger Woods placed in three. 
Since then, DeGeneres and Aniston have developed a great friendship that has lasted over 16 years. Aniston has appeared on The Ellen DeGeneres Show many times since then. But unlike many people think, that premiere interview wasn't actually the first time they met.
During another appearance on DeGeneres's show last year, Aniston told the story of how they met: It was at DeGeneres' birthday party.
"I think you were 36," said Aniston. "No, 37… 38,' she corrected herself. Although Aniston couldn't remember DeGeneres' exact age when they met, she did remember one key detail.
"I was absolutely in awe of you," Aniston said. She had already seen DeGeneres' TV special and was very familiar with her comedy. 
"I had never seen humor like that," Aniston said. "I laughed so hard. It got me and it always does still to this day. You hit my funny button like nobody else."
That appreciation of DeGeneres' comedy turned into a friendship. The two stars would end up spending time together, and even text just to check-in. 
Ellen DeGeneres was the first person to text Jennifer Aniston after plane scare
This summer, Aniston found herself in a scary situation. The plane she and her friends — Courtney Cox and Molly McNearney (Jimmy Kimmel's wife) — were taking to their vacation in Mexico had a dangerous problem with its landing gear. A wheel was missing and everyone on the plane began to panic. 
"Everyone who I look to for comfort has got tears streaming down their faces. They're texting their children, their partners, their loved ones. And I was like, 'Who do I text?'" Aniston told DeGeneres on her show after the ordeal was over. 
But DeGeneres was there for Aniston. She heard about the situation and was the first person to text Aniston to find out if she was okay.
"And then 'Bing!' You were the first person that was like, 'Are you okay?' And I was like, 'Ellen! I do have someone who loves me!'" Aniston continued. 
During the discussion, Aniston also revealed how the group had to fly around for six hours to dump fuel. At the time, it didn't occur to her that it was because if they tried to land, the fuel could explode. However, they made it to the ground safely, and the next day, Aniston and her friends were able to board another plane for Mexico.  
Jennifer Aniston admitted Ellen DeGeneres was her best friend on-air
On one episode of The Ellen DeGeneres Show, which featured Aniston's The Morning Show co-star Reese Witherspoon, DeGeneres and Witherspoon got into a friendly argument about who was better friends with Aniston. 
It started with Witherspoon stating that they'd just wrapped filming for The Morning Show and DeGeneres gave her a snarky reply. 
"Right, Yeah. She [Aniston] told me she needed a break. She was glad it was over," DeGeneres said, implying Aniston needed a break from her co-star. 
Of course, Witherspoon didn't take that comment lightly. She teased right back, asking if DeGeneres thought she was better friends with Aniston than her. The argument went back and forth for quite a while, both of them offering teasing responses that indicated Aniston liked them better. 
Finally, in an effort to put an end to the disagreement, DeGeneres pulled up footage of herself calling Aniston and asking her who she is better friends with. The phone call caught Aniston on the treadmill, so she was out of breath and unaware that millions were listening, but she told DeGeneres what she wanted to hear.
"Of course, dear," she said, indicating that DeGeneres was her best friends, after all. And their friendship is still rock solid today.