The High Price of Live Music, and Where Fans Are Going Instead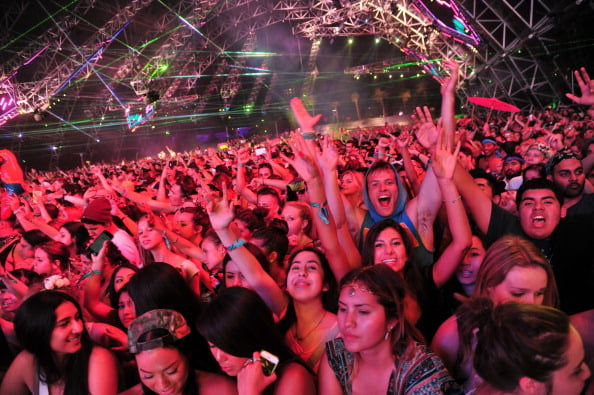 Live shows have been an integral part of the musical experience since mankind first discovered how to carry a tune. Throughout the ages, concerts and clubs have become gathering places for people of all ages, nationalities, and walks of life. From going to the symphony, to sold-out arenas, to sweaty warehouse raves, there's a concert or show for just about every interest and preference. Lately though, it's been getting more and more expensive to see the artists we love perform. The sad truth of the industry now, is that anyone who doesn't have hundreds of dollars to drop on a single concert is left out in the cold.
Just how expensive have things gotten? As of last year, seeing Beyoncé live ran fans an average of $282, and she was only the 7th most expensive touring artist of 2014. The title of "Priciest Live Show" instead went to the Rolling Stones, averaging an insane $624 per ticket. Much of this can be attributed to the fact that most musicians make a vast majority of their living off of touring, but the fact remains: The people who listen to music the most are rapidly getting priced out of being able to see that very same music live and in person. The resulting trend in the wake of this? The rise of the festival experience.
New festivals are popping up every month it seems, with one tally estimating a total of almost 900 in the United States alone. Why spend $364 to see Maroon 5, when you spend just $10 more for a ticket to Coachella to see almost 100-times the artists? The festival experience has quickly become the preferred alternative, giving you the most bang for your buck when measured up against the cost of pop music's biggest acts. Electric Daisy Carnival in Las Vegas, a festival with attendees in the hundreds of thousands and a lineup of 100+ artists to boot, is a particularly good indicator of this value. For a $349 ticket, you're paying an average of $11.66 per artist on the lineup.
More specifically, Electronic Dance Music festivals have become some of the more lucrative ways for conglomerates like Live Nation to make money, and for fans to see a wide variety of music at the same time. EDM, while rapidly gaining traction in the mainstream, provides some of the cheaper standalone shows out there. Seeing some of the biggest DJs in the world perform on tour typically won't run you any more than $60-70 at most, driving more and more people toward this vastly more affordable option.
Of course fans are still flocking to see Taylor Swift and One Direction, but those who do go find themselves in a financial hole for the privilege of seeing just a single artist. It makes little financial sense to drop hundreds of dollars on 2 hours of music from one person, when you can make the same investment for far more music (and sometimes even have that same expensive artist on the lineup anyway). We're in the end left to wonder if the rising price of concert tickets is a natural part of inflation, or the effect things like pirating and streaming are having on a musician's ability to make money on anything that isn't performing live.
Some out there are of the mind that the festival bubble is poised to burst and minute now, but we have a hard time agreeing with that as long as seeing one pop artist costs as much as it does right now. Fans are going to continue flocking toward festival-grounds with their well-earned cash. It may be only a matter of time before promoters and event companies crank up their prices to match the rising demand, but for now, the festival experience is the best way to see music and save money.
Follow Nick on Twitter @NickNorthwest
More From Entertainment Cheat Sheet:
Want more great content like this? Sign up here to receive the best of Cheat Sheet delivered daily. No spam; just tailored content straight to your inbox.