The Issue 'Bachelorette' Alum Tyler Cameron Ran Into During the New York City Marathon
Tyler Cameron struggled when he ran the New York City Marathon on Nov 3. Cameras captured the Bachelorette alum stopping in the middle of the street.
Tyler Cameron, Hannah Brown's runner up in the most recent season of The Bachelorette, is known for prioritizing his workouts, as well as showing off his ogle-worthy model bod.
However, Cameron struggled when he ran the New York City Marathon on Nov 3. Cameras captured the Bachelor Nation member slowing down in the middle of the race and stopping on the side of the street.
Gigi Hadid and Hannah Brown's ex makes a run for it
Cameron joined around 50,000 other runners on the Sunday in November to attempt 26.2 miles around the Big Apple. Cameron, a former football player, has always taken his workouts very seriously. GQ even interviewed Cameron in October about his diet and exercise habits.
When asked what inspired Cameron to start running, he explained he started family "group runs" when his dad got sick, because "it was important to get moving." He also wanted his family members to "be healthy" after witnessing the rough time his dad went through in the hospital.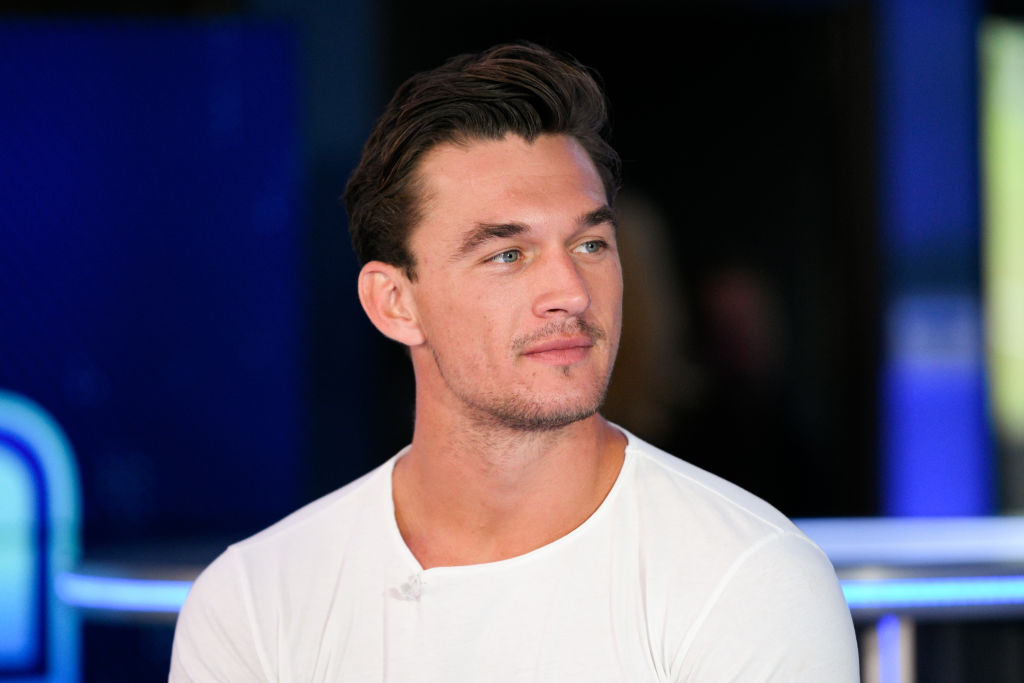 He did the runs when he moved to New York, too. That's how he ended up signing up for the NYC Marathon.
"A Nike Run coach challenged me to do the Chicago Marathon," Cameron told GQ. "And everybody I talked to told me New York City has the coolest marathon, so I was like, 'Alright, I'm up for the challenge.'" Cameron says training or a marathon is about "getting lean." He says "the lighter I can get, the better."
Tyler Cameron's pre-marathon Instagram confessions
Cameron posted a story on his Instagram on his way to the race on Nov. 3, admitting that he was off to a rough start.
"I'm already being really irresponsible because I already forgot to get my watch charged," Cameron began. "I forgot to put on deodorant; I already forgot my bib once, had to go back and get it." These were mostly logistical issues, but it didn't set him off on the right foot or the rest of the day. More importantly, he failed to bring sustenance that would provide him with much-needed nutrition throughout the marathon.
"I forgot GU or my belt," Cameron continued on Instagram, referring to the energy-giving gel that runners often use for long races. "So if you see me on the race struggling, and you got food, I'm going to come eat your food, 'cause I'm gonna be hungry." No doubt, the Bachelorette star was going to struggle to keep his muscles working without the nutrients he neede.
"We're gonna get through this, we're gonna finish," he said, upbeat and energized as ever. "I'm juiced, I'm ready, let's get it, let's go," he said, banging his head along with his affirmations.
The football player says he under-trained
About halfway through the marathon, TMZ caught the model and fitness fiend limping off the road. he appeared to be dealing with some serious aches and pains.
"I was catching cramps," Cameron told a TMZ reporter after the race. He referred to himself as "out of shape," and said that his cramps were due to "under training, for sure."
What did Cameron do for marathon training? He said he hired a running coach, and he "listened to [his] run coach" for advice. However, he admitted, he "didn't listen to her enough." When asked if he would attempt a marathon a second time, Cameron replied in the affirmative.
"I'll do it again, eventually," Cameron said.
Cameron is no quitter. Even with the cramping, he ended up finishing the race. And he finished in good time, especially given the pain he experienced.
TMZ reported that he finished the marathon in "4 hours, 39 minutes and 54 seconds — an average of 10:40 minutes a mile." Cameron originally told GQ his goal for the marathon was under four hours, so given the untimely muscle contractions, this time is quite impressive.
Much better than we could manage, even without cramps.