The Jonas Family Didn't Attend The Emmy Awards With Sophie Turner But Showed Her A Ton Of Love On Social Media
There is no question that the Jonas family is exceptionally close and practically do everything together.
The family is known for attending some of the biggest nights in their careers together but fans were left disappointed when the Jonas Brothers and their wives were notably missing from Sophie Turner's side during the 2019 Emmy Awards.
With this being a very special night in Turner's career, many of us assumed that the famous family would be there rooting her on.
Though the Jonas family skipped out on the red carpet event, that didn't stop them for showing their love and support for the actress in other ways.
The family showed her love on social media
Although Sofie Turner didn't take home the Emmy Award for Outstanding Supporting Actress in a Drama Series, she is a winner in the Jonas family's eyes.
While the actress attended the event solo, much to fans' dismay, her in-laws were definitely there with her in spirit.
The Jonas Brothers and their wives took to Instagram during the event to wish Turner the best of luck and celebrate her very first Emmy's nomination.
Soon after the event aired, the Jonas family took to Instagram to congratulate Turner and the rest of the Game of Thrones' cast.
"Eight seasons of brilliant work. Congrats on your Emmy nomination," Nick Jonas wrote on his Instagram story. "Cheering for you tonight."
Soon after his brother, Kevin Jonas gave a shoutout to his sister-in-law on his Instagram Story by the HBO series' Emmy win.
"Outstanding Drama Series Award!!" he wrote. "Congrats @sophiet and the @gameofthrones crew!!!"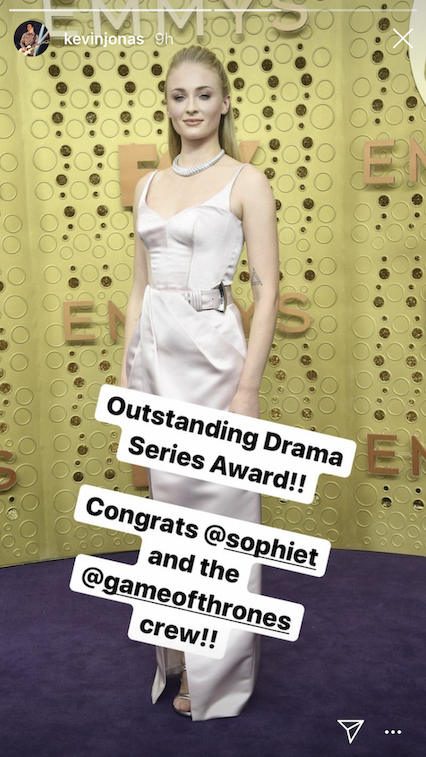 Even Turner's fellow J-Sisters shared their support for her by also taking to their Instagram Stories to congratulate her on her Emmy nomination.
"Good luck to our girl tonight," Priyanka Chopra Jonas shared on her story, along with pictures of Turner from the first and last season of the show.
Danielle Jonas also showed her love for her sister-in-law by posting to her story, "Congratulations on your first Emmy nomination! We love you!"
Although the Jonas family couldn't be there with Turner in person, it is clear that they will always be her biggest supporters on social media!
Where was Joe Jonas?
While many of us can excuse the fact that the Jonas family had to miss out on attending the Emmy Awards with Turner, we were expecting one person, in particular, to be by her side during this special night.
Fans were really looking forward to Turner's husband, Joe Jonas, joining her on the red carpet but were left disappointed when he failed to show up as her date.
With Jonas no where to be found during the Emmys, many wondered where in the world he could be instead of with Turner?
According to his Instagram story, the singer was in Missouri watching a football game with his brothers and a few friends.
While fans weren't too happy that Jonas chose watching football over attending an event with his wife, he soon made up for his absence with a touching Instagram tribute to Turner.
The singer showed his support for his wife by writing on his Instagram story, "I am so proud of you. You are nominated for an Emmy! You are incredible. I love you," along with an up close snapshot of his leading lady.
Sophie Turner might already receive a ton of support from her fans on a daily basis, but the love she receives from her family is something that can't be topped.