The Latest on 'Ant-Man': More Villains and Possible 'Avengers' Ties?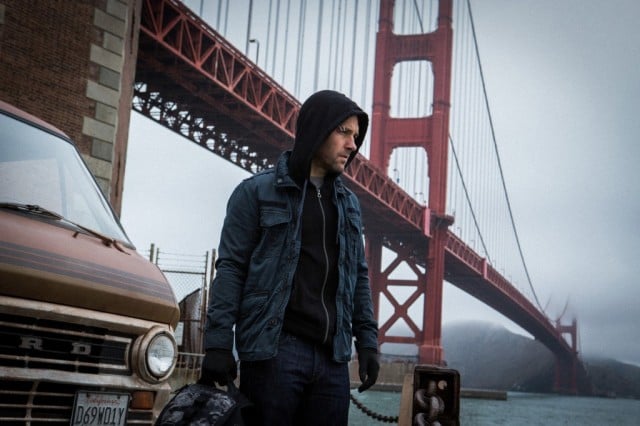 Though Marvel's Ant-Man has officially gone into production, fans haven't heard much news about the flick other than a brief synopsis. But this week, viewers seemingly got a new hint about the flick straight from one of the stars.
Per ComicBook.com, Evangeline Lilly, who plays Hope Van Dyne in the studio's much-discussed superhero flick, recently gave fans a hint at the plot by sharing a photo on Instagram of herself with previously announced co-stars T.I. and David Dastmalchian. "*#!$ing around #onset today with #TheCrims.@troubleman31 @dastmalchian #Antman #Marvel #MarvelComics," she wrote alongside the snapshot. Lilly has since taken the picture down, but not before several sites got a hold of it. Now, fans are speculating whether "#TheCrims" actually means "The Criminals" and if the actress was implying that there will be more villains than we may have expected in the upcoming film.
Previous to her posting, it was already understood that actor Corey Stoll would play Yellow Jacket, the main (and equally small) villain to Paul Rudd's Scott Lang. Unlike that of their co-stars, though, T.I. and David Dastmalchian's roles in the films were still unknown. But Lilly's posting implies that they'll also be playing bad guys of some kind. Another potential theory is that they will play criminals, but not evil ones — perhaps Lang's fellow thieves who help the protagonist steal.
Of course, so far, these rumors are purely speculative. Still, the fact that Lilly felt compelled to take down the post seems to signify that it gave something important (like the nature of those particular co-star's roles) away.
Her posting comes just on the heels of the release of the Avengers: Age of Ultron movie synopsis, which spurred some Ant-Man speculation of its own. The plot description revealed that the events of the Avengers flick start "when Tony Stark tries to jumpstart a dormant peacekeeping program," led by Ulton. Since Hank Pym (played by Michael Douglas in the Ant-Man movie) is the one to create Ultron in the comic books, the vague language of the synopsis immediately fueled rumors of a possible tie-in to Ant-Man. How exactly would the two overlap? Some are suggesting that Stark doesn't just create Ultron by himself, but discovers and recreates an older model of the A.I. that Pym made with his father, Howard Stark.
Again, these are just theories, but they certainly don't seem completely out of the realm of possibility. A tie-in would help set up the origin story for Ant-Man. Plus, overlapping the two movies would be a signature move for Marvel, which is known for intersecting many of the characters in its shared universe.
Of course, it's too early to tell if this is really the case, given that Ant-Man has only recently gotten off the ground and we're only just now starting to hear specific details concerning the plot of the Avengers: Age of Ultron film. Still, at least one thing is made clear: after lots of stops and starts, the Ant-Man movie is finally taking shape and fans are eager to hear more.
Ant-Man is scheduled to hit theaters in the summer of 2015.
More From Entertainment Cheat Sheet:
Want more great content like this? Sign up here to receive the best of Cheat Sheet delivered daily. No spam; just tailored content straight to your inbox.