'The Laundromat' Cast Talk Being Starstruck by Meryl Streep and the Movie's Take on the Panama Papers
Steven Soderbergh is back with The Laundromat. The movie tells the story of multiple characters who are somehow involved with offshore entities that were eventually revealed in the Panama Papers.
The Netflix movie explains this formerly secret financial system in an unexpected way. Showbiz Cheat Sheet talked to some of the stars of the movie at the Toronto Film Festival premiere of The Laundromat on Sept. 9. This is what they had to say about their roles and more.
Jessica Allain was starstruck by Meryl Streep
The movie has some big stars like Gary Oldman, Antonio Banderas, and Meryl Streep, who plays a widow investigating insurance fraud.
Jessica Allain, who plays Simone, said she was starstruck by Streep. "She's incredible and when I met her she's everything and more and she's a lovely individual. She's warm and she makes you feel comfortable in her presence."
The actress talked about learning from watching the Oscar winners. "I think as an actor you can go to as many acting classes and coaching. But nothing would give you an experience like working on set with these people even if it's just for a day two days."
She continued, "So I mean I learned so much from just being in her presence and watching how she works and how she does things in the scene as well."
The cast plays different characters tied to the Panama Papers
The Laudromat has a large cast and each character is somehow involved to offshore accounts. Nonso Anozie talked about how his character gets into trouble.
"I play Charles in the movie and Charles is a billionaire businessman who kind of goes around about life doing what he wants by throwing money at problems when they arise," the actor said on the red carpet. "A problem arises in the movie and he thinks he can solve it the way he normally does."
He went on to talk about how the movie puts a twist on what happened. "I think it's something that people should be aware of. I think this film does a great, great job of making a complex subject entertaining and fun."
Nikki Amuka-Bird said 'The Laundromat' doesn't point fingers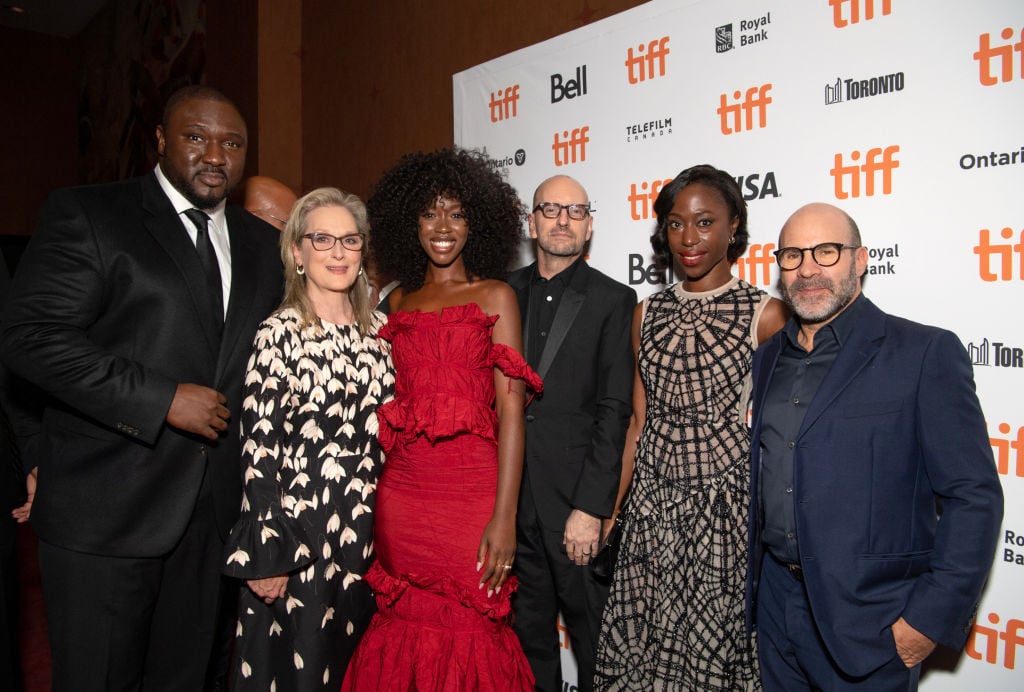 Nikki Amuka-Bird plays a wealthy wife named Miranda whose life gets turned upside down when secrets are revealed. She talked about how the movie avoids blaming one person for the financial situation.
"I think what's lovely about it is because there's so many different characters involved that it seems like you can't point the finger at any one person," she said. "And it makes you feel personally, 'Well, what is my relationship to this issue? What is my relationship to wealth and money and the imbalance of power in the world?'"
She added, "And it just, without pointing the finger at anybody, it kind of us has to look at ourselves as well."
The Laundromat is now available on Netflix.