'The Magic School Bus' Drives to Netflix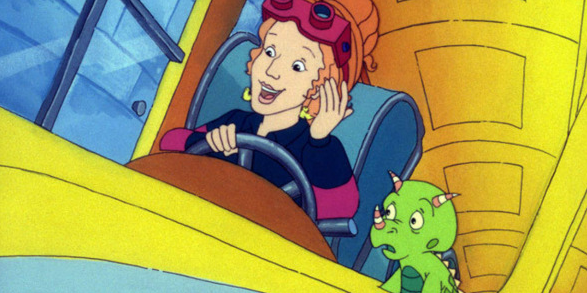 Netflix is reviving the beloved Nineties children's show The Magic School Bus in a collaboration with Scholastic Media, the company announced on Wednesday. The new CG-animated original series The Magic School Bus 360° "will be a dynamic reimagining of the show that revolutionized kids television," according to a press release from Netflix. The creative team from Scholastic Media will work on the show and the series' first 26 episodes will debut in 2016.
"The Magic School Bus revolutionized kids television through a unique and powerful blend of entertainment and science information. We're proud that its become an evergreen show that children and parents continue to watch together," said Deborah Forte, President of Scholastic Media, in the release. "Our new rendition The Magic School Bus 360° is a similarly compelling addition to the current landscape of childrens programming and on Netflix is bound to reach more families around the world than ever before who will now be able to watch the show anytime, anywhere they want."
The original Magic School Bus animated show was developed from the book series by Scholastic Media in 1994. Though the show stopped production in 1997, it continued to air on PBS and other channels for many years and is one of the most highly rated PBS programs for children. The show follows the elementary class of Ms. Frizzle, a zany teacher who imparts science lessons through bizarre field trips taken on an anthropomorphic school bus. The bus can do things like take the kids back in time, out into space, and into the human body.
"Scholastic Media is a powerhouse creator and producer of top-quality programming for kids and families and its flagship series like The Magic School Bus, Clifford The Big Red Dog, and Goosebumps have been huge hits on Netflix in all our territories," said Ted Sarandos, Chief Content Officer of Netflix. "We're thrilled to expand our relationships and to be the first-run home of The Magic School Bus 360°, introducing a whole new generation to Ms. Frizzle and her hijinks."
One of Netflix's biggest competitors, Amazon's Prime Instant Video, has increased its own offerings for original children's programming just in time for summer break. Amazon promised that its shows would keep kids both intellectually engaged and entertained during their months off from school and hired Alice Wilder, the woman who worked as producer and director of research and development for the popular children's series Blue's Clues, to that end.
As streaming services increasingly become the go-to place to watch television rather than traditional networks, streaming services have been creating their own original programming to help compete even better. Netflix has been incredibly successful to this end with its programming for adults including House of Cards and Orange Is the New Black, and now it's broadening its focus to include children's shows as well. Landing the Scholastic team was the best way for Netflix to replicate both the quality and the success of the original Magic School Bus in the new series.
More From Wall St. Cheat Sheet:
Follow Jacqueline on Twitter @Jacqui_WSCS