The Major Role Prince Louis is Going to Be Ready to Take on Next Year
Prince Willliam and Kate Middleton's third child, Prince Louis, was born on April 23, 2018. Since then, royal fans have been delighted to see him on a few occasions from running around the Nature Garden at the Chelsea Flower Show to his appearance on the balcony at Trooping the Colour. But there is one role we've seen his siblings, Prince George and Princess Charlotte, in multiple times that we might finally see Louis take on next year.
Here's the major role the Duke and Duchess of Cambridge's youngest son could have in 2020.
The big role Louis can finally take on
Because of his age, Prince Louis missed out on some royal events that his brother and sister were a part of. However, now that he's old enough royal watchers believe he is going to be tapped next year to participate in two weddings.
Princess Beatrice recently got engaged to Edoardo Mapelli Mozzi. This is also the case for Middleton's brother, James, who announced that he is marrying his partner Alizee. While the latter won't be a royal wedding the duchess' brother's nuptials will be a high-profile affair and it's believed that Louis will be in both weddings.
Speaking on the podcast Royally Obsessed experts were convinced that the young royal will be involved in Beatrice's wedding and opined that he could be in James' as well.
"Maybe his little nieces and nephews will be getting involved as pageboys and bridesmaids," said Lisa Ryan.
"Louis! He's walking now… I think he will be ready for that kind of role by next year. I have faith in him. I think he will," Kaitlin Menza added
His big brother and sister are used to being in wedding parties
Of course, Louis' older siblings have become seasoned pros when it comes to being part of weddings. The children have been in three since 2017.
George served as pageboy and Charlotte as a bridesmaid in their Aunt Pippa's wedding to James Matthews. They assumed the same roles the following year when their Uncle Harry married Meghan Markle, and again when Princess Eugenie and Jack Brooksbank tied the knot. Therefore, they could give their little brother some pointers on how things are done.
This could be Louis' last chance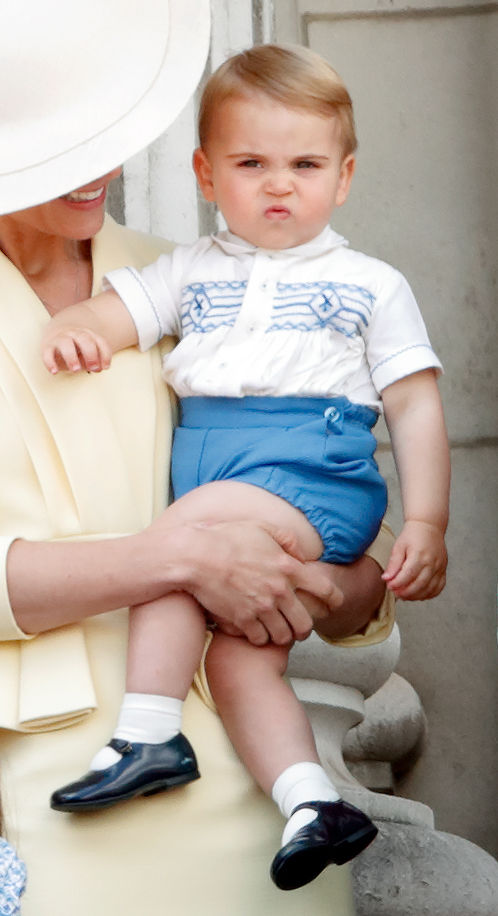 The two upcoming weddings maybe Louis' last chance to take on such a role and possibly that last time we see George and Charlotte in that capacity as well.
Beatrice's wedding will be the last royal wedding for some time as Queen Elizabeth's other grandchildren are far too young to get married. And James is Middleton's last sibling to get hitched so it's a possibility that after these weddings there won't be another opportunity for the Cambridge children to join a wedding party.
"It's a reminder that we're running out of royal weddings so I'm very happy these two are coming up. Beatrice's and James Middleton's but that's it," Menza said. "I hope James' is on the scale of Pippa's in that we get to see all the images at the church so we feel included."
Read more: When Do Prince George, Princess Charlotte and Prince Louis Have To Start Bowing To the Queen