'The Morning Show': 3 Ridiculous Reasons People Aren't Watching Jennifer Aniston and Reese Witherspoon's New Show
Apple TV+'s flagship series, The Morning Show, is now on its seventh episode, but it still only has a small following. It does have 153,000 followers on Instagram, but that does not compare with NBC's This Is Us, which has 1.4 million followers, or Grey's Anatomy's 6 million followers. 
The other streaming services' big-name shows are doing much better, as well. Netflix's Orange Is the New Black has 3.7 million followers, and Hulu's The Handmaid's Tale has 679,000. So why aren't more people watching Jennifer Aniston and Reese Witherspoon's new original series?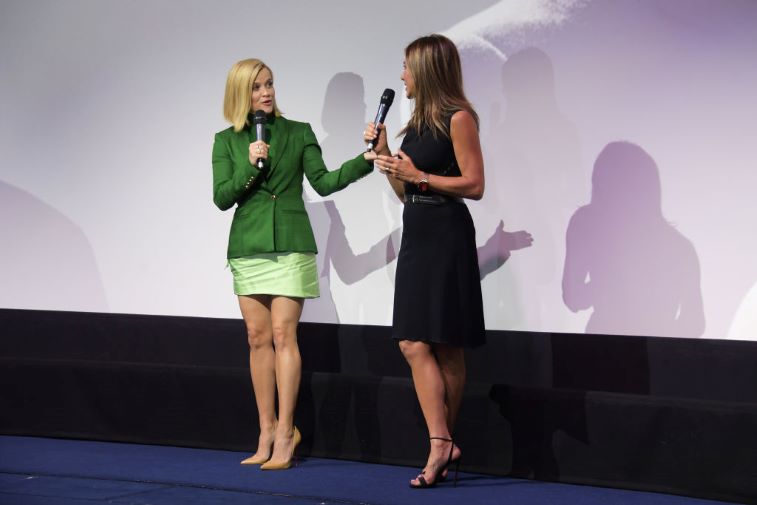 Producers of 'The Morning Show' suspect some people don't want to support Apple
The Morning Show debuted on Apple TV+ on Nov. 1, 2019, with three free episodes. Each subsequent episode drops on Fridays to the streaming service. The producers of the show, Mimi Leder and Kerry Ehrin, took the stage at Recode's Code Media conference on Nov. 19, 2019, to discuss the launch of the series.
"I just felt there were a lot of Apple haters and [people] wanting Apple to fail," executive producer and director Leder told Recode.
The producers were also asked what they thought of the mixed critical reviews that came in after the show launched. 
"When those reviews came in I didn't know what show they were watching," Leder said. "And I just kind of thought they were nuts."
Fans of 'The Morning Show' feel there are too many streaming services
Reddit users recently swapped theories over why more people are not watching The Morning Show. They gave many suggestions, but the main idea revolved around the numerous streaming services already out there. Viewers must have an Apple TV+ subscription to watch more than the first three episodes of the flagship series.
"I would think not many people have Apple TV+," wrote one Reddit user. "Disney+ has overshadowed it."
Another Reddit user agreed.
"People aren't going to buy Netflix, Hulu, Amazon Prime, Disney Plus, and Apple TV+," they wrote. "I haven't seen Apple's selection, but I imagine it doesn't have that many great shows on it because all of the other [streaming services] have them."
The fans indicated that because Apple TV+ does not have as big of a selection as other streaming services, viewers might not be as inclined to pay the subscription fee. Many of these fans commented that they received the service free due to the purchase of a new Apple device. However, the cost is small ($4.99 monthly) compared with Hulu and Netflix.  
Viewers cannot figure out how to watch 'The Morning Show'
This reason for not watching The Morning Show is the most ridiculous. Some viewers who want to watch the show cannot figure out how to get the series to stream on their TV without an Apple device. 
For those people who do not have an Apple TV, there are a few extra steps to set up the streaming service. You first have to download the application — Apple TV+ — onto your television. The app does not support purchases on non-Apple devices, so here is that extra step viewers might be missing. 
Next, grab your smart device or laptop, and go to tv.apple.com to create an account if you do not already have one. Log in, and then purchase the monthly subscription service. Once you pay, you will then be able to stream more than just three episodes of The Morning Show on Apple TV+ on any non-Apple device.
If you would like to preview the show before paying a fee, download the Apple TV+ app to watch the first three episodes for free.