'The Morning Show': Audiences Can't Get Enough of This One Character—No, It's Not Aniston, Witherspoon or Carell
Since the launch of The Morning Show on Apple TV+ on Nov. 1, 2020, the series is slowly gaining a following. Initial critic reviews were highly mixed; however, the Reddit community and social media followers of the show are growing every day. 
Many fans tuned in purely to see Reese Witherspoon, Jennifer Aniston, and Steve Carell; however, there are a few other big-name cast members that keep us hanging around. Let's take a look at which character is a fan-favorite. It's not who you might think.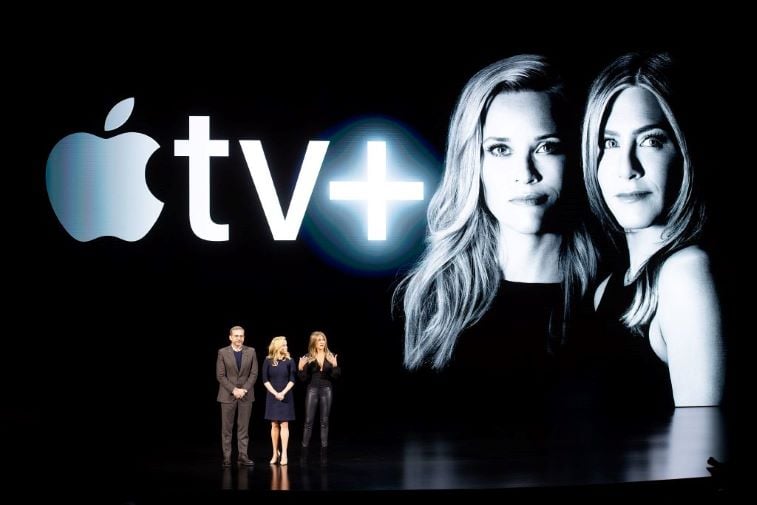 Reese Witherspoon, Jennifer Aniston, and Steve Carell brought viewers to 'The Morning Show'
When Apple announced that they would have three massive stars in their new show, fans were excited. The Morning Show marks Aniston's return to the small screen since her Friends days as Rachel. Carell also returns to television for the first time since The Office.
Each of the three main characters secured salaries of $1 million per episode, making the show expensive as well as highly anticipated. Although critic reviews were mixed, fans continue to sound off on social media about how much they enjoy the show.
"IT'S SO GOOD," wrote one Twitter user. "It keeps getting better and better! Jennifer Aniston's performance was just fabulous along with Reese Witherspoon, all the feels in this episode. 10/10+"
This whole episode left me speechless," added another fan. "I really wanna see more of Alex and Bradley bonding because I feel like they both could really need a best friend that's there for them. I can't wait to see next week's episode."
Viewers are impressed with the show after just six episodes and continue to rave that each new one gets better than the last. It is well worth the $4.99 monthly subscription to Apple TV+.
This one breakout character is masterful—viewers can't get enough of him
In addition to the three main stars, The Morning show includes a few other stars—Billy Crudup as Cory Ellison and Mark Duplass as Charlie "Chip" Black, to name just a few. The one fans cannot stop talking about, however, is Crudup. They believe that he often is the star of the show, but they aren't quite sure if it's because of his acting or the writing—or both.
"I can't even explain how much I love him," wrote one fan on Reddit. "When he tells Chip, 'Good luck with that moral compass of yours.' Daaaannnggg."
"Cory has some of the best dialogue in the show," another fan added.
"So far, he's the most interesting breakout character for me," agreed yet another fan, "exhibiting a depth that keeps me wanting to see more."
"Cory is still the best character," wrote another Redditor, "and it's reinforced this episode when he smartly turned Chip's desperate attempt at an alliance into a challenge of loyalty. He's pulling strings, and he knows it."
"I can't get enough of Billy Crudup's performance," added another fan. "His mannerisms, tiny head bobs, and that sly grin that always seems to be there are incredible."
How does Cory—Billy Crudup—tie into the plot of 'The Morning Show'?
When The Morning Show begins, we are in the throes of a #metoo scandal. Steve Carell's character, Mitch Kessler, was just fired for sexual misconduct allegations. Jennifer Aniston's character, Alex Levy, is trying to pick up the pieces now that her partner of 15 years is no longer with her. 
Cory sees small-town reporter, Bradley Jackson, become unhinged on a viral video on YouTube, and brings her to the station for an interview. Cory loves her raw, unhinged personality and feels she is just what the show needs. 
Alex announces that Bradley will be her new costar on the show, and Cory loves it. He helps Bradley to remain true to herself, helping ratings at the same time.
"Cory is playing mind games obviously with Alex," wrote one Redditor, "but also Bradley. Think back to the scene in her dressing room when he asks her if she ever thinks about it, what happened in that dressing room with Mitch? He appealed to her journalistic curiosity as she prepped for interviewing the girl [who was Mitch's victim]."
"It's like he knows how to plant seeds in people's minds so that they self destruct or carry out his agenda. [Cory is a] master manipulator—he's got a Joker kind of thing going on, very interesting character," concluded the Reddit user.
To see what Cory will do next, join Apple TV+ to watch new episodes of The Morning Show when they are released every Friday.