'The Morning Show': This 1 Weird Thing Surprised Reese Witherspoon Plus What Critics Are Saying So Far
The Morning Show, the new dramedy starring Jennifer Aniston, Reese Witherspoon, and Steve Carrell, debuted Nov. 1 on Apple TV+ . The buzz around the new program was massive, and with good reason. Three A-list actors on a new viewing platform starring in a show that takes viewers behind the scenes to the shadowy morning show world. It's a world, that until now, has only been seen from one side of the lens.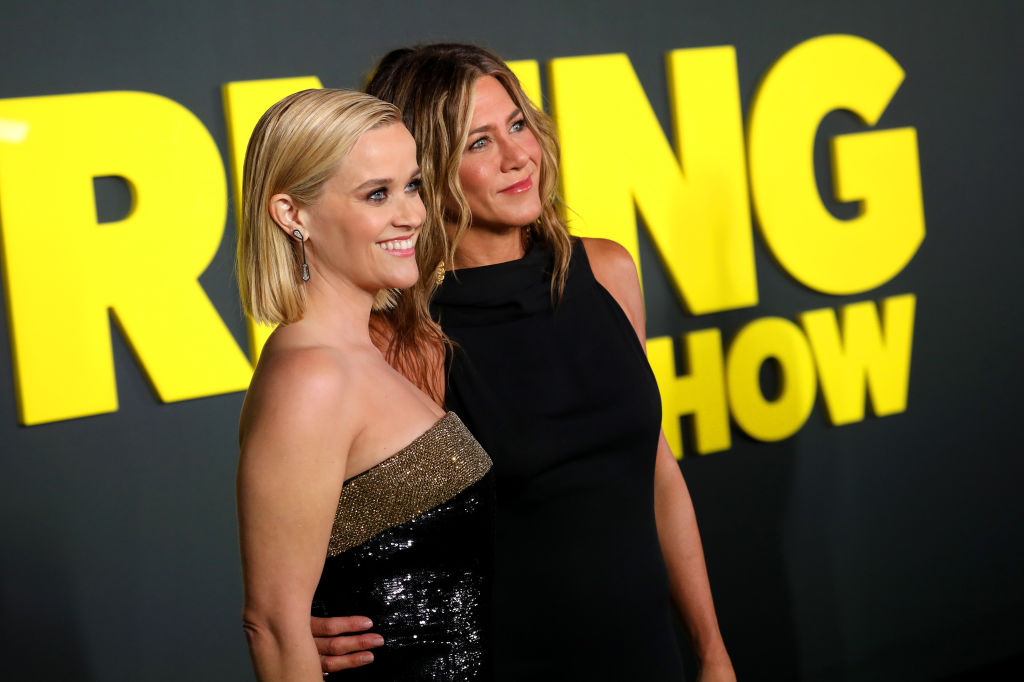 Centering around a popular morning news program, The Morning Show is a ruthless drama that finds one of the morning hosts dismissed following a sexual misconduct scandal. He is then replaced by an ambitious reporter (Witherspoon) who has to deal with sudden fame in her new very-high-visibility position. Considering the uber-real-life-drama that the CBS and NBC morning shows have experienced in the last year alone, it's no wonder viewers are clamoring for The Morning Show.
Reese Witherspoon shared a weird characteristic she couldn't figure out about news anchors in her research for the drama. Find out what that is, plus find out how it's doing so far.
Too much like reality?
The actors and producers of The Morning Show are saying the Apple drama is not solely based on Matt Lauer. That, simply because the details are so creepily similar to reality, such as Carrell's character's wife leaving him to go to the Hamptons after he's fired exactly as Lauer's wife did, doesn't mean it's about Lauer.
"[Carrell's character] is not Matt Lauer," showrunner Kerry Ehrin told The Hollywood Reporter's TV's Top 5 podcast. "It wasn't designed to be about him; I didn't study him. It was about a guy who works in morning news who gets fired for sexual misconduct. That did happen to Matt Lauer. It also happened to Charlie Rose and someone on Fox—it isn't exclusively Matt Lauer."
What critics are saying so far about 'The Morning Show'
Here's what TV critics are saying at this point, both the glowing reviews and the not-so-much.
The Guardian: "Aniston is flawless – wholly convincing as a woman both broken by and rightfully raging at Mitch's betrayal…a person who has had it up to here with a lifetime of negotiating other people's whims, needs, and prejudices." 
Rolling Stone: "…the series is a well-polished snore, a prime example of how throwing money at a problem — in this case, Apple's need to dive into the streaming wars…isn't inherently the best way to solve it."
The AV Club: "Bringing together this level of talent…must have cost Apple a bundle, but when it results in television this appealing, it sure feels worth it."
The New York Times: "After three episodes, this tech company's first venture into TV is good only at appearing to be good…Under the gleaming surface, as sleek and anodyne as an Apple Store, it is a kludge."
Reese Witherspoon found this news anchor behavior to be just weird
The actors on The Morning Show did their research on the morning news show world to prepare for their roles in the Apple drama. The Hollywood Reporter asked Witherspoon last month what surprised her most about "their world."
For Witherspoon, it was the on-and-off way in which anchors must deliver news using that distinctive 'anchor' voice.
"The way that they synthesize information and [report] something terribly tragic then transition to something really upbeat is so weird. 'There was a train crash. And also, vitamin D!"
"…I remember walking on set, and Jen, she had her newscaster voice, and I was like, "I don't have my newscaster voice yet. How did you get that newscaster voice?" She was like, "Well, I watched a lot of newscasters."
Read more: Is Apple TV+ Banking Solely on 'The Morning Show' for Subscribers?